Peanut Butter Choc Chip Bars make delicious healthy snack bars that don't taste healthy at all....great for curbing that afternoon sweet tooth.
The weather is so so amazing here right now!! All I want to do is sit in the sun in the backyard with a cup of tea, a biscuit and a good book. Of course, I have kids....so I can sit in the backyard and drink lukewarm tea, share my biscuit and dig for treasure. Oh and I can read books if they have few words, lots of pictures and I do it out loud. Still fun, just not the level of relaxation I was shooting for 🙂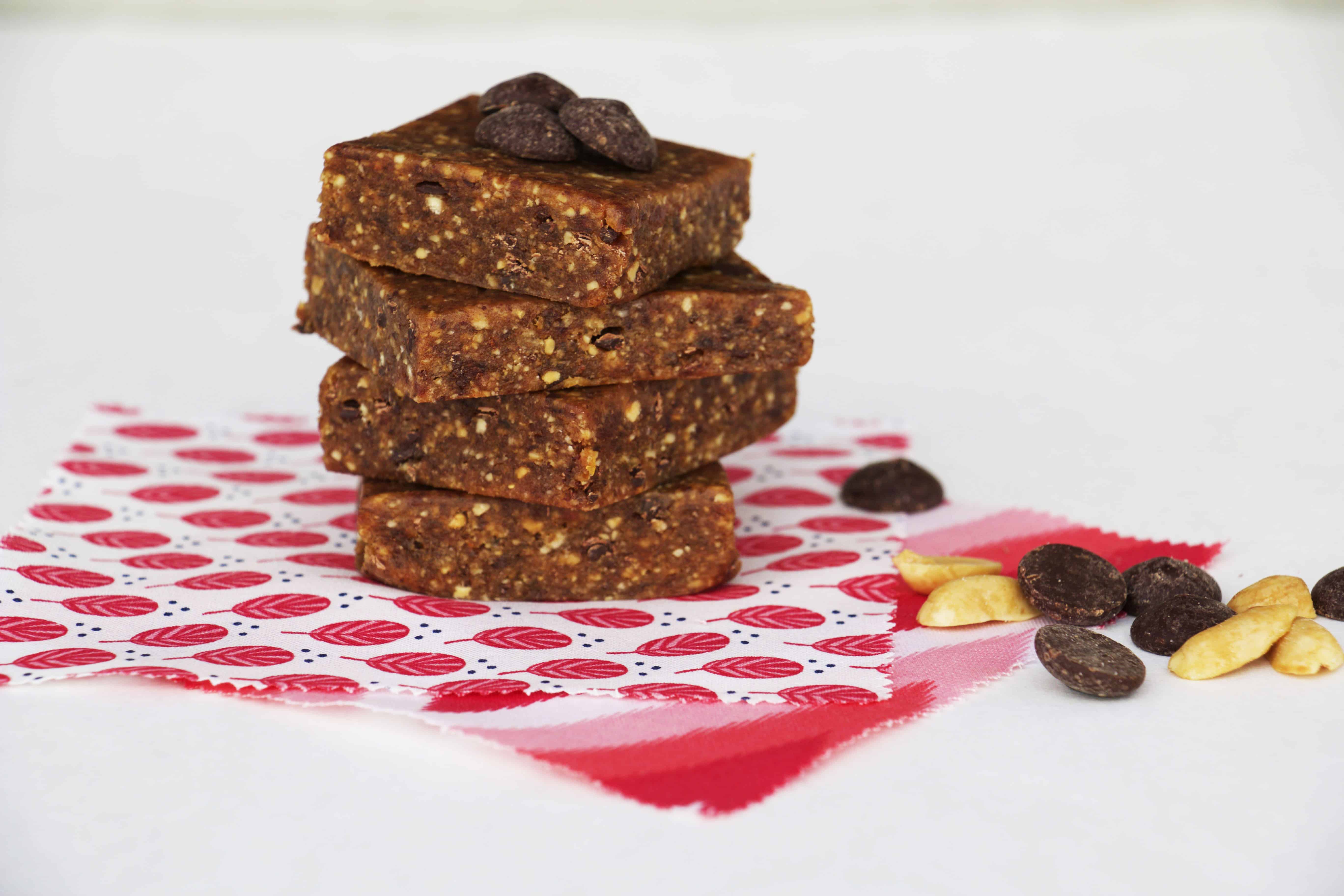 Good weather means more park trips. More park trips mean more snack packing. Or in my case, whole lunch boxes, as we are food monsters. I absolutely love Larabars and always have one handy in my bag as I am the queen of snacks and have to eat constantly or grumpiness ensues. But trying to keep up with my Larabar addiction is starting to cost me a small fortune.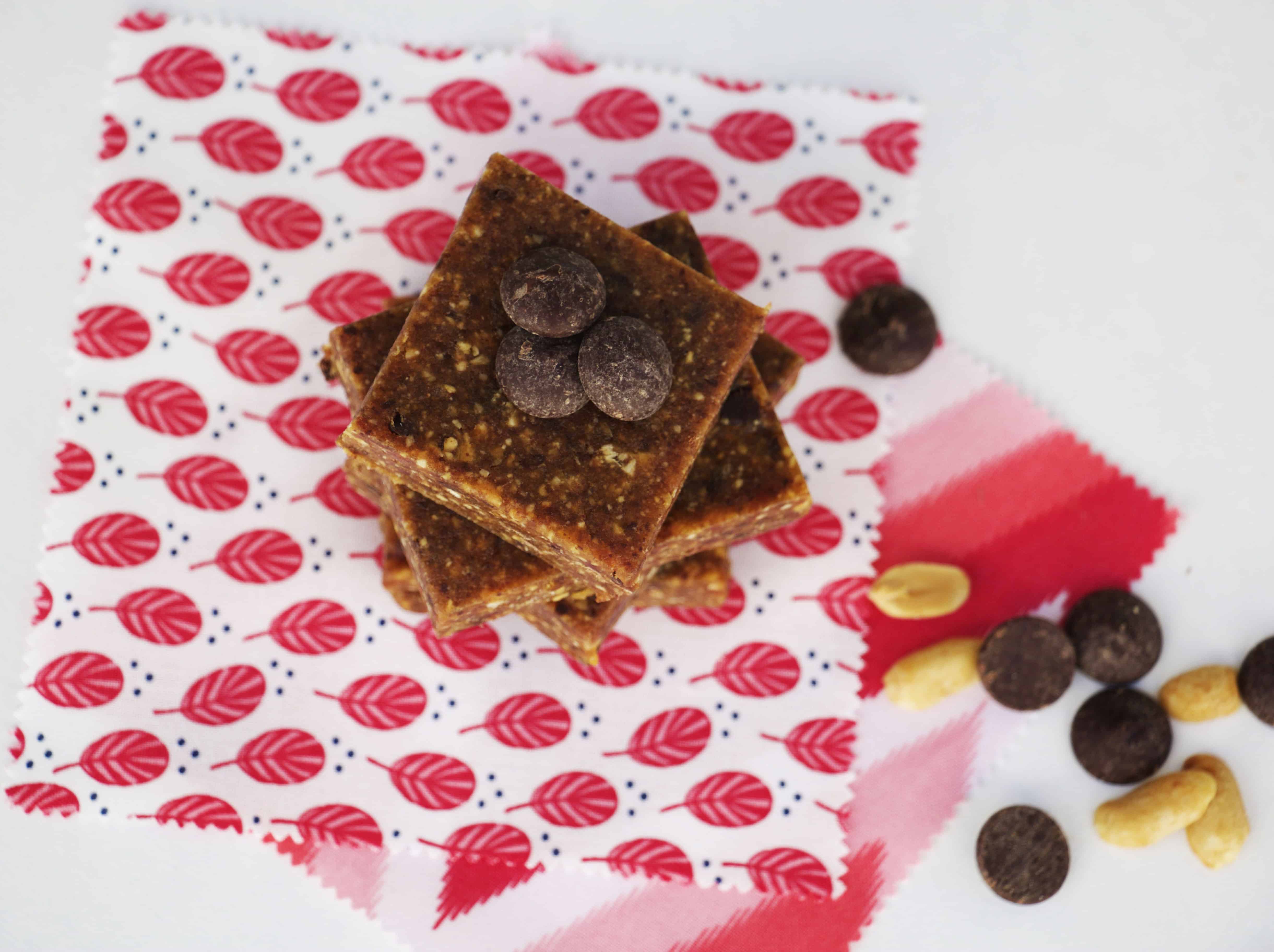 So, I made my own. Only four ingredients and they taste exactly like their Peanut Butter Choc Chip bars that started the whole addiction. Delicious. As is my thing these days, for optimal organisation, I make a big batch and keep some in the freezer.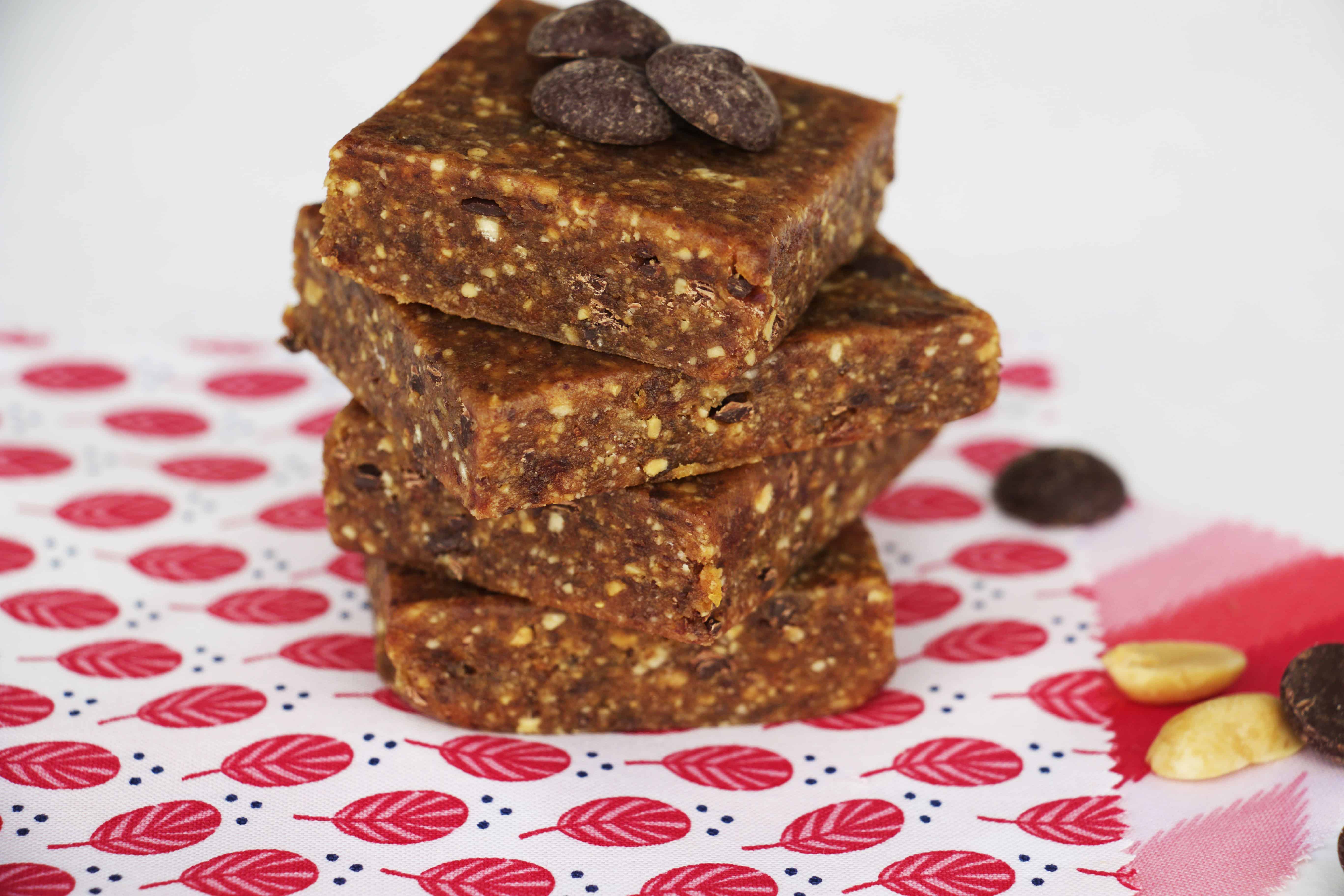 Peanut Butter Choc Chip Bars are just great for lunch boxes, great for snacking and great for satiating that afternoon sweet tooth. What more could you want? (except maybe to sit in the backyard and read a book...but I am sure that will come in time, and then I will miss the adventures and treasure digging)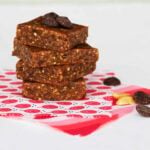 Print Recipe
Peanut Butter Chocolate Chip Bars
Delicious healthy snack bars that don't taste healthy at all....great for curbing that afternoon sweet tooth
Ingredients
2/3

cup

dry roasted unsalted peanuts

2 1/2

cups

pitted dates

1/4

cup

chopped cacao pieces or chocolate chips

pinch sea salt
Instructions
Pop the peanuts into a food processor and pulse until finely chopped but not a paste

Add in dates, chocolate and salt and pulse until one large mass forms

Line a 9x9 dish with plastic wrap and press mixture into the dish. Use a wet silicone spatula to even out the surface (if you don't have one you can just use fingers but it may get sticky)

Pop into the freezer for 30 mins

After 30 mins remove from the freezer and use the plastic wrap to remove from the dish. Cut into 12 squares and store in a glass airtight container in the fridge
Notes
These will last in the fridge for about 2 weeks (although they only ever last a couple of days in this house). Make a double batch and keep some in the freezer - remove and store in the fridge when you are going to need them
Nutrition
Calories:
184
kcal
|
Carbohydrates:
32
g
|
Protein:
3.4
g
|
Fat:
6.3
g
|
Saturated Fat:
1.9
g
|
Sodium:
22
mg
|
Fiber:
4.3
g
|
Sugar:
25.5
g