Ok I have been making this parmesan and vegetable orzo recipe (sans the veg) forever. I usually serve it as a side to some slow cooked lamb shanks. It is ridiculous. So delicious.
For years now it has been a side in our house, and given the luxurious nature of the dish, with the cheese, egg yolks and cream thrown in there, that has always been fine.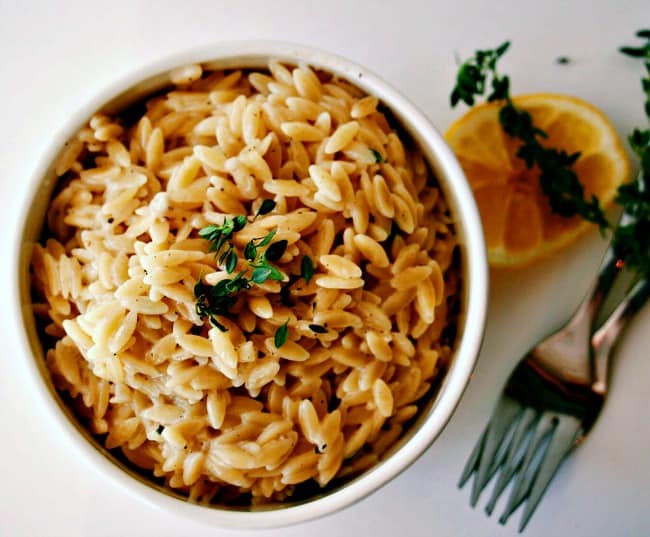 However I had a bit of a predicament the other night, where I had a full on craving for risotto, but the kids were full on ready for dinner NOW….so I decided to load it up with some veg and call it a meal. It was great. Kind of like a fancy version of mac n cheese (but with lots of veggies added in for good measure), kinda like a cross between a vegetable risotto and a carbonara…if those two things were ever to cross.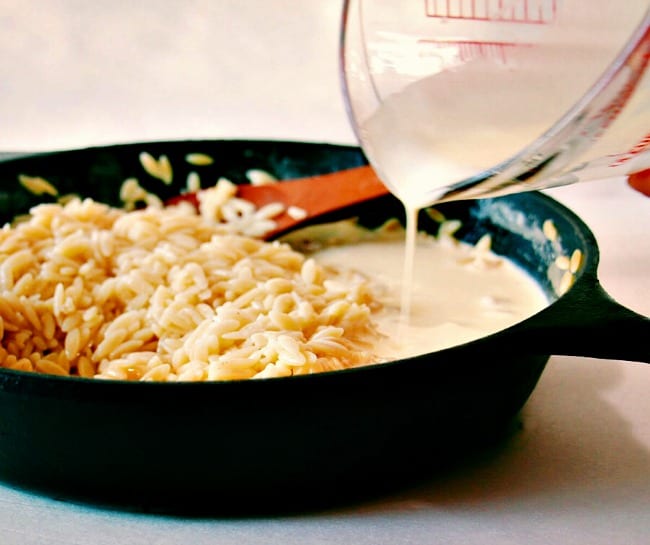 It was one of those dishes, where I found the little man eating it with his hands out of the skillet, as I tried to take some photos. He kept saying 'hot' and kept on eating. That type of determination is what I like to see 🙂
Anyway, make it without the vegetables and have it as a side to something substantial, I had it as a side to my Garlic Butter Chicken Bake, and it was fantastic. Or add a truckload of garlic sautéed veg and call it a meal.
Have at it.
What do you think of this creamy parmesan and vegetable orzo? Be sure to leave a comment, like on Facebook, tweet on Twitter, or pin to Pinterest for later. Happy eating.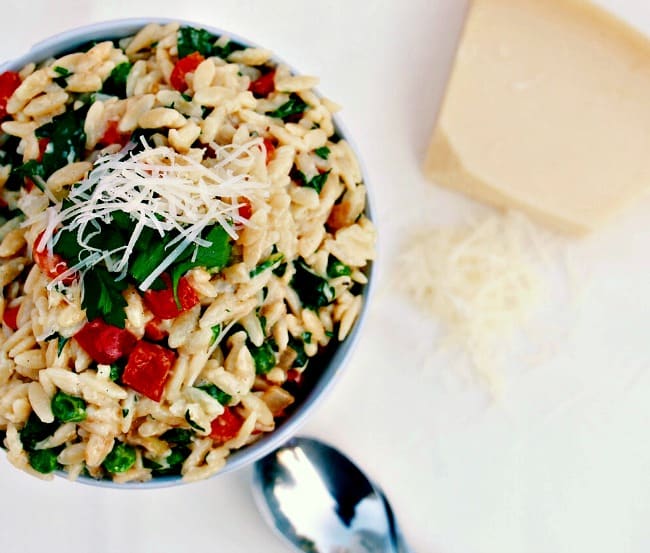 Note: this dish is best eaten straight away. If you do happen to have some leftover, store in the fridge, and reheat on the stove top (does not microwave well), making sure to add a bit of milk, to give it back that creamy texture.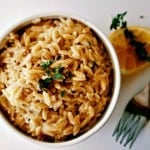 Creamy Parmesan and Vegetable Orzo
Rich and luxurious, this dish is a perfect pairing with something substantial as is, or add in some vegetables and call it a main
Ingredients
1 1/2

cups

orzo

1/2

cup

thin cream

2

egg yolks

1/2

cup

parmiggiano reggiano

finely grated

1/2

cup

parsley

finely chopped

salt and pepper to taste

cup

Optional: 2 carrots

green pepper (diced) and 1/2 frozen peas - sautéed, diced
Instructions
Cook the orzo according to package instructions. Drain, and return to the pan

Whisk together the cream and egg yolks. Add to the orzo, along with the parmesan and stir to combine

Place over low heat and cook, stirring continuously, for about 2-3 minutes or until the sauce thickens

Remove from heat and add in the parsley. Stir to combine. Taste and season with salt and pepper. Optional: At this point, add in the sautéed vegetables if you want something a bit more substantial
Nutrition Facts
Creamy Parmesan and Vegetable Orzo
Amount Per Serving
Calories 244
Calories from Fat 104
% Daily Value*
Fat 11.5g18%
Cholesterol 133mg44%
Sodium 80mg3%
Carbohydrates 25.1g8%
Protein 10.1g20%
* Percent Daily Values are based on a 2000 calorie diet.