This risoni recipe (orzo for those in the States) has been a staple in our house for years. Creamy orzo with spinach and parmesan is the perfect accompaniment to most meat, chicken, and fish dishes (why not try it with Crusted Sage and Macadamia Nut Chicken Breasts), and is also a perfect little bowl of creamy comfort food all by itself or with lots of added veggies. Easily made ahead of time, and always a hit with the whole family.
This makes the perfect side dish to serve with something a little more substantial like my Lemon Garlic Butter Chicken Bake.
This post has been updated from the original risoni recipe posted on 26 October 2015 to include more information and process photos.
Creamy Orzo With Spinach and Parmesan (Risoni Recipe)
I have been making this creamy parmesan orzo recipe forever.
I usually serve it as a side to some slow-cooked lamb shanks or some grilled chicken.
It is ridiculous.
So delicious.
And it is also SUPER easy to make which is always a huge plus.
You are going to need only a handful of simple ingredients:
chicken stock or broth: you can always sub in some vegetable stock if you prefer;
whole milk: choose full fat or light milk depending on your preferences;
heavy cream;
orzo pasta (risoni): this can be found in the pasta section of the grocery store, it looks like slightly larger, yellow, grains of rice;
parmesan cheese: try to buy a block and grate it yourself. The pre-grated cheese has lots of added extras which can give it a grainy texture when melted;
chopped fresh spinach: you can either buy English spinach and chop it yourself, or instead opt for some baby spinach;
egg yolks: just the yolks, (why not save the egg whites for some egg white bites like these ones from slow the cook down);
salt;
freshly ground black pepper.
That's it!
How To Make Creamy Parmesan Orzo Pasta
This risoni recipe is a favorite in our house for a reason.
The reason being that it is super easy and delicious.
We are simply going to:
Bring the chicken broth & milk to a boil over medium heat in a large skillet;
Once boiling, add in the orzo and cook for about 8-10 minutes, until al dente;
Whisk together the cream and egg yolks. Add to the cooked orzo, along with the parmesan, and stir to combine;
Place over low heat and cook, stirring continuously, for about 2-3 minutes or until the sauce thickens;
Remove from heat and add in the spinach;
Stir until the spinach is just wilted;
Add salt and pepper and serve.
At this point, you can always add some chopped and lightly sautéed veggies or shredded chicken, etc if you want to make this creamy orzo the main course served alongside a nice side salad.
Or you can serve it as a side dish to some chicken, fish, grilled meat, or whatever else takes your fancy!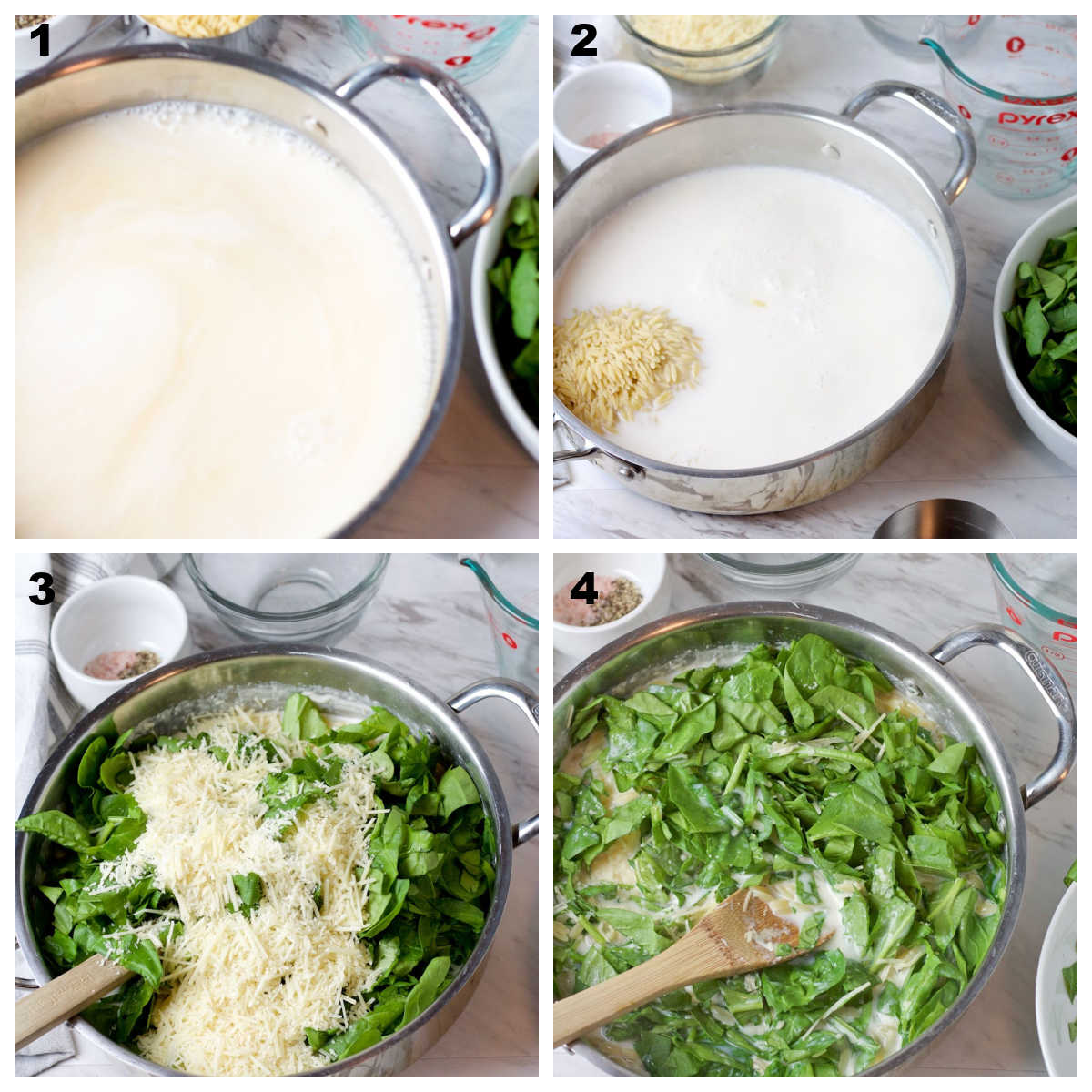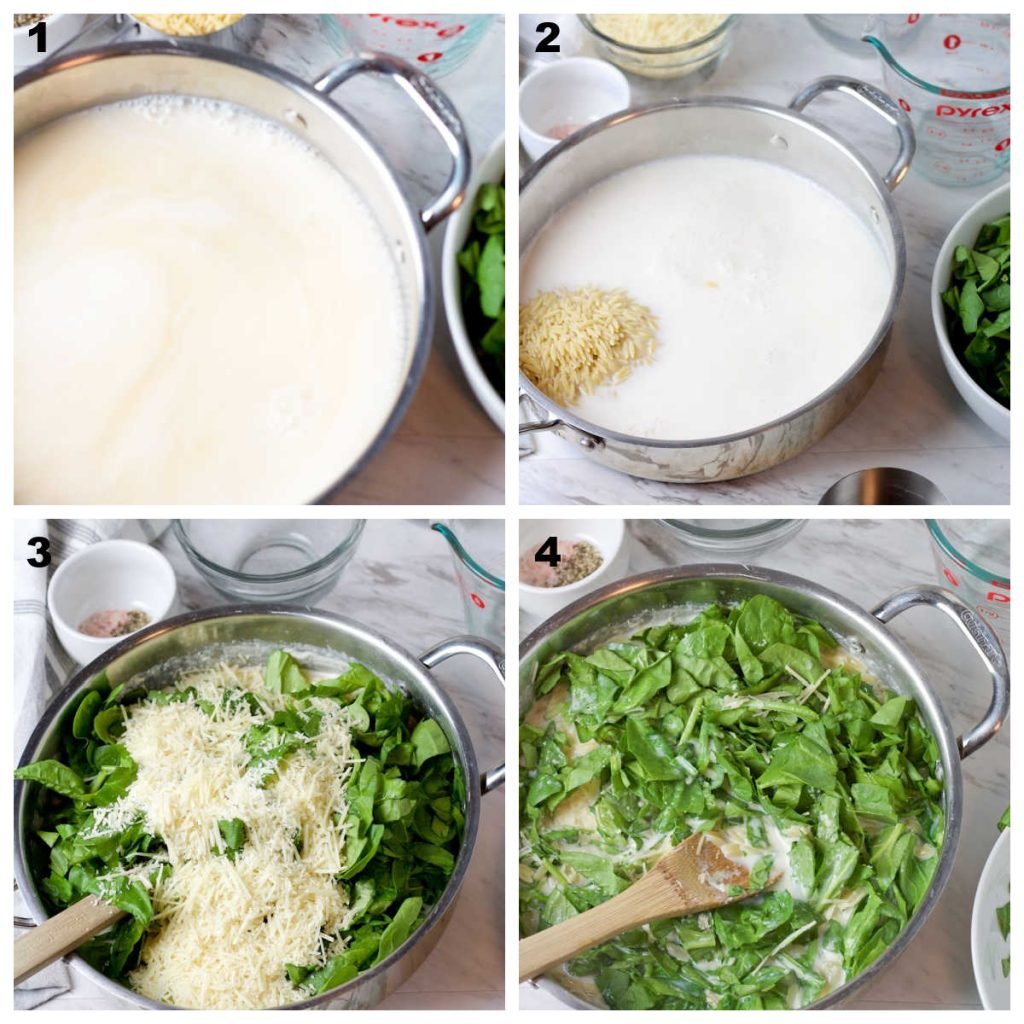 Tips, Tricks, and Substitutions
Think of this delicious side dish like a blank canvas.
It is perfect as is if you are feeling like a mac-and-cheese type cheesy pasta comfort dish.
But it also makes for the perfect pairing for any main you are serving.
You can also dress it up or down depending on your mood.
Why not try:
adding in some chopped bell peppers or asparagus;
adding in some chopped broccoli florets;
add a big handful of chopped fresh herbs;
make it a creamy chicken orzo by adding in some shredded rotisserie chicken, leftover pressure cooker chicken, or leftover turkey to make it a substantial main dish.
It lends itself well to so many dishes, you really can't go wrong!
I like to add a drizzle of lemon juice to my creamy orzo pasta just before serving to really make the flavors pop.
Can I Use Other Pasta?
Yes, absolutely.
Use whatever pasta you prefer.
Can I Make This Ahead Of Time?
Yes!
When it comes time to reheat you may want to add a little bit of water or broth to the orzo to loosen the dish up and make it creamy again.
How To Store Leftover Creamy Orzo
This dish is best eaten straight away.
If you do happen to have some leftovers, they should be stored in an airtight container in the fridge for up to 3-5 days.
How To Reheat
When it comes time to reheat, simply add some water or broth to a pan to loosen the creamy sauce up and heat on the stovetop.
This dish does not microwave well, so avoid reheating in the microwave if at all possible.
Can This Be Frozen?
I do not recommend freezing leftovers, as pasta can become mushy when reheated and the sauce does not thaw well.
Need More Easy One-Pot Meal Ideas For Dinner Tonight?
I got you!
Check these recipes out:
Happy Eating
xx
Recipe