This corn cakes recipe has quickly become one of our go-to quick snack, lunch and/or easy dinner recipes. They come together so quickly, use only 4 basic ingredients and fill up little bellies fast. Enjoy them as is, with some tomato ketchup or sour cream, or dress them up with some creme fraîche, chives, and smoked salmon. They are also a great vehicle for adding some leftover veggies or cheese from the fridge - simply grate and add to the recipe.
4 Ingredient Corn Cakes Recipe
Once that fresh corn hits the farmers market stalls I start having serious cravings for all things corn and corn related.
These fresh corn cakes are always top of the list for things to make. Mainly because they are so freaking easy.
As a teenager, my favorite thing to eat after a day at the beach was a deep-fried corn dog. We would buy the huge bags of frozen 'dogs' from the store and my mum would fry up batches for all the neighborhood kids. I naively thought I was being so much healthier than all those people eating the weird meat versions.  Hindsight and all that, right?
Don't have fresh corn?
Don't worry, you can definitely use canned corn or frozen corn which has been thawed in a bowl of water.
What Ingredients Are Needed?
Nowadays I realize those deep-fried corn dogs are perhaps not so healthy, and I just can't handle deep-fried foods like I used to. So I came up with this little fresh corn cakes recipe to offset the huge craving I get as soon as the sun comes out and the beach starts calling.
They consist of only 4 ingredients for the basic recipe:
corn (use fresh from the kernel, canned corn or thawed frozen corn)
eggs (I usually add one for this recipe, but if it seems a bit dry feel free to add another egg)
flour
baking powder
You can also jazz the recipe up by adding:
grated carrot or zucchini
finely chopped brown onion or spring onion
grated cheddar cheese or crumbled feta cheese
chopped sundried tomatoes
whatever else you think may work in there.
If you do add more ingredients, just remember to add another egg so that it holds together when cooking.
How To Serve Up Great Corn Cakes?
Four ingredient corn cakes or corn pancakes are so easy to dress up and make fancy. Simply pop on some créme fraîche and smoked salmon, and call it hors-d'oeuvres, or just eat them as is, straight out of the pan with a big dollop of ketchup.
I personally think that this is the best corn cake recipe because it is just so easy and is super adaptable to whatever add-ins you would like to include.
You cannot go wrong with this, and they do not have to look perfect, the more rustic the better. All you have to do is:
Add all the ingredients to a bowl and give it a good mix;

Heat some cooking oil of choice in a large saucepan;

Once hot, drop a spoonful of the mixture into the pan. Cook for about 2 minutes, flip and cook on the other side for about 2 minutes;

Serve and enjoy.
Batter too dry? If your eggs are on the smaller side you might end up with a batter that is a little dry. Just add some milk a tbsp at a time to loosen the batter up and it should cook up just fine.
Alternatively, you can add another egg if you have added more veggies.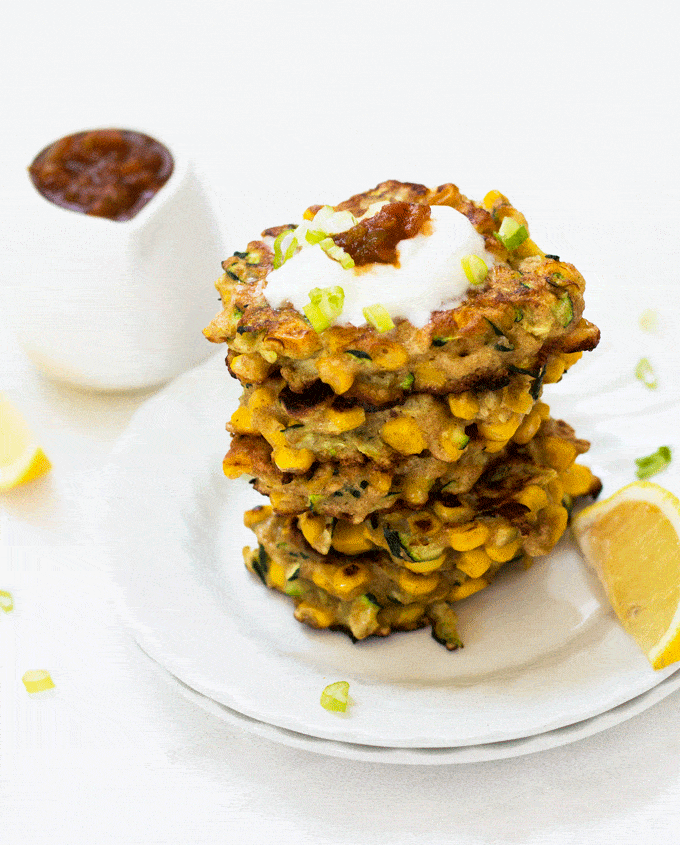 4 Ingredient Corn Cakes with Added Zucchini
Can These Corn Cakes Be Made Ahead of Time?
They sure can.
I make a big batch at the beginning of the week and store them in the fridge for afternoon snacks. And I must say they go down a treat. Especially for hungry little ones when school finishes for the day and we have a few hours before dinner.
I do tend to give them a quick 2 minutes in the air-fryer just to crisp them up and serve them nice and hot, although the kids don't mind them cold.
Remember to add in some more veg if you have some hanging out in the fridge that needs to be used up. I sometimes throw in:
grated and drained zucchini,
grated carrot,
a spare bit of onion,
grated potato or sweet potato,
leftover parsley or basil,
or even some peas.
If you are looking for some more 4 ingredient recipes for easy cooking then check these out:
Do you get a hankering for fresh corn cakes when they start to show up at the markets? Let me know in the comments what recipes you use for your fresh corn.
Happy eating.
If you tried this recipe please comment and rate it.
I love hearing your feedback and answering your questions! And if you make this please tag me on Instagram with @wholefoodbellies so I can share it <3
You can find a full index of my recipes here.
Don't forget to follow Whole Food Bellies on Pinterest for more recipe inspiration!
Or if Pinterest isn't your style, bookmark this post!
Let's keep the conversation going- join my Facebook group!
Old photos of this recipe that you might have found over on pinterest, where they seem to be incredibly popular!?!