We are all sniffles and coughs at the moment and these little bowls of Açaí Superfood Parfaits are in high demand with the little people.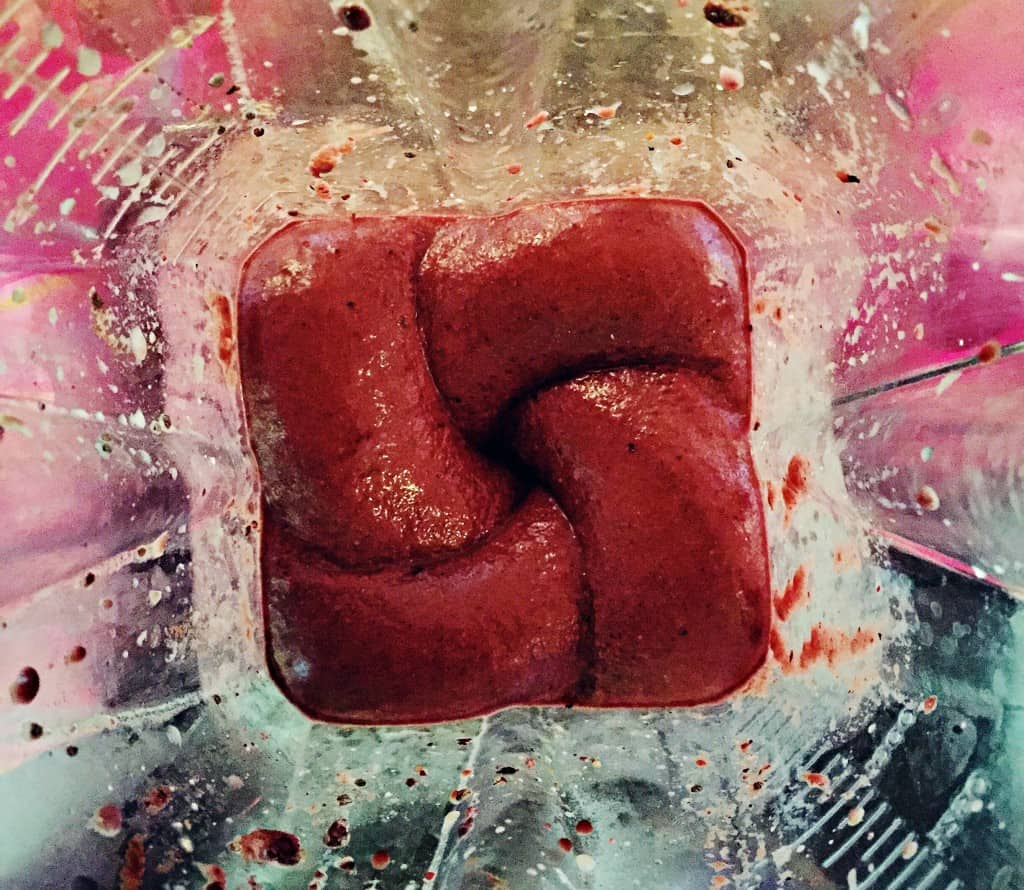 It's been a tough week and I have sadly completely slacked off in the cooking department. As a result we have ploughed through our back up 'freezer surprises' pretty quickly. We have had take out a couple of times this week and I haven't been making my usual effort to pack fresh fruit and veg into our every meal, which I am pretty sure has contributed to the sniffle brigade we have going on around here.
Obviously we are all in need of a serious pick me up, not just for energy levels, but for general immunity as well. A sick house is not a fun house, especially where kids are involved (although the resulting snuggles on the sofa can be pretty nice).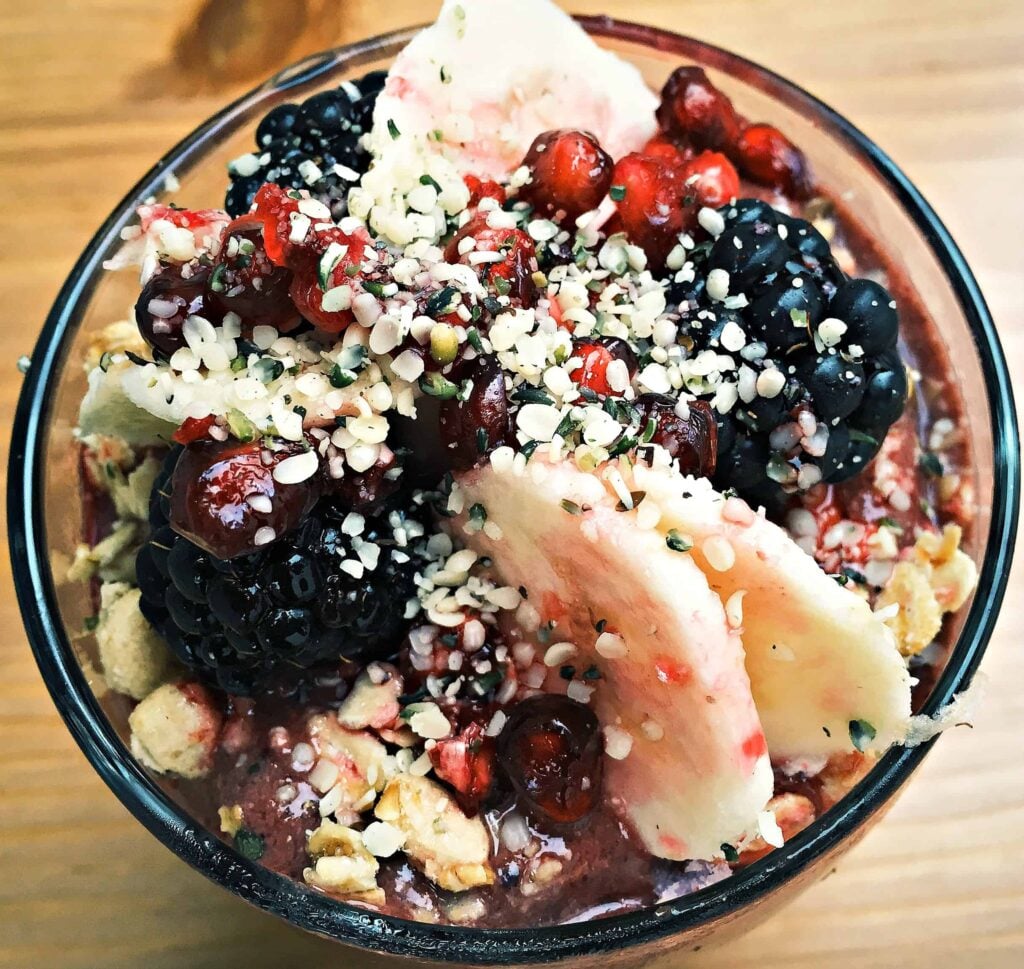 That's where this little bowl of goodness comes in. I won't give a big spiel about the benefits of this ingredient and that. Just know that this Açaí Superfood Parfait (aka breakfast ice cream) is super easy to prepare and seriously makes you feel awesome (this could just be all in my head because I know about said goodness of every ingredient but I am going with it anyway).
Normally I make my Açaí bowls all about the fruit but you can totally get away with packing in some green power without the little ones, or the big ones, noticing. My daughter calls this 'breakfast ice cream' so you can guarantee that she is going to eat the whole thing and lick the bowl afterwards whether there is spinach hidden in there or not. By the way how cute are those jammies? Ignore the berry stained hands....someone got into the bag of frozen berries while I was playing in the kitchen 🙂
You can vary up the ingredients to match what you have on hand or whatever fruit is in season (or in your freezer). I used a frozen organic superfood berry mix for this Açaí Superfood Parfait (aka breakfast ice cream), because I really like the mix, but you could use any frozen berries. I always have frozen bananas on hand as well which are great for giving it that ice cream texture which is popular with the little one. If you want it to be less ice creamy then go for a nice ripe banana.
I am thinking that this would make a really great Christmas morning breakfast as well. I envisage strawberries, kiwi and pomegranate to make it look all Christmassy and serving it up trifle style for everyone to serve themselves. As an added bonus - it will totally give you the energy you need to get through the whole day if you aren't lucky enough to be offered nap time 🙂
Happy Holidays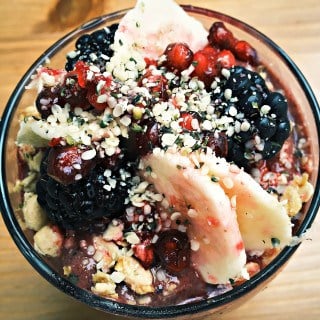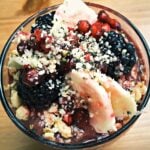 Print Recipe
Açaí Superfood Parfait (aka breakfast ice cream)
This little bowl is a powerhouse of goodness. Great for a pick me up or just as a healthy snack to keep you going for the afternoon. I make it up parfait style for breakfast or make the açaí mix and store in little pouches in the freezer for on the go goodness.
Ingredients
1 3.5

ounce

frozen açaí berry smoothie pack

found in the frozen section of most health stores

1/2

t

frozen banana

use a ripe banana if you don' want it to be too ice cream like

1/2

cup

frozen mixed berries

1

tbsp

chia seeds

1

tbsp

extra virgin coconut oil

1/3

cup

almond milk

or non dairy milk of choice

1

tsp

coconut nectar

can be substituted with honey or maple syrup if thats what you have

1/3

cup

granola

2

tbsp

pomegranate arils

1/3

cup

fresh berries of choice

I used blackberries

1

tbsp

hemp seeds

1

tbsp

pistachio dust

fancy words for ground pistachios

1/2

sliced banana

honey to serve
Instructions
Pop all the ingredients for the smoothie into a blender and blend until smooth (açaí pack, banana, berries, chia seeds, coconut oil, almond milk and coconut nectar)

Spoon half the smoothie into serving glass. Add half the toppings and then the rest of the smoothie and toppings

Serve and enjoy

Alternative: freeze the açaí mix in pouches and use for on the go goodness.
Notes
Play around with the toppings to suit your own tastes. I.e. for Christmas I would be using strawberries, pomegranate arils and kiwi.
Nutrition
Calories:
318
kcal
|
Carbohydrates:
44.9
g
|
Protein:
8.6
g
|
Fat:
20.9
g
|
Saturated Fat:
8.8
g
|
Sodium:
40
mg
|
Fiber:
9.8
g
|
Sugar:
24.1
g