Like summer in a glass, this quick and easy Pineapple Agua Fresca is one drink you are going to want to make time and time again. With the addition of whole chia seeds to keep your belly fuller for longer, and to add some extra nutrition, and then some lime and ginger for a bit of a zing, this chia water is next level in terms of goodness and flavor.
Disclaimer: This post includes affiliate links, and I will earn a commission if you purchase through these links. Please note that I've linked to these products purely because I recommend them and they are from companies I trust and use myself.
Chia Lime and Ginger Pineapple Agua Fresca
If you just want the recipe, then feel free to click on the 'Jump To Recipe' button above. If you want some tips, tricks and serving suggestions for the recipe, you will find them in the post below. I try to include only useful information.
This pineapple agua fresca is a super fun twist on a regular agua fresca, with some pineapple, ginger, lime, and chia seeds added to the water for some extra texture and nutrition.
Refined sugar-free, this chia seed water is sweetened naturally with maple syrup, or simply with pineapple if you happen to get a nice sweet one.
Pineapple chia water is a huge hit with kids and adults alike and makes for a nice change from the regular drinks served up at parties and potlucks.
It has become a favourite after-school snack in our house (especially in summer), as it fills the kids up enough to keep them going without spoiling their dinner, and it makes for a nice change from a smoothie, which is our usual go-to.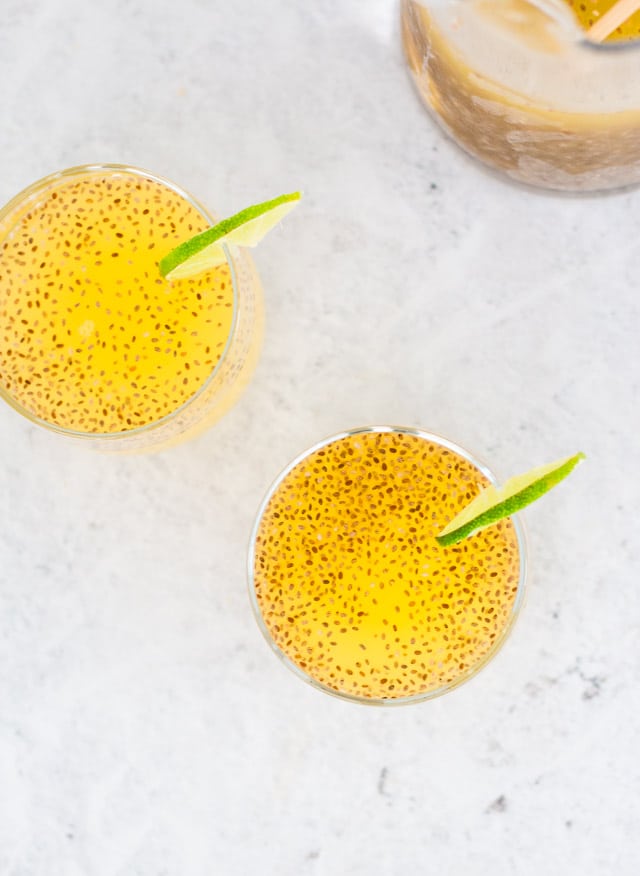 What Ingredients Are Needed For Pineapple Ginger Chia Water
Pineapple Ginger Chia Water is a super easy drink to bring together, and it is just perfect for making ahead of time.
You will need:
filtered water
chopped pineapple
lime
ginger
maple syrup
If your pineapple is super sweet, you may not even need the maple syrup.
Taste your pineapple before starting to make your chia water, and only add the maple syrup if you think it could use some extra sweetness.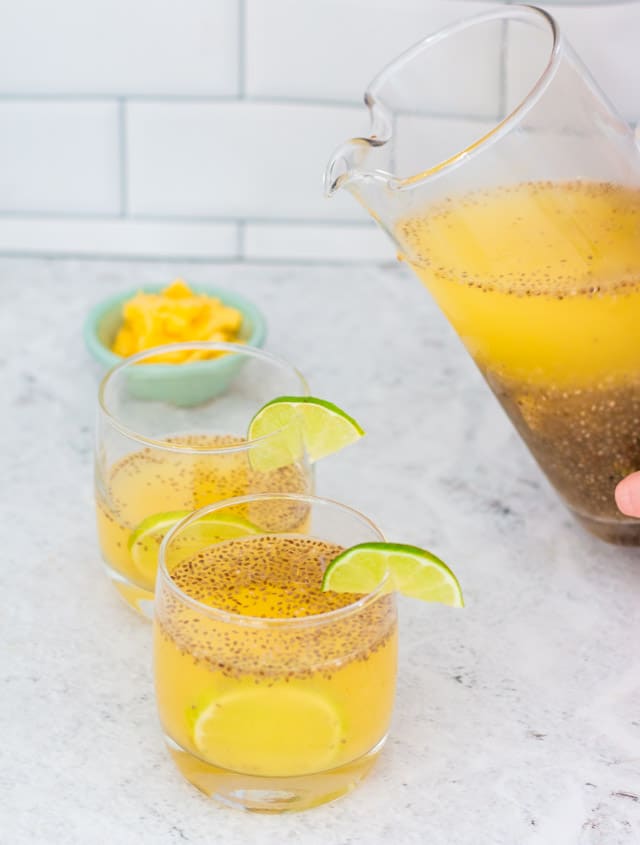 How To Make Agua Fresca
As mentioned, this is a super easy drink to bring together.
We are simply going to use a high-speed blender to combine the pineapple, ginger, maple syrup and lime with some water.
This mixture may get a bit frothy due to the pineapple.
That is fine.
To get rid of the froth, simply turn the blender to a slow speed once everything has been combined. After about 20 seconds the froth should be incorporated back into the mixture.
Following the blend, we are going to strain this through a fine sieve or a mesh strainer.
This simply removes any bits, and makes for a smoother drink.
It is not completely necessary, as most of the pineapple blends into a juice quite easily.
However, it does result in a more juice-like texture, which is what we want in an agua fresca.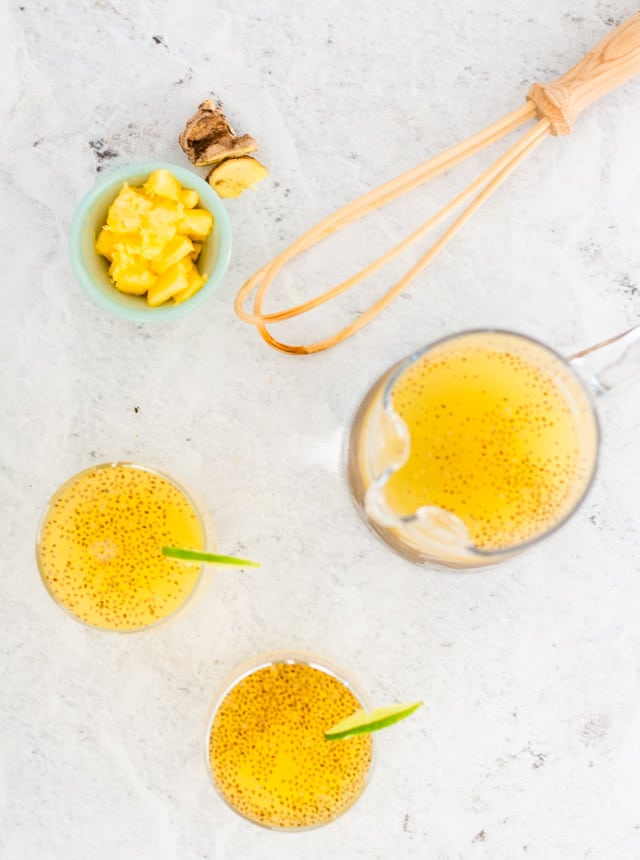 Following the strain, we are going to combine the juice mixture with the rest of the water and the chia seeds.
It is important to mix well here, as there is nothing worse than a clump of chia seeds in your drink. I recommend using a whisk, as this really makes sure everything is well combined.
Pop the combined mixture into the fridge for at least 30 minutes and you are good to go.
To serve I always add some extra chunks of pineapple and some slices of lime to make it look pretty, as well as a couple of ice cubes to make it nice and cold.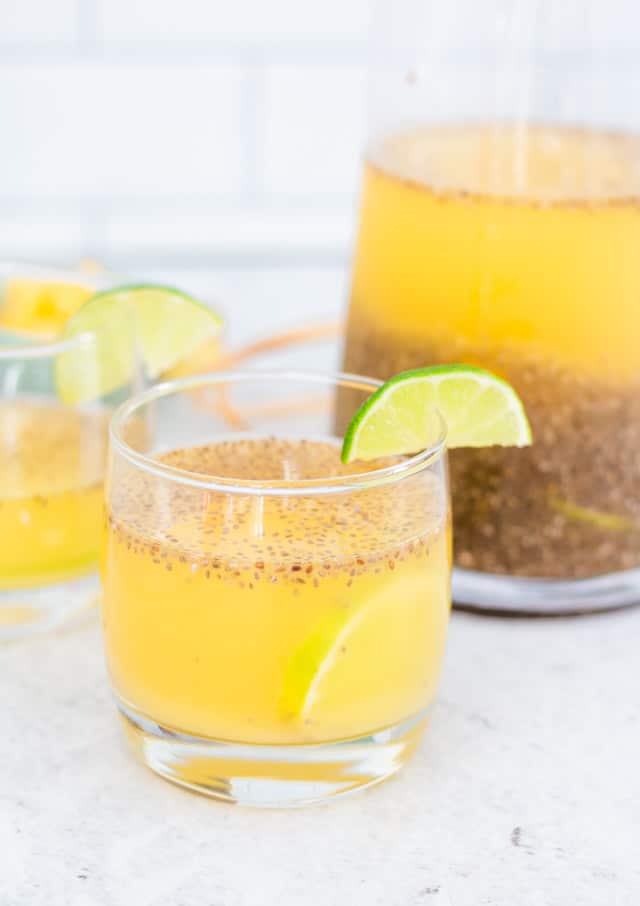 The Benefit Of Chia Seeds In Water
Chia seeds are super hydrating, filling, and make it easier to consume more water during the day if you are getting bored with regular old water.
They are also great at keeping you a little more regular, which is where they got the reputation of making awesome detox water (for more information on that please see my post Lemon Infused Chia Water.)
Chia seeds in water:
Make a good hydrating drink. It is great for airplane travel when you can tend to become dehydrated very easily. Simply bring a little container of the seeds and add them to your water bottle once on the plane. It is also great pre and post-workout - take a bottle of chia water with you to the gym and you won't only be super hydrated, but you will get some great looks from people wondering what you are drinking.
Is linked to giving you lots of energy without keeping you awake as sugar or caffeine would. It makes a great little natural energy drink
Thanks to their soluble fiber content and water-absorbent shell, chia seeds are quite filling and can help keep you satisfied for longer, all while keeping you hydrated
Looks super pretty with all the little floaty bits
Is easy to throw together to sip throughout the day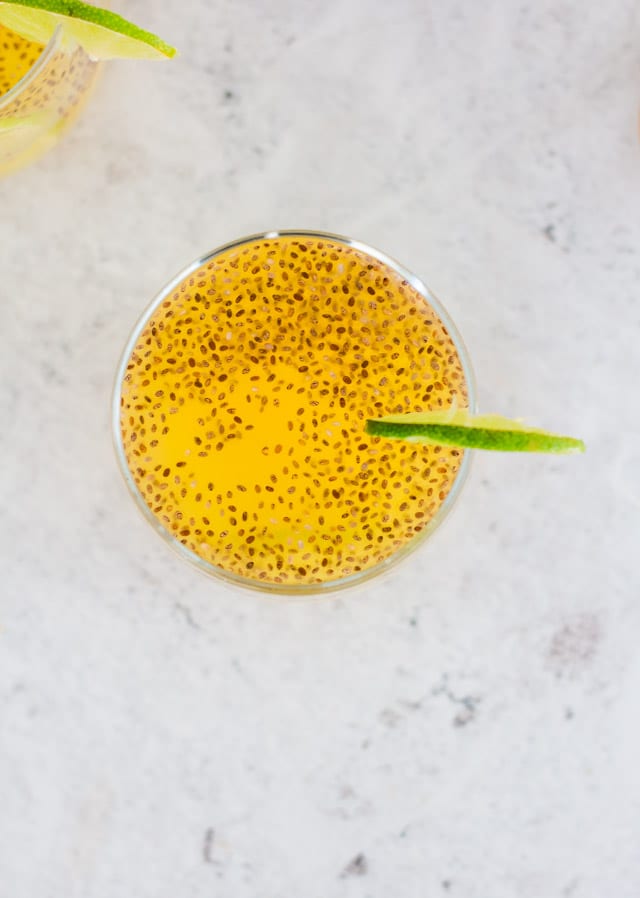 More Fun Drink Recipes
If you enjoyed this chia pineapple agua fresca, you might want to try these other drinks out:
Happy Drinking!
XX
Chia Lime and Ginger Pineapple Chia Fresca
Like summer in a glass, this quick and easy Pineapple Agua Fresca is one drink you are going to want to make time and time again. With the addition of whole seeds to keep your belly fuller for longer, and to add some extra nutrition, and then some lime and ginger for a bit of a zing, this chia water is next level in terms of flavor.
Ingredients
4

cups

filtered water

1

cup

chopped pineapple

2

small limes

halved and juiced

1

small knob of ginger

about the size of the tip of your pinky finger

2

tbsp

maple syrup

(optional: see notes)

3

tbsp

chia seeds

extra pineapple and lime slices for serving
Instructions
In a high speed blender combine 2 cups of water, chopped pineapple, lime juice, ginger and maple syrup, and blend until smooth.

Strain this mixture with the help of a fine mesh sieve or cheesecloth (optional: see notes).

In a large jar or bottle, combine the chia seeds with 2 cups of water and stir thoroughly, making sure the seeds do not form clumps. I recommend using a whisk.

Pour in the pineapple mixture and stir again.

Place the jar in the fridge and allow to rest for at least 30 minutes.

When you are ready to serve, give the mixture a good stir and add in the extra pineapple chunks and lime wedges. Pour over ice and drink immediately.
Notes
Can be stored in an airtight container in the fridge for a week. Just be sure to give it a really good shake or stir before serving.
Alternatively, coconut water can be used in place of the filtered water.
The addition of the maple syrup will depend on how sweet your pineapple is, and how sweet you like your drink to be.
Although the instructions suggest that this mixture should be strained, this is only necessary if you prefer a smoother juice-like texture. If you do not mind 'bits' in your drink, you can skip this step.
Nutrition
Calories:
103
kcal
Carbohydrates:
20
g
Protein:
2
g
Fat:
3
g
Saturated Fat:
1
g
Sodium:
15
mg
Potassium:
138
mg
Fiber:
5
g
Sugar:
11
g
Vitamin A:
41
IU
Vitamin C:
29
mg
Calcium:
91
mg
Iron:
1
mg
The information shown is an estimate provided by an online nutrition calculator. It should not be considered a substitute for a professional nutritionist's advice.
If you tried this recipe please comment and rate it. I love hearing your feedback and answering your questions! And if you make this please tag me on Instagram with @wholefoodbellies so I can share it <3