One of the easiest ways to include chia seeds in your diet is to add them to your water, making chia water. This mixture makes a super refreshing drink, perfect for enjoying first thing in the morning, or pre or post-workout when you may need a little more hydration in your body. Make a batch of this lemon-infused chia water and sip throughout the day for a happy belly.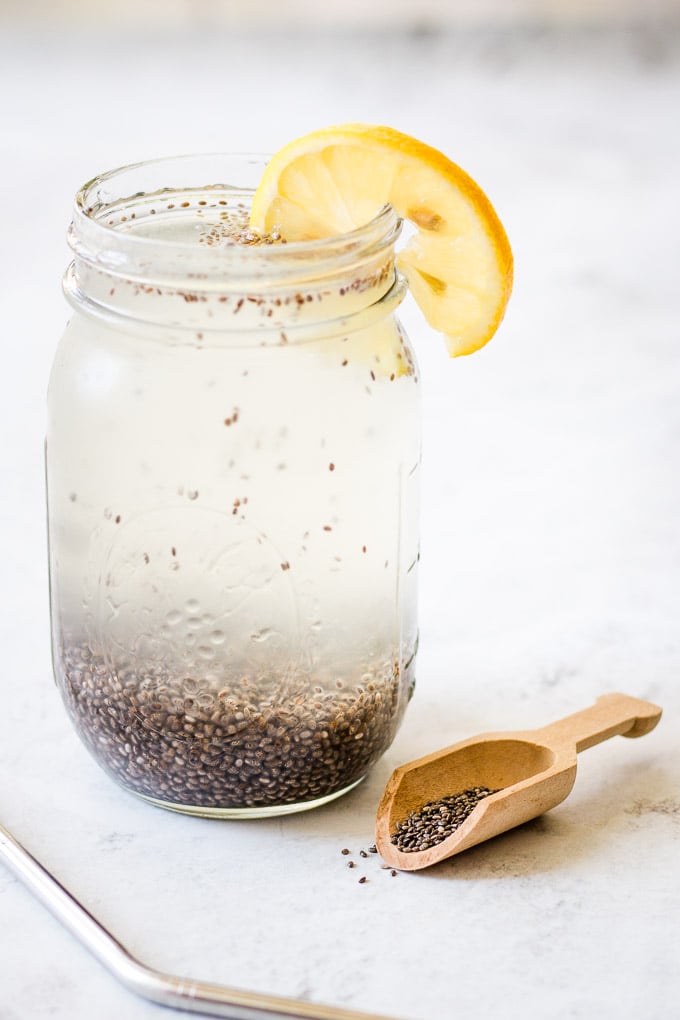 If you want another chia drink, then you need to check out this Lime Chia Fresca. It is similar to chia water, but more of a chia juice, as we are blending whole limes with some coconut water.
Lemon Chia Infused Water
You may have noticed the rise of these tiny seeds over the past couple of years.
From being spruiked all over Pinterest as being a great weight loss aide, to health journals declaring them the next best superfood, these little seeds are certainly making a big name for themselves.
I don't know about any of that...
What I do know is that chia seeds are super hydrating, filling, and make it easier to consume enough water during the day if you are getting bored with regular old water.
They are also great at keeping you a little more regular, which is where they got the reputation of making awesome detox water.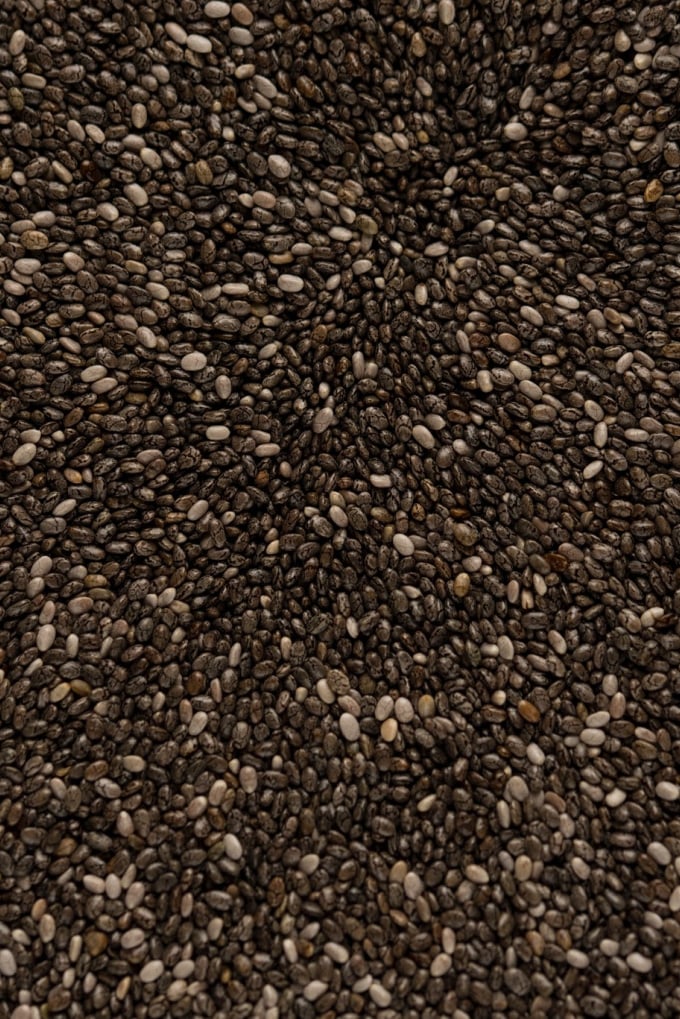 Why Drink Chia Water?
I am not a medical doctor, dietician, or nutritionist so I am not going to be listing any health benefits.
What I can tell you is that chia water:
Makes a good hydrating drink. It is great for airplane travel when you can tend to become dehydrated very easily. Simply bring a little container of the seeds and add them to your water bottle once on the plane. It is also great pre and post-workout - take a bottle of chia water with you to the gym and you won't only be super hydrated, but you will get some great looks from people wondering what you are drinking.
Is linked to giving you lots of energy without keeping you awake as sugar or caffeine would. It makes a great little natural energy drink
Thanks to their soluble fiber content and water-absorbent shell, chia seeds are quite filling and can help keep you satisfied for longer, all while keeping you hydrated
Looks super pretty with all the little floaty bits
Is easy to throw together to sip throughout the day
Chia water is a super-easy way to include chia seeds in your diet.
One serving is reported to have:
as much calcium as a glass of milk;
high content of heart healty omega-3 fatty acids, in fact they containe more Omega-3s than a serving of walnuts;
as many antioxidants as blueberries;
healthy fats
high fiber content which may help with constipation or digestive isses.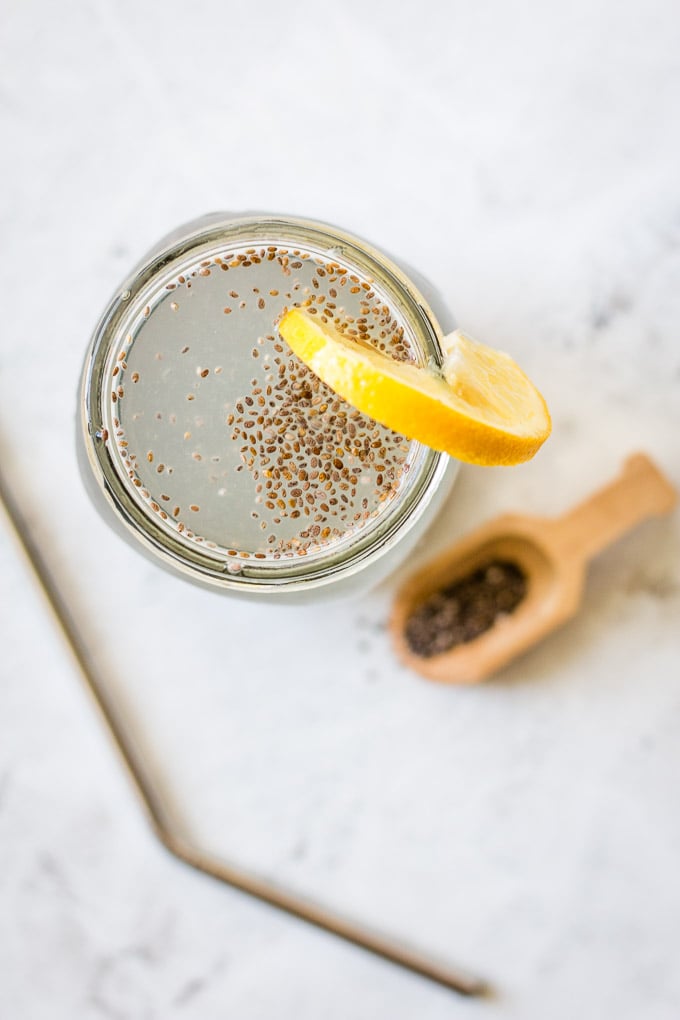 What Is The Texture Of Chia Water Like?
Not quite like a smoothie and not quite like a glass of water.
When the chia seeds combine with water and are allowed to rest for a while they absorb up to 10x their body weight in water and become gel-like.
Think like a tomato seed when you remove it from a tomato.
On that note, if you are weird about textures then this isn't for you.
If you don't like chia puddings or anything with a gel-like consistency then just back away now.
I don't want any gagging on my conscience.
My son and I love it, my 9-year-old acts like I have fed her a bowl of worms every time she tries it.
You have been warned.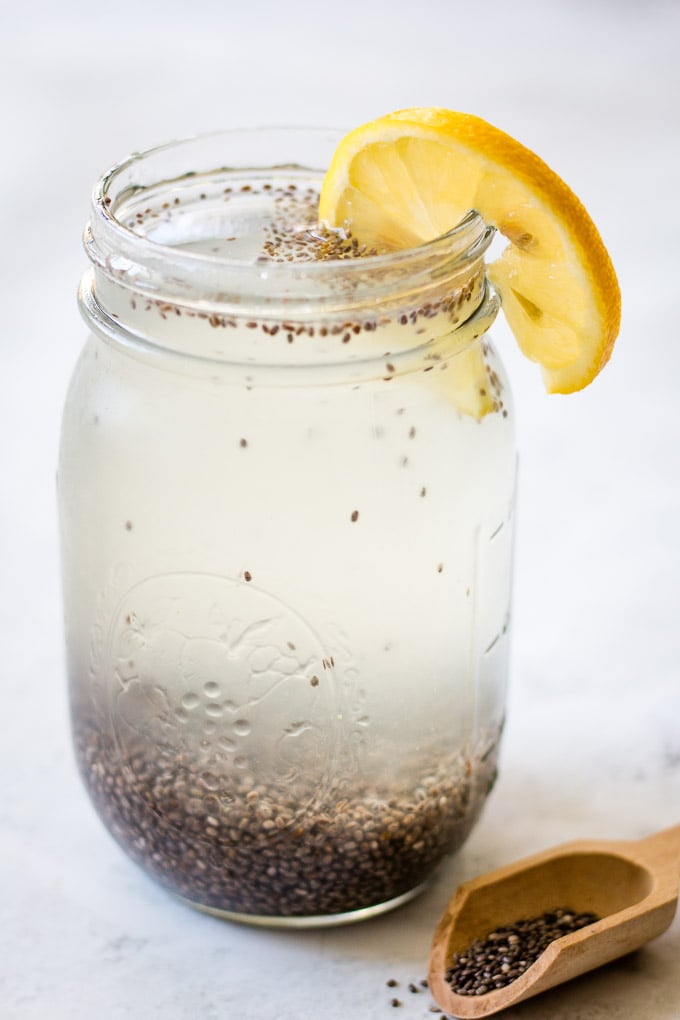 How Much Chia Should I Add?
I tend to use one to two tablespoons of chia seeds in my lemon water.
There is no right or wrong way to make your chia water, so play around with the quantities depending on your flavor and texture preferences.
If you prefer it to be less gelatinous then lessen the number of chia seeds you put in there.
Start with 1 teaspoon of chia seeds and work your way up.
TIP: This does not work well with carbonated water or juice. The chia seeds float to the top and make a thick gel-like layer on the top of the drink which is kind of icky.
Can I Consume Chia Seeds Dry?
Combining chia seeds with water makes it easier to swallow.
As they are a gel-like consistency they will not get stuck in your throat like they would if you were eating them on their own.
This being said, some people who do not like the consistency of chia water do consume the seeds dry and just chase it down with lots of water.
TIP 2: No you do not need to grind the chia seeds first, just throw in the whole chia seeds.
Am I Going To Lose Weight If I Drink Chia Water?
There is no miracle drink that is going to make you lose weight.
Chia water is not some miracle weight-loss concoction like it is being spruiked all over Pinterest or by some tiktok user.
Having a wee glass of chia water in the morning is not going to give you a flat tummy with no further input from you.
Coupled with a healthy diet and exercise, sure it might help you along.
But, as is always the case, you have to do the work.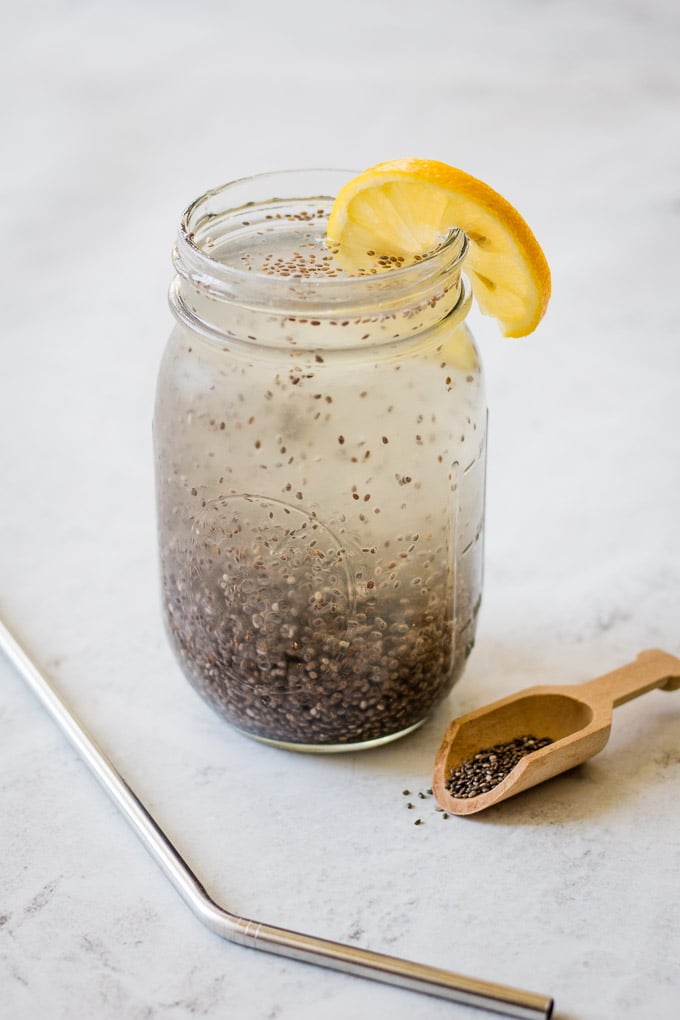 Ok How Easy Is Chia Water To Make?
Super easy.
The best way to make chia water is simply to soak 1 tablespoon of chia seeds in a large glass of water for about 10-20 minutes.
The longer you leave it, the more water the chia seeds will absorb and the more gel-like they will become.
I like to add lemon or lime juice to mine as it is anti-inflammatory and gives the water a great flavor without the need for sugar.
In place of lemon, or as well as lemon, you could add some apple cider vinegar.
You can add ½ to 1 teaspoon of honey or maple syrup if you want some sweetness in there too.
Coconut water works in place of filtered water if you prefer.
Chia water can be made in advance and stored in an airtight container in the fridge for the week.
The seeds will clump or get stuck to the bottom of the glass after sitting, so be sure to give it a really good shake before drinking.
I find morning the best time of the day to drink chia seed water as it gets the body ready to roll.
Where Can I Get Chia Seeds For My Chia Water?
As chia seeds have become more popular they have become really easy to find.
The health food aisle in most grocery stores tends to stock chia seeds these days.
Find the near the flax seeds.
Otherwise, you can grab some online.
Need more Chia Seed Recipes?
Of course you do, there are so many of those little buggers in a bag.
Lucky for you, I go through these things like smarties and have plenty of recipes for you:
Happy drinking
xx
Recipe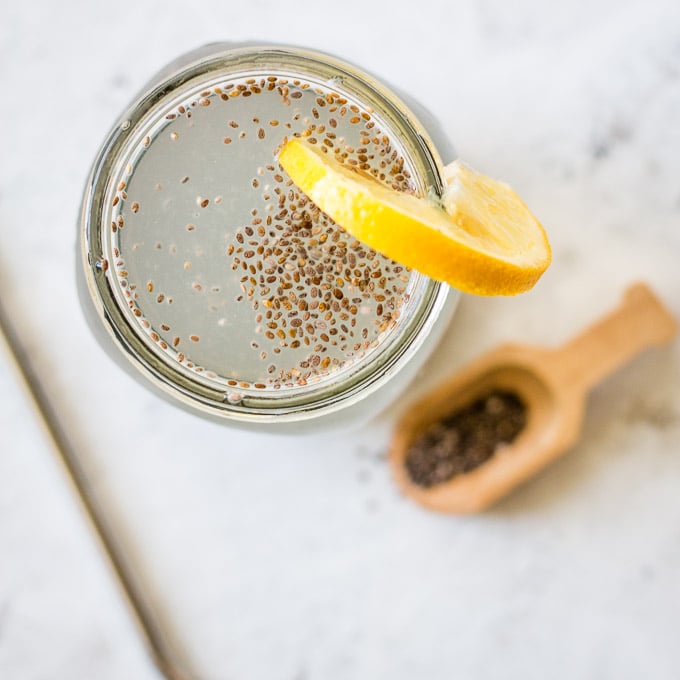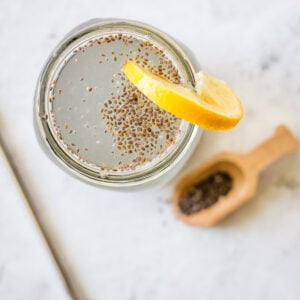 Lemon Infused Chia Water
One of the easiest ways to include chia seeds in your diet is to add them to your water, making chia water. This mixture makes a super refreshing drink, perfect for enjoying first thing in the morning, or pre or post-workout when you may need a little more hydration in your body. Make a batch of this lime-infused chia water and sip throughout the day.
Ingredients
2

cups

filtered water

see notes

1

tablespoon

chia seeds

½

small lemon

juiced

½

teaspoon

maple syrup

or honey
Instructions
Combine the water, chia, lemon juice, and maple syrup in a large glass with a lid.

With the lid on tight, give the glass a really good shake to mix everything up and prevent the seeds from clumping. Pop into the fridge for at least 10-15 minutes.

When you are ready, give the mixture a good shake again and drink immediately.
Notes
Can be stored in an airtight container in the fridge for a week. Just be sure to give it a really good shake or stir before serving.
You do not have to use filtered water. If you have good tap water then use that. Alternatively coconut water can be used.
Nutrition
Calories:
78
kcal
Carbohydrates:
11
g
Protein:
2
g
Fat:
4
g
Saturated Fat:
1
g
Sodium:
28
mg
Potassium:
49
mg
Fiber:
5
g
Sugar:
3
g
Vitamin C:
10
mg
Calcium:
102
mg
Iron:
1
mg
Tried this recipe?
Leave a comment HERE and let us know how it was!
The information shown is an estimate provided by an online nutrition calculator. It should not be considered a substitute for a professional nutritionist's advice.
Don't forget to follow Whole Food Bellies on Pinterest for more recipe inspiration! Or if Pinterest isn't your style, bookmark this post! Let's keep the conversation going- join my Facebook group!