It's all about the pumpkin spice and pumpkin puree in these deliciously fluffy pumpkin spice pumpkin cookies. The perfect little cookie bite to enjoy on a cold Fall afternoon with a cup of tea or some fresh coffee. Make a batch and have them handy for the week ahead. Nut-free so they are also perfect for little lunchboxes and conveniently sweetened naturally with granulated stevia.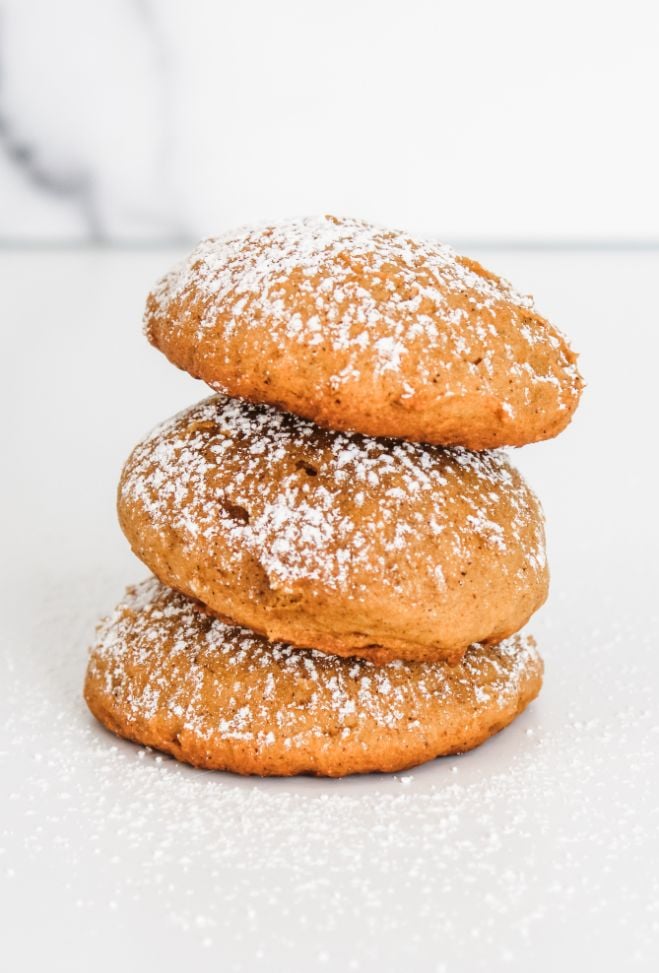 Why not enjoy these little spiced cookies with a Thick and Creamy Pumpkin Hot Chocolate and use up all of that leftover pumpkin puree no doubt hanging out in the back of the fridge.
Fluffy Pumpkin Spice Pumpkin Cookies
It's coming to that time of year again and baking season is ramping up. These pumpkin spice cookies, and pumpkin recipes in general, have been making the rounds in the whole food bellies house. They are a great way to use up leftover pumpkin purée.
Naturally sweetened with granulated stevia, this pumpkin cookie recipe is sweet enough to satisfy that sweet tooth but wholesome enough to fill your belly in a good way.
Perfect with a cuppa in the afternoon, or packed into little lunch boxes for a sweet treat, these are the perfect cookies for the entire family.
These cookies are:
naturally sweetened;
nut free;
refined-sugar free;
freezer-friendly;
meal prep friendly.
What are you waiting for, go on ahead and pull out the baking sheets!
When it comes to pumpkin purée, not to be confused with pumpkin pie filling, I always make my own (because finding it in a can in Australia is nigh impossible), but if you are buying a pre-prepared can of pumpkin then have a quick squiz at the ingredients to make sure what you are buying contains 100% actual pumpkin.
Use this recipe to make your own: how to make pumpkin purée.
Assembly Instructions
No fancy skills are required to whip up a batch of these cookies.
Simply combine the pumpkin puree with the sugars in a large bowl until smooth. Combine the dry ingredients in a separate medium bowl and then gently fold the flour mixture into the wet batter and mix until it all comes together.
You can do this by hand, with an electric mixer, or with a stand mixer using the paddle attachment depending on your preferences and your tolerance for washing dishes and moving gadgets.
Use a cookie scoop or a tablespoon to roll evenly sized tablespoons of cookie dough onto a parchment paper lined cookie sheet.
The cookies should flatten slightly while baking. If they haven't flattened enough, simply bang the baking sheet on the kitchen bench 2-3 times before setting it aside and allowing the cookies to cool for 5 minutes.
Transfer the cookies to a wire cooling rack and allow them to cool completely before enjoying.
It is important to allow cookies to cool completely before storing or they will become soggy and less appealing.
Once cooled you can sprinkle on some powdered sugar and serve.
What you are left with is a soft cake-like cookie that is fluffy and light. Almost like a soft cookie crossed with a pumpkin muffin. They kinda look like little pumpkin muffin tops in my opinion.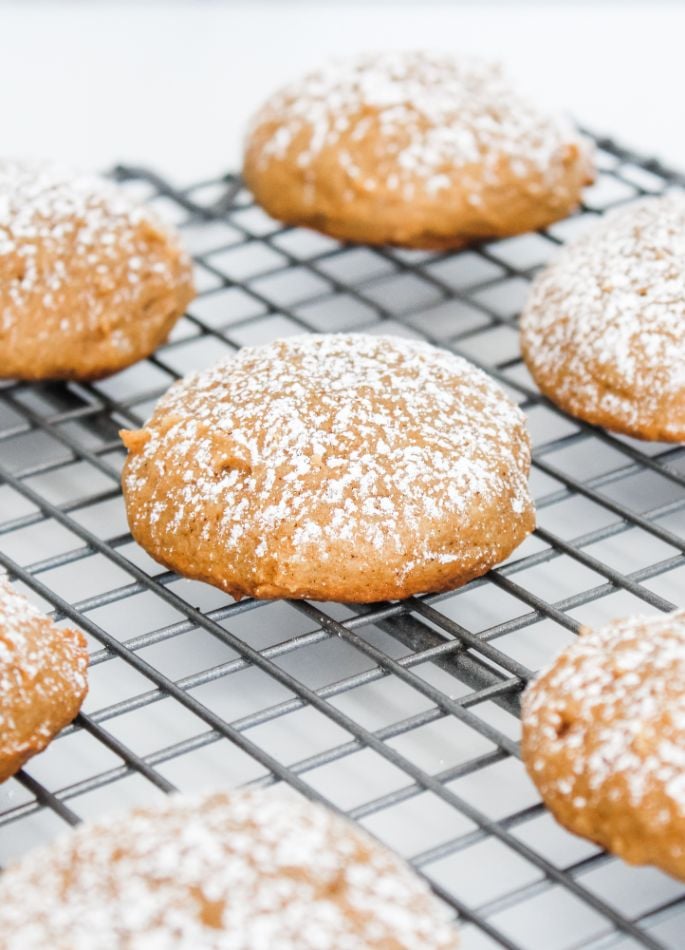 Storing, Freezing, and Making Ahead
Cookies should be allowed to cool completely on a wire rack before storing them in an airtight container.
If stored correctly they should last in an airtight container on the bench for up to one week. They can also be stored in the fridge, however, they may not stay as fluffy and they can become a bit harder.
Leftover cookies can also be frozen for up to 3 months if stored correctly.
To freeze, arrange the cooled cookies in a single layer on a baking sheet small enough to fit into the freezer. Once partially frozen transfer the cookies to a Ziplock bag and remove all air from the packaging before popping them into the freezer.
You can make this dough ahead of time and store it in the fridge for up to 48 hours before baking if preferred.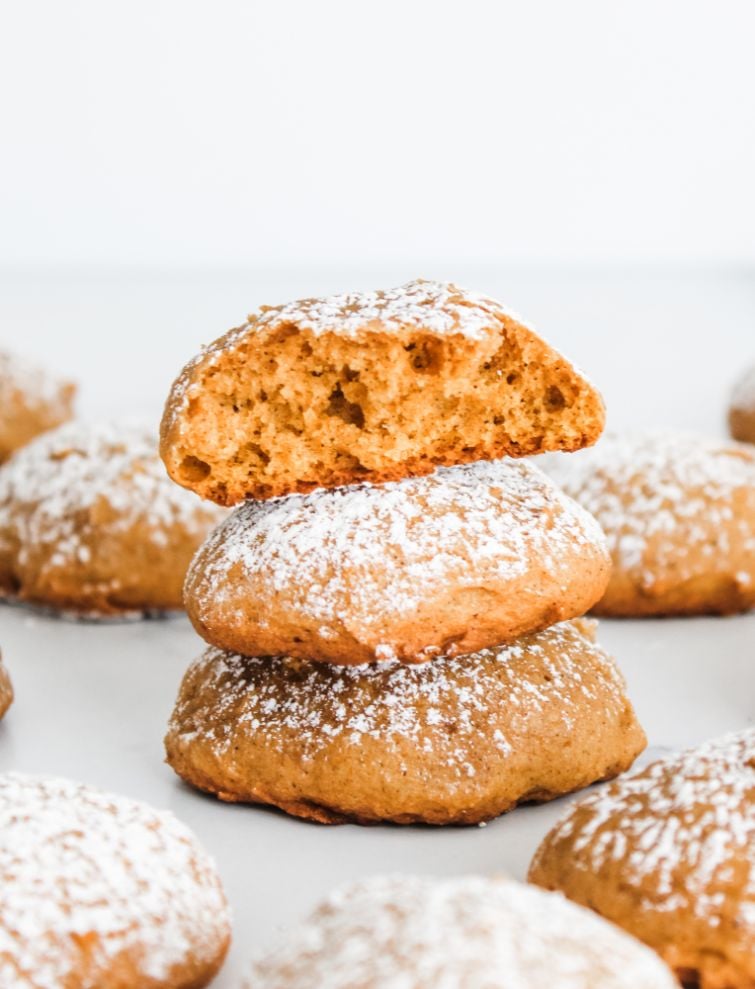 Serving Suggestions
Serve your pumpkin spice cookies as is once they have had time to cool completely to room temperature.
You can also serve with a sprinkle of powdered erythritol or powdered confectioners sugar on top, or some cream cheese frosting, which is simply confectioners sugar (or powdered erythritol) mixed with room temperature cream cheese until smooth.
Whip up the cream cheese frosting in a small bowl and slather it on top of the cookies to your heart's desire.
I find the perfect way to serve these flavorful cookies is with a nice hot cup of tea. The kids however swear they are best with a big glass of milk.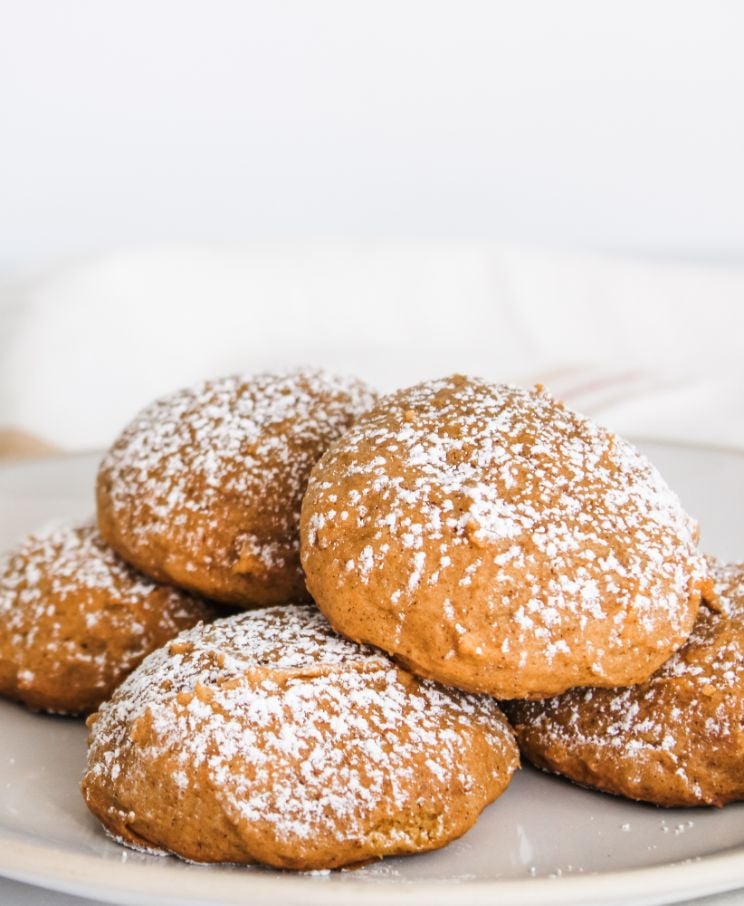 Tips, Tricks, and Substitutions
Whether it's not in the grocery stores yet, or you live outside of the US, making it hard to get your hands on some, it's always handy to have a recipe on hand to make your own pumpkin spice mix.
Simply combine:
½ teaspoon cinnamon
¼ teaspoon nutmeg
¼ teaspoon ginger
and ¼ teaspoon ground clove.
Mix well and store in a glass jar with a lid until needed.
Pumpkin puree can be replaced with an equal amount of ripe mashed banana or apple sauce. However please note that this will change the color and flavor of the cookie.
We use wholewheat flour which gives the cookies a more toothsome texture, this can be subbed for an equal amount of all-purpose flour or all-purpose gluten-free flour if you follow a gluten-free diet.
Other potential add-ins include:
one or two more teaspoons of pumpkin pie spice depending on how deep your love is for the concoction;
some white chocolate chips or milk chocolate chips to make some pumpkin spice chocolate chip cookies for something a little bit different;
a sprinkle of cinnamon sugar on top;
some dried fruit such as sultanas or dried goji berries.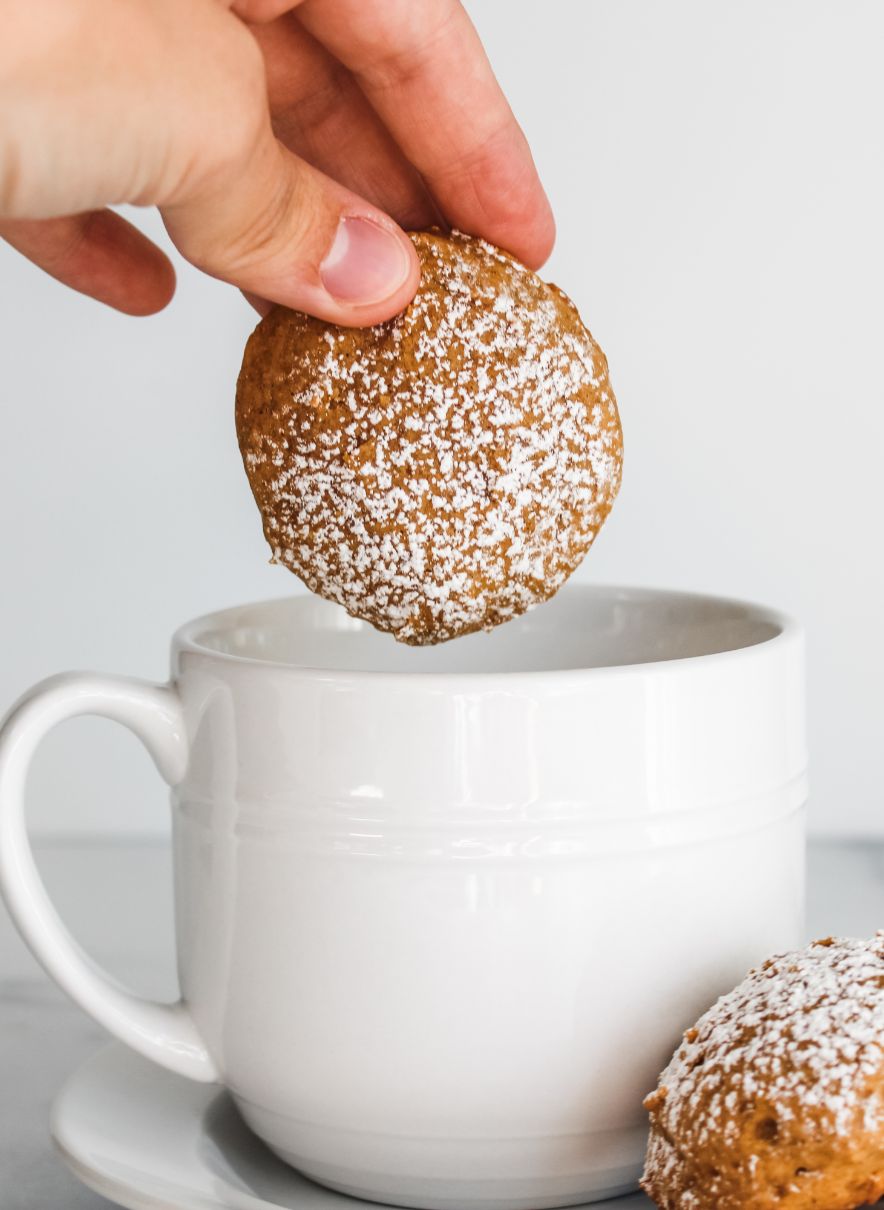 More Pumpkin Spice Recipes
We are big fans of pumpkin spice and fall spices in general around here, why not use the rest of your pumpkin spice mix and try another easy recipe: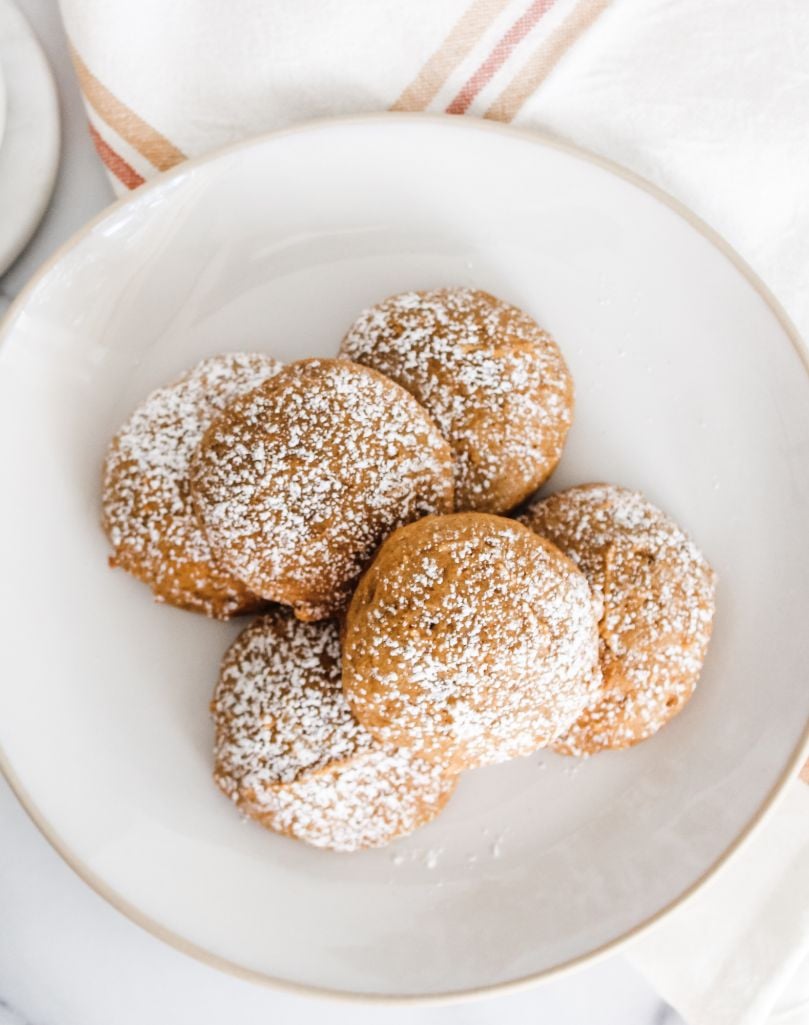 Frequently Asked Questions
Can I make my own pumpkin spice?
Yes. Simply combine ½ teaspoon cinnamon, ¼ teaspoon nutmeg, ¼ teaspoon ginger, and ¼ teaspoon ground clove for a homemade pumpkin spice mix.
Can I use anything in place of the pumpkin puree?
An equal amount of ripe mashed banana or apple puree can be used in place of the pumpkin puree. However, this will change the taste and color of the cookie.
I truly hope you enjoy these delicious pumpkin cookies and the warm fall flavors they bring with them. Please remember to leave a star rating on the recipe card, or comment underneath the recipe card if you enjoyed them.
Happy Eating.
xx
Fluffy Pumpkin Spice Pumpkin Cookies
Ingredients
2

cups

wholewheat flour

2

teaspoons

pumpkin pie spice

1

teaspoon

baking soda

1

teaspoon

baking powder

½

teaspoon

salt

½

cup

unsalted butter

½

cup

pumpkin puree

(see notes)

½

cup

coconut sugar

½

cup

granulated stevia

(can sub regular granulated sugar)

1

egg

1

teaspoon

pure vanilla extract

powdered erythritol or powdered sugar to serve.
Instructions
Preheat the oven to 350F (175C) and line a baking sheet with parchment paper.

In a large mixing bowl combine the flour, pumpkin pie spice, baking powder, baking soda, and salt.

In a separate bowl use a whisk, electric hand mixer, or stand mixer to cream together the butter, pumpkin puree, coconut sugar, and granulated stevia until well combined. Add in the egg and vanilla extract and combine.

Gently add the wet ingredients to the dry ingredients and mix well to combine.

Using clean hands roll the cookie dough into rough tablespoon-sized balls and place them on the prepared baking sheet.

Pop into the preheated oven and bake for about 15 minutes. Remove from the oven and allow to cool on the tray for about 5 minutes before transferring to a wire rack. The cookies should have a cakey texture.

Serve as is or sprinkle the cookies with powdered erythritol or powdered sugar.
Notes
Pumpkin purée
Not to be confused with pumpkin pie filling, pumpkin purée can be found in most grocery stores in the US. Outside of the US, it can be harder to find. Make your own by roasting some pumpkin cubes and then blending until smooth.
Storing and Freezing
Allow cookies to cool to room temperature before storing them in an airtight container on the bench for up to 1 week. Can also be frozen in a freezer-friendly container for up to 3 months.
Nutrition
Calories:
84
kcal
Carbohydrates:
11
g
Protein:
2
g
Fat:
4
g
Saturated Fat:
3
g
Polyunsaturated Fat:
0.3
g
Monounsaturated Fat:
1
g
Trans Fat:
0.2
g
Cholesterol:
18
mg
Sodium:
102
mg
Potassium:
67
mg
Fiber:
1
g
Sugar:
2
g
Vitamin A:
925
IU
Vitamin C:
0.3
mg
Calcium:
15
mg
Iron:
0.5
mg
The information shown is an estimate provided by an online nutrition calculator. It should not be considered a substitute for a professional nutritionist's advice.