Sweet and tangy, this homemade clean eating healthy lemon curd recipe made with honey is free from refined sugar but still tastes like that delicious traditional lemon curd you had growing up. Pile it high in little pastries or use it as a layer in a cake.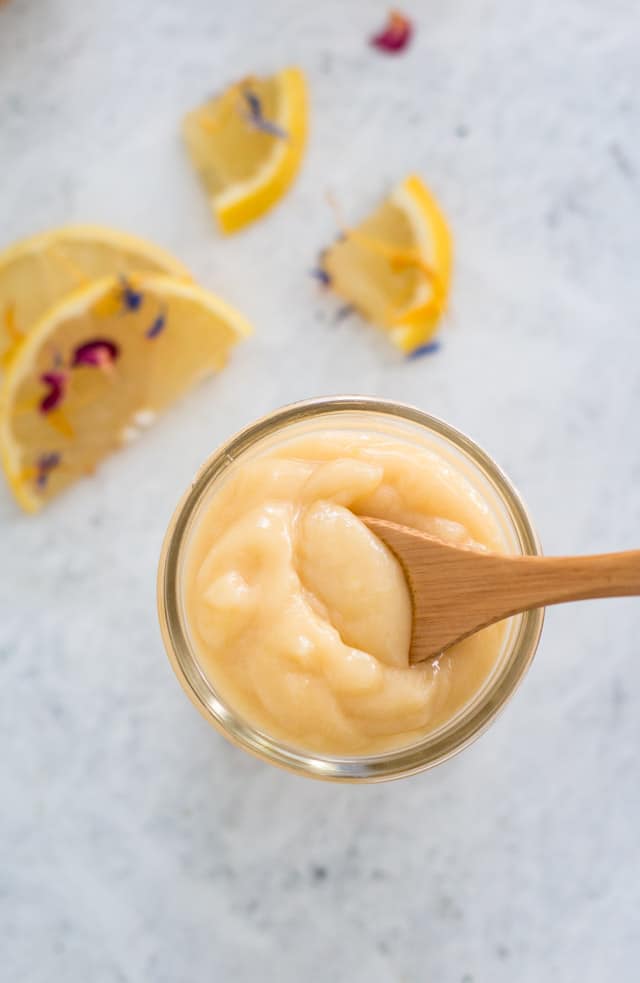 Clean Eating Lemon Curd With Honey
Lemon curd always reminds me of little old ladies and overly sweet treats.
I feel like all of my friend's grandmothers used to make little cakes with lemon curd piled on top when I was growing up, and it's one of those foods that always makes me smile.
I haven't had it in years though!
Our lemon tree just ripened, and we have over 200 lemons (the bitter type, not the sweet Meyer lemons) to put to use.
The first thing I wanted to make was a curd, but every recipe I happened upon was loaded with cups and cups of refined sugar.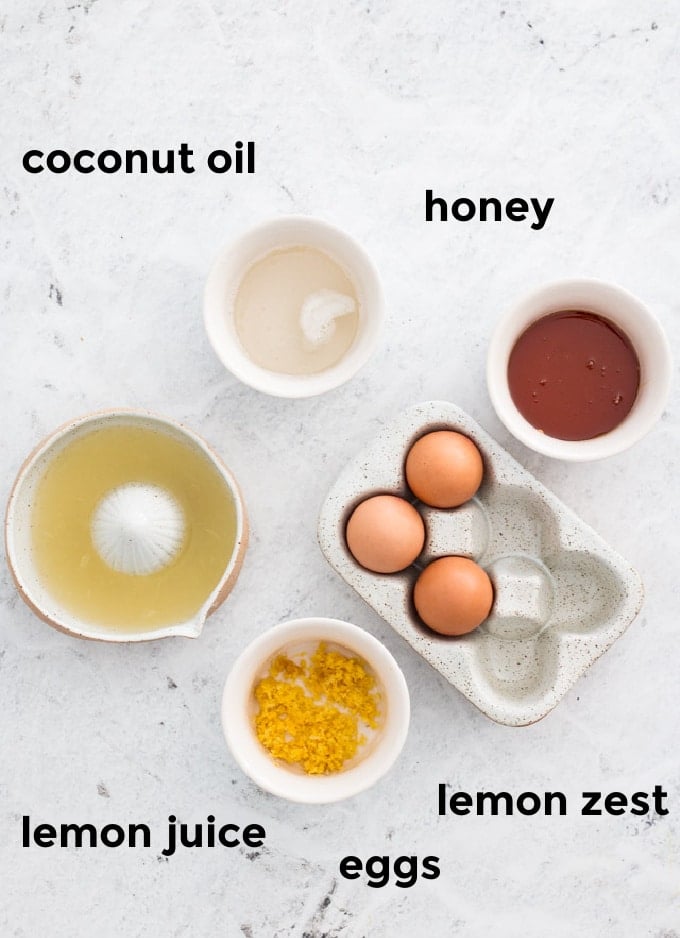 Lemon Curd With No Sugar?
So I experimented and came up with my own.
Instead of piling in the white sugar by the cupful, we are going to sweeten this lemon curd with honey.
Honey sweetened lemon curd has that same sweet kick as a traditional curd, but there is absolutely no refined sugar in there.
Trust me, it tastes amazing!
All you need is:
Eggs
Honey
Lemons (obviously)
Coconut Oil (don't worry, it won't taste overly coconutty). If you are opposed to coconut oil, or it isn't something you regularly have on hand, you can always sub in some unsalted butter instead.
Even my hubby, who is a staunch non-fan of everything lemon, loved this and ate the whole lemony dessert I made with it!
Win.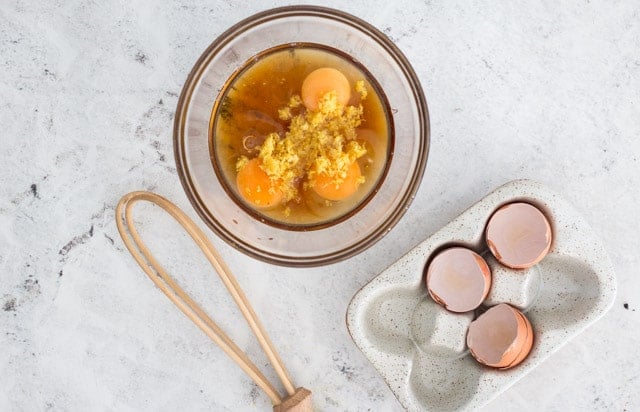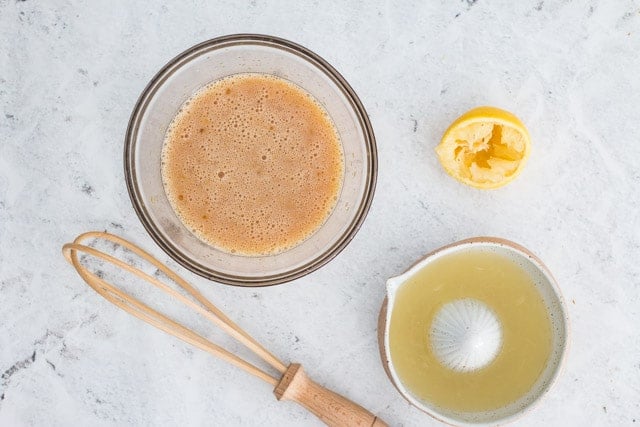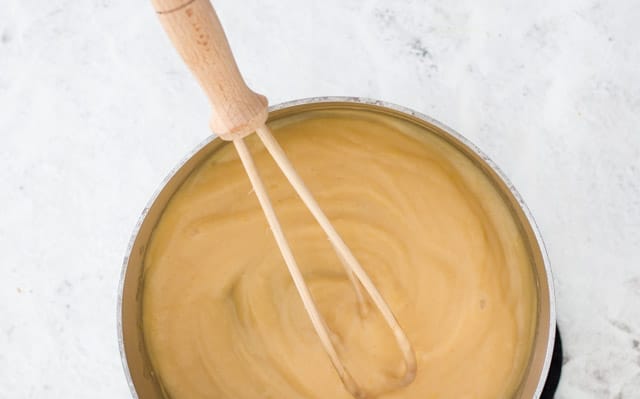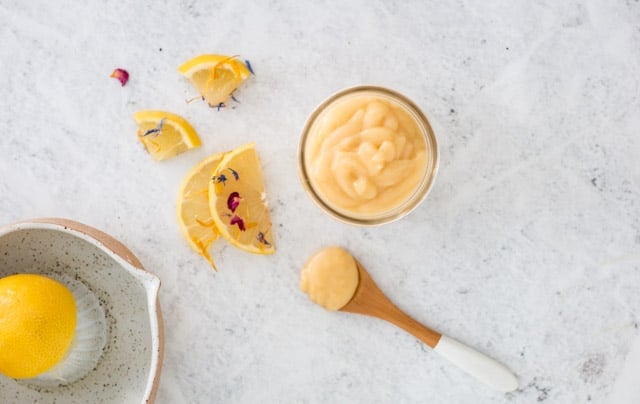 Tips and Tricks To Make Sure Your Homemade Curd With Honey Works
WHISK. WHISK. WHISK.
I cannot emphasize this enough.
Under no circumstances are you allowed to walk away and leave this lemon curd on the stovetop for minutes at a time.
The eggs will cook too fast and you will have lemon-flavored sweet cooked eggs.
And that my friends, is just gross (believe me, I went through a couple of those versions in my attempts at getting this right and it is not something I want to taste ever again).
So be sure to stay at the stove and whisk this curd consistently for a lovely smooth texture with no cooked egg bits floating around.
Do I Have To Strain The Lemon Curd?
Straining the lemon curd once it has been cooked is an optional extra step.
It comes in handy for two reasons:
It removes the zest from the cooked curd to allow for a completely smooth curd
It removes any accidental pieces of cooked egg which can lead to a less than smooth curd
If you have managed to avoid cooking any egg, and you don't mind a little bit of zest then go on ahead and skip this step and simply transfer the curd straight to your storage jar and into the fridge.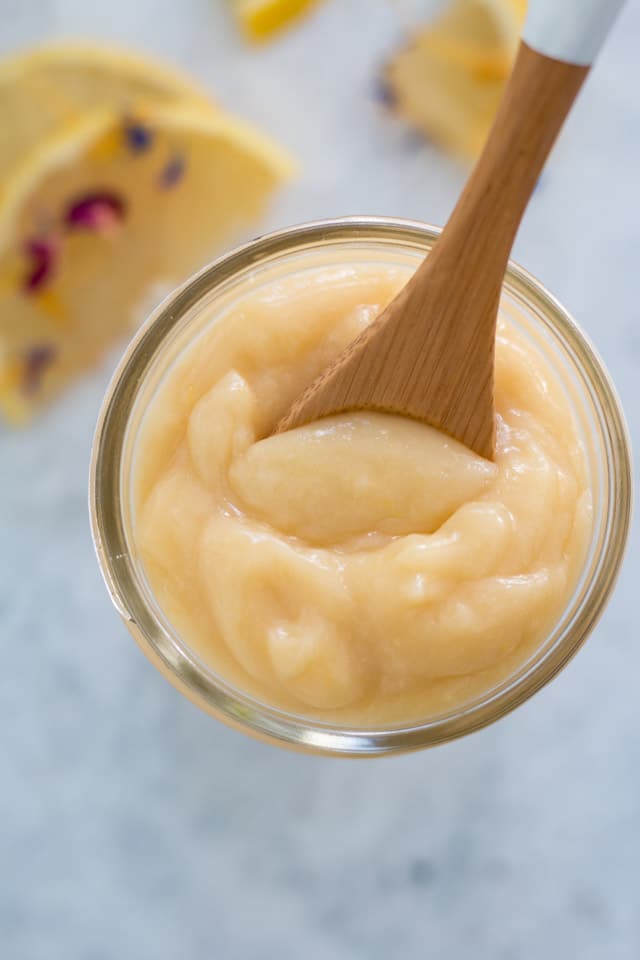 What Do I Do With Homemade Lemon Curd and Honey?
What are some awesome recipes using lemon curd I hear you ask?
Well, you could eat it from the jar with a spoon (no judgment here, it's the best way!).
Or you could:
Add it to a Lemon Chia Pudding
Pop it into a little pastry tart and top with a raspberry
Enjoy a dollop with some ice cream
Pair with some cream as the middle layer of a cake
On top of meringue and then topped with fruit
Put it on your toast in the morning (do it, I dare you!!)
Fold it through some yogurt and top with granola
Add it along with a dollop of cream to some homemade scones (try it with these Lavender and Lemon Scones)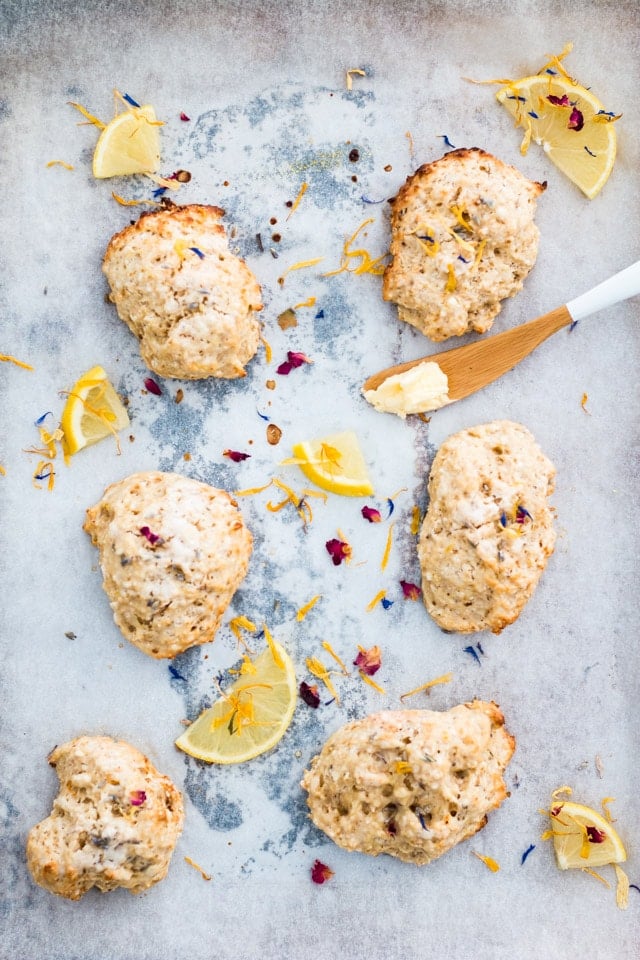 I would love to hear what your favorite thing to do with lemons is so sure to leave a comment!
For more homemade clean eating preserves, check out these little jars of deliciousness:
Happy Eating
xx
Recipe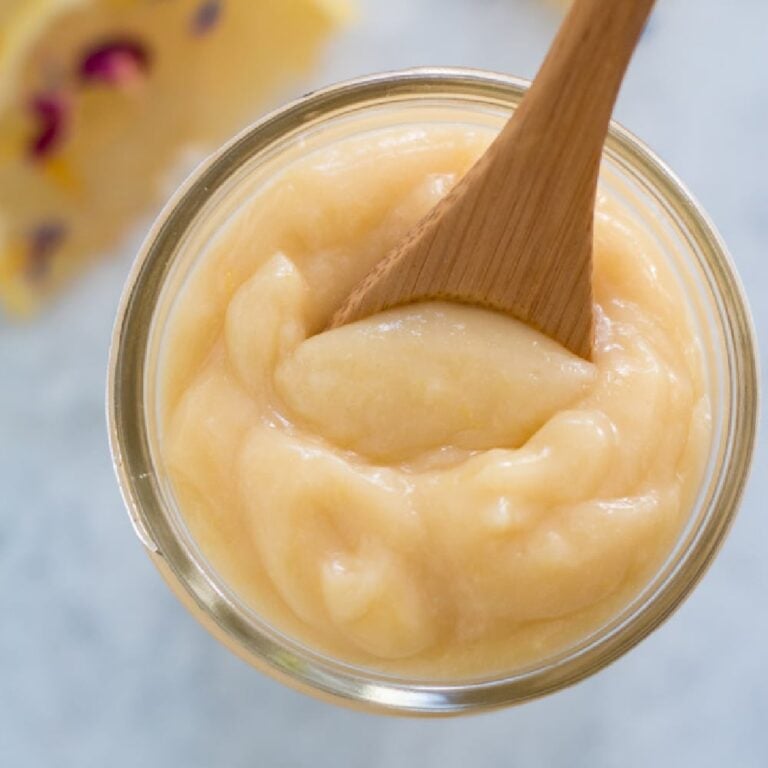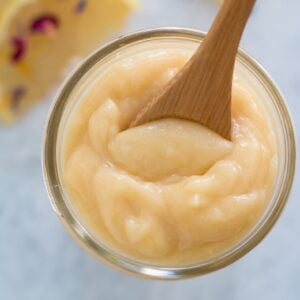 Homemade Clean Eating Lemon Curd with Honey
Sweet and tangy, this lemon curd is free from refined sugar, but tastes like the traditional lemon curd you had growing up
Ingredients
3

large eggs

¼

cup

raw honey

zest from 1 lemon

½

cup

freshly squeezed lemon juice

6

tablespoon

coconut oil

softened
Instructions
In a medium-sized saucepan, whisk together the eggs, honey, and lemon zest until it is light in colour

Add in the lemon juice and coconut oil, and whisk to combine

Cook the lemon mixture over a med-low heat, whisking continuously until it thickens and there are small bubbles on the surface. This can take up to 20 minutes.

Once the curd has reached the desired level of thickness, pour it through a strainer placed on top of a large bowl. It should be thick enough that you have to push it through the strainer with a spatula (see notes)

Pop the strained curd into an airtight container with a lid and into the fridge to cool

Keep stored in an airtight container with a lid in the fridge for about a week. I have also had success with freezing
Notes
What Type of Lemons?
I used the more bitter lemons, as that is what I had on hand, and I also like a bit of bite to my curd.
If you prefer your lemon curd to be sweeter, then use Meyer lemons
Whisk!
This needs to be whisked constantly or you will end up with bits of cooked egg in your lemon curd, which is less than desirable. 
Why Strain?
Straining is an optional step to remove the zest from the lemon curd. 
If you are not opposed to having lemon zest in your curd then you can skip this step.
This is also useful if you have managed to end up with some pieces of cooked egg in the mixture, and allows you to have a completely smooth curd.
Nutrition
Calories:
149
kcal
Carbohydrates:
9.4
g
Protein:
2.4
g
Fat:
12.1
g
Saturated Fat:
9.4
g
Cholesterol:
70
mg
Sodium:
27
mg
Sugar:
9.6
g
Tried this recipe?
Leave a comment HERE and let us know how it was!
This recipe has been updated from the original December 2015 version to include more information for readers.
The information shown is an estimate provided by an online nutrition calculator. It should not be considered a substitute for a professional nutritionist's advice.
Don't forget to follow Whole Food Bellies on Pinterest for more recipe inspiration! Or if Pinterest isn't your style, bookmark this post! Let's keep the conversation going- join my Facebook group!