You are going to love this seasonal Shaved Brussels Sprouts Apple Salad with Miso Dressing. Thinly sliced Brussels sprouts are given a quick marinade in a light miso dressing and then combined with some fresh crispy apples and toasted pecans. A light and zesty salad that is the perfect accompaniment to some grilled salmon or tofu. 
Shaved Brussels Sprouts Apple Salad with Miso Dressing
Jump to:
Have you guys ever seen brussels sprouts on the stalk?
I had no idea they grew like that until recently, those things are impressive!!
So impressive that they even made my kids excited about eating their sprouts, which is just unheard of!
Best be taking advantage of that ASAP and make this delicious Shaved Brussels Sprouts Apple Salad.
How To Make A Brussels Sprouts Salad
I absolutely HATED sprouts as a kid, as I am sure most of us did.
I don't even know how my mum cooked them, but they always came out boiled to within an inch of their lives, and resembling a slimy mess, but we had to force every last one down before being allowed to leave the table (and we didn't even have a dog to sneak them to)!
Don't worry mum has come a long way since then and her veggies are delicious now (love ya mum!).
It wasn't until recently that I realized just how good these things are when grilled, lightly sautéed or enjoyed raw and thinly shaved with a zingy dressing.
Oh my gosh, yum!
TIP: to make the perfect shaved brussels sprouts for this salad use the grater attachment for a food processor. This way they are evenly shaved and perfect.
Don't have a food processor?
No worries.
Simply use a super sharp knife and take your time to make sure the brussels sprouts are cut super fine.
Massage The Brussels Sprouts
Trust me, you want to spend a good minute or two massaging the dressing into the brussels sprouts.
It makes them 'relax' a little, so the final result is still crunchy, but a little bit more pliable and easier to eat.
Prepping Ahead Of Time and Storing Leftovers
This salad can mostly be prepared ahead of time:
make up the dressing and store in a glass jar with a lid in the fridge until needed,
the apples can be sliced and stored in the fridge as long as you toss them in the lemon juice first (please note, there still may be some discoloration, so if at all possible it is best to leave this step until just before serving)
the brussels sprouts can be shaved and kept them stored in an airtight container until needed,
when it is time to serve, simply massage the brussels sprouts and arrange the rest of the salad as per the recipe instructions below
As the shaved brussels sprouts are marinated in the dressing, they are likely to go limp after a while, and the apples are likely to become discolored, therefore this salad is best eaten when served.
A Note On Ingredients
Since we are enjoying the brussels sprouts in this salad raw, you want to make sure you are using super fresh sprouts.
White Shiro Miso
This can be found in the Asian section of most well-stocked supermarkets.
It can also be found fresh in the cold section of some health food stores or international supermarkets.
Grape Seed Oil
I use grapeseed oil in this salad as it has a very subtle flavour.
If you don't have any on hand, feel free to substitute some olive oil instead.
Pecans
If you really want to send this brussels sprouts salad over the edge with flavour then I HIGHLY suggest using oven-roasted maple-glazed pecans instead of regular chopped pecans!
It will add about another 10 minutes to the process but is most definitely worth it when it comes to the end result.
Looking for more interesting salad recipes to help fill your belly with the best the season has to offer? Check these out: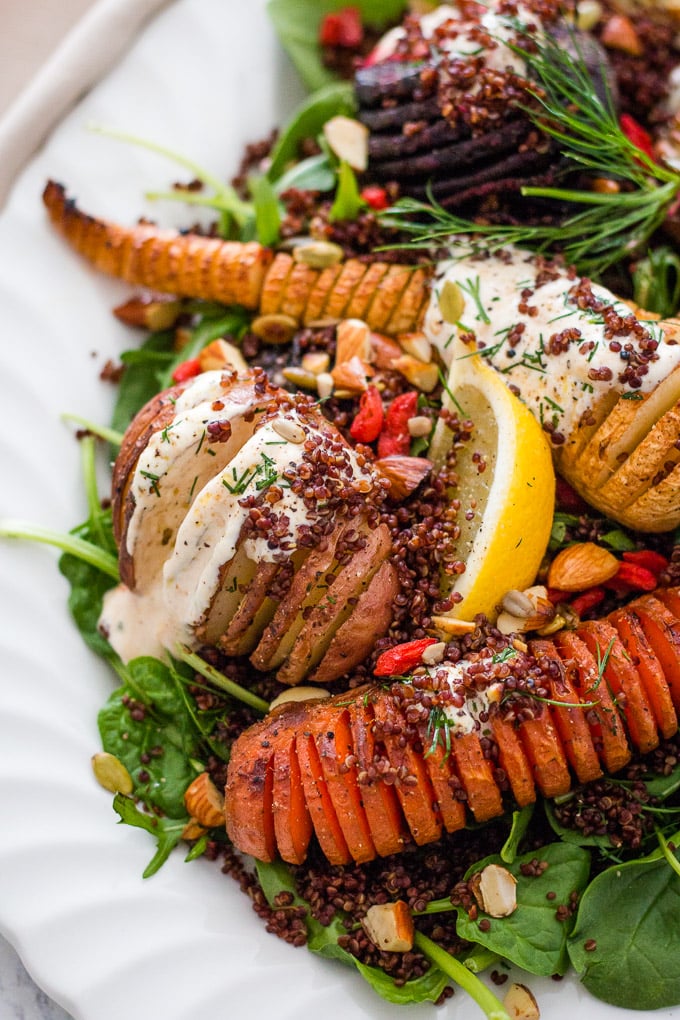 How do you like your brussels?
I just love to hear from you so be sure to leave a comment and share all your delicious ideas with us! And if you try out our Miso Brussels Sprouts and Apple Salad let me know how you go!
Happy Eating.
Recipe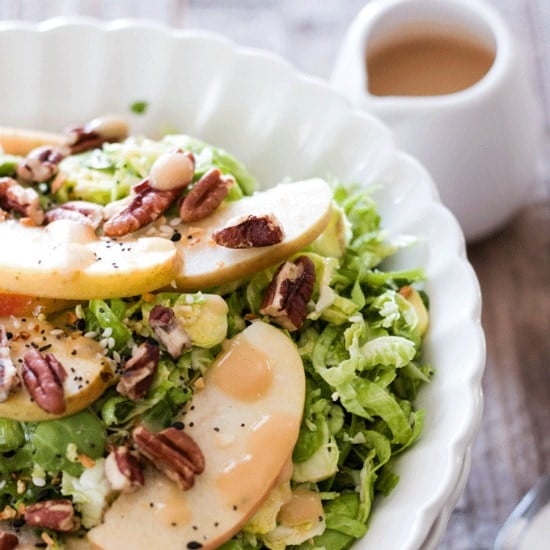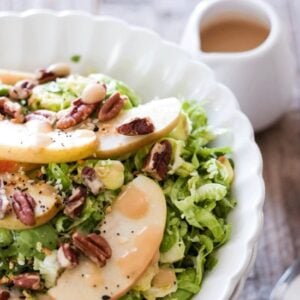 Miso Brussels Sprouts and Apple Salad
You are going to love this seasonal Miso Brussels Sprouts and Apple Salad. Thinly sliced brussels are given a quick marinade in a light miso dressing and then combined with some fresh crispy apples and toasted pecans. A light and zesty salad that is the perfect accompaniment to some grilled salmon or tofu.
Ingredients
½

cup

white shiro miso

¼

cup

warm water

2

tablespoon

grape seed oil

2

tbsp

maple syrup

1

tbsp

apple cider vinegar

1

teaspoon

sesame oil

2

large sweet apples (I used honeycrisp)

(about 1lb)

2

tablespoon

fresh lemon juice

1

lb

brussels sprouts

4

spring onions, white and light green part only, finely chopped

3

tablespoon

chopped pecans

1

tablespoon

black sesame seeds

(optional)
Instructions
In a mixing jar combine the miso, water, grape seed oil, maple syrup, apple cider vinegar and sesame oil. Whisk until smooth and set aside until needed

Core the apples and slice into thin wedges, toss with the lemon juice and set aside.

Using the slicing blade attachment of a food processor, shred the brussels sprouts. You can slice thinly by hand if you don't have this attachment.

Pop the shredded sprouts into a large bowl. Add about ⅓ cup of the miso dressing and give the sprouts a good massage (trust me, this makes them much more tender and delicious).

Add in the spring onions and give it a good mix.

To serve pop the brussels sprouts mixture into a bowl, top with the sliced apples, a drizzle of the remaining dressing and some black sesame seeds. Enjoy
Nutrition
Calories:
224
kcal
Carbohydrates:
34
g
Protein:
4.7
g
Fat:
10.2
g
Saturated Fat:
0.5
g
Sodium:
40
mg
Fiber:
7.6
g
Sugar:
20.6
g
Tried this recipe?
Leave a comment HERE and let us know how it was!
The information shown is an estimate provided by an online nutrition calculator. It should not be considered a substitute for a professional nutritionist's advice.
This post has been updated from the original Jan 2018 post to include more information for readers.