This No Fuss Blueberry and Peach Crostata can take you back to your childhood with its rustic flavor and appearance. The juicy blueberries and peaches will have you singing the praises of summer while the buttery, flaky crust has you thinking of heaven. There's truly no fancy tricks to making this crostata, it's super easy and perfect for any occasion.
No-Fuss Blueberry and Peach Crostata Recipe
There's just something I really love about the rusticity of a galette or crostata.
Instead of looking like something you have bought from a fancy store, it looks like something your old grandmother has painstakingly put together.
Now, I would love to tell you some lovely story about this blueberry and peach crostata recipe being handed down from my grandma, whom lovingly made one for us every Sunday afternoon....but that would be lying.
My grandma was a lovely wee woman and all, but there was never much in the way of baking going on there! I think the best we ever got would have been a jam tart bought from the shops.
Crostata Makes A Perfect Celebration Dessert
Instead, this peach galette recipe comes about because of my son's 2nd birthday.
I know, I know, I should be making him some elaborate Thomas cake complete with blue food coloring, and movable wheels.
But to be honest, when I asked him what cake he wanted for his birthday, his exact response was 'peaches, blueberries and biscuits' (we call cookies biscuits).
So a fruit crostata starring his favorite summer fruit was as close as I could get to his request.
And he totally lapped it up (it was served alongside a healthy scoop of caramel ice-cream, which just about sweetened the deal for him).
What Ingredients Do You Need For the Perfect Peach Crostata?
All you need to make this delicious Crostata is:
Flour,
sea salt,
unsalted butter,
ice water,
peaches,
blueberries,
coconut sugar,
and egg yolk.
Honestly, I have a love/hate relationship with baking.
I love eating the end result (who doesn't?), but I really dislike the finickiness of it (that's a word right?).
The need for exactly measured ingredients just stresses me out, and the whole process just doesn't sit well with my personality.
And that, my friends, is why I just adore this blueberry and peach crostata.
There is so much room for error!
The crust is super easy, and it isn't supposed to look meticulous, it is supposed to look rustic and earthy! That's definitely my kinda baking right there.
Tips to Making the Perfect Blueberry and Peach Galette
Blueberries and Peaches (especially peaches) can be very juicy and will release even more juices as you cook them. This can cause the crust of the peach crostata to get a little soggy. My recipe should keep your crust from being soggy, especially if you follow my suggestion of using a pizza stone to keep the crust nice and crispy.
Don't worry about making the crust perfect. The best part about this Blueberry and Peach Galette is that it's not supposed to look perfect. The imperfect crust is what gives the galette its charm and rustic feeling.
Peel the peaches. If you leave the skin on, it may be too tough and make for chewy pieces in your galette, which just won't work well. For tips on how to easily peel your peaches check out this post.
How To Make The Perfect Crostata Dough For Peach Crostata?
This is where people tend to have the most trouble when making a peach crostata.
They can't step away from attaining the perfect looking dough and put WAY too much effort into making this look good and it doesn't work for them.
Don't do it.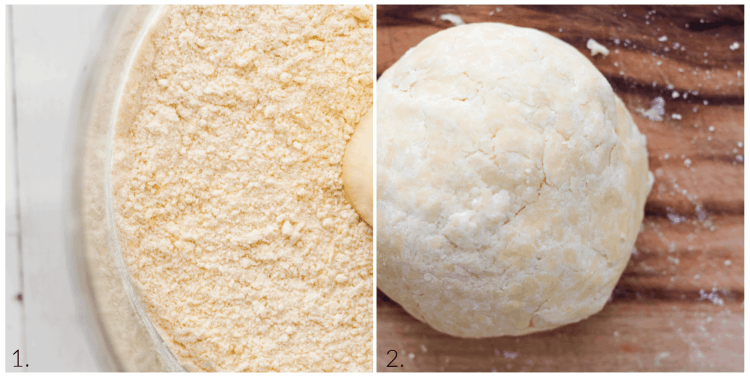 Instead, through aside your perfectionism and do this:
1. Pulse the flour and the butter in a food processor until they resemble fine breadcrumbs
2. Add the ice water and pulse again until everything comes together. If it is not all coming together then add more water 1tsp at a time until it comes together in a ball. There will likely still be some crumbly bits. This is fine.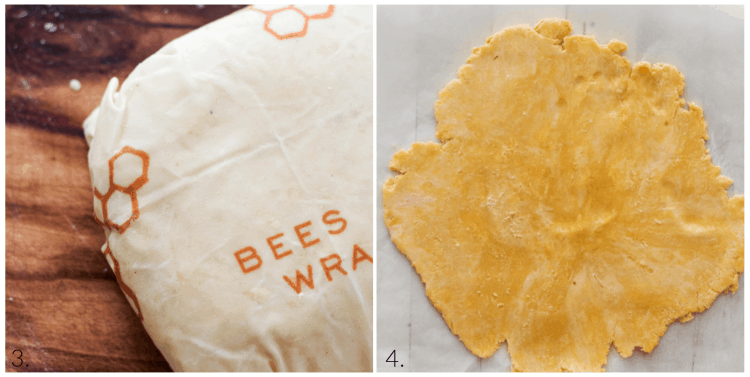 3. Wrap the ball of crostata dough tightly in some beeswax or cling wrap and put in the fridge for at least an hour. DO THIS!!
4. Remove the dough from the fridge and in between two pieces of parchment paper roll the crostata dough into a rough circle. Look at the picture above for reference as to what a rough circle is. This does not have to be perfect.
And that's it.
I can't stress the need to not be perfect enough.
Rustic is key.
The main thing to take away from this is that crostata dough should not look perfect and you should not stress about trying to make it look perfect!
If you enjoyed this galette recipe, here are a few more dessert recipes you'll love!
Happy Eating
xx
The information shown is an estimate provided by an online nutrition calculator. It should not be considered a substitute for a professional nutritionist's advice.
Don't forget to follow Whole Food Bellies on Pinterest for more recipe inspiration! Or if Pinterest isn't your style, bookmark this post! Let's keep the conversation going- join my Facebook group!