Squeeze as much goodness as you can into one smoothie with this super delicious Peaches and Green Power Smoothie which is jam-packed with all the green goods.
Peaches and Green Power Smoothie
We have just returned from a week in the Sonoma/Napa Valley with family.
It was filled with wine, fine food, chocolate Babka from Dean and DeLuca, and no exercise at all.
I. NEED. GREENS!!!!!
Seriously even the kids were asking for salads when we got home.
We usually indulge on vacation, but nothing like this.
I blame my brother-in-law and his twisting of my arm to eat all the homemade pasta, barbecued quail, cheese, meats, more cheese, and everything the fancy french bakeries there had to offer.
It was delightful, but my goodness, my body needs a break.
What's In It?
This power smoothie has been my lifesaver.
It is jam-packed full of all the green goods…spinach, avocado, cucumber, matcha and some peaches and banana for sweetness.
It has become my go-to afternoon pick-me-up, as it gives a quick energy boost and sugar hit (from the fruit) all in one.
Plus it tastes delicious and fills the belly until dinner time rolls along.
If I want to share it with the kids (or more like if the kids are hounding me for whatever it is I happen to be eating or drinking at the time, because it happens every single time right??), then I whip it up without the matcha, serve them their share and then add the matcha after.
If you do it this way be sure to blend properly the second time around so you don't have chunky bits of matcha floating around in your perfect smoothie.
If you have tried out the peaches and green power smoothie and need some more smoothie inspiration then look no further, we totally have you covered:
I hope this Peaches and Green Power Smoothie finds you well and brings you a much-needed dose of green energy and superfood power. Happy drinking.
Recipe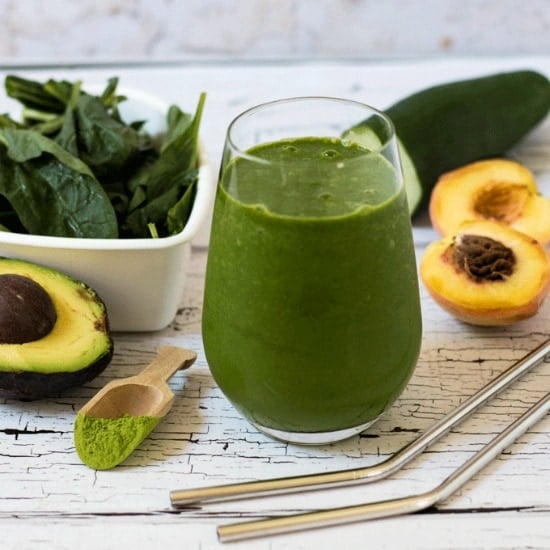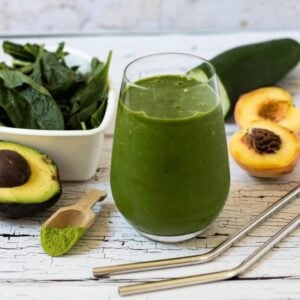 Peaches and Green Power Smoothie
Squeeze as much goodness as you can into one smoothie with this super delicious Peaches and Green Power Smoothie.

Ingredients
2

cups

tightly packed spinach leaves

1

tbsp

culinary grade matcha powder

2

cups

coconut water

½

avocado

1

cup

roughly chopped cucumber

¼

cup

fresh lemon juice

1

cup

frozen peaches

(more if you prefer a sweeter smoothie)

1

large banana
Instructions
Add the spinach, matcha and coconut water to a high speed blender. Turn on and gradually increase the speed until the mixture is smooth and there are no 'bits' of spinach floating around. Turn the blender off

Add in the rest of the ingredients and blend until smooth.

Can be covered and stored in the fridge for up to 3 days. Be sure to give the mixture a good shake before serving.
Nutrition
Calories:
107
kcal
Carbohydrates:
18
g
Protein:
2.4
g
Fat:
3.8
g
Saturated Fat:
0.7
g
Sodium:
144
mg
Fiber:
4.9
g
Sugar:
10.6
g
Tried this recipe?
Leave a comment HERE and let us know how it was!