If your body is in need of a little pick me up after the Holiday season, look no further than this super nourishing powerhouse Orange and Fresh Cranberry Smoothie. An easy recipe with only 4 ingredients this festive smoothie is a great way to use up leftover cranberries and a healthy breakfast to boot. A must for your regular rotation during the silly season.
Easy Orange Cranberry Smoothie
Well, it's officially that time of year when you beg your body to stay healthy and hold up to the onslaught of sugary treats you have crammed in there over the Holiday season...and mine has given up the ghost.
It's a case of too many cookies and hot chocolates while walking the Christmas lights, and not enough salads, that has left me feeling totally worn out with a bark more befitting of a large dog (a cough....I have a terrible cough).
I am not, however, going down without a fight.
I have been downing these Orange and Fresh Cranberry Smoothies like they are going out of season!
Well...technically they are, as fresh cranberries seem to disappear once the Holiday season is over...so it's quite fitting.
You will need:
cranberries: these can be fresh or frozen depending on what you can find in grocery stores. I prefer to use frozen cranberries to make the smoothie nice and cold, but if you only have fresh cranberries then be sure to throw a couple of extra ice cubes into the mix before blending. Do not use cranberry sauce but you can use cranberry juice in place of whole cranberries if you prefer;
oranges: whatever oranges are in season will work. You will need to remove the skin and the bitter pith before using them in the smoothie. Alternatively, you could use some orange juice;
frozen whole banana;
coconut water: you can replace this with regular filtered water if preferred.
If this is your first time having cranberries you may want to add a little sweetener like maple syrup or honey to the smoothie as well to cover the tart flavor of raw cranberries.
Optional extra: if you prefer the thought of a creamy cranberry smoothie then you may want to add a dollop of Greek yogurt or some coconut milk while blending.
Throw everything in a blender jar and blend until smooth. Super simple!
Buying Cranberries In Season
I say frozen cranberries, but I actually buy them fresh and then freeze them myself solely for the purpose of using them in smoothies.
Just after the Holidays, when all the decorations start to disappear from the store cranberries tend to be dirt cheap!
This is the best time to grab a few bags and pop them in the freezer.
They come in handy throughout the year for smoothies and baked goods, especially if you want to try your hand at a cranberry smoothie whilst enjoying Christmas in July.
If the cranberries are too tart for you, add a little bit of sweetener, some maple syrup or honey will work perfectly here. We didn't need any, and my kids even scoffed it down without a word, but it depends on what you are used to.
Just add a drizzle to the blender with the rest of the ingredients and you will be good to go.
What Are Some Of The Benefits Of A Cranberry Smoothie?
Cranberries are definitely one of the more underrated fruits.
The nourishing combination of fresh cranberries, fresh oranges, coconut water, and bananas in this super easy smoothie loads your body with:
loads of antioxidants;
vitamin C;
vitamin E;
Manganese;
Fiber;
Copper;
Potassium, and
electrolytes.
All good stuff.
Let's hope they combine to get my body back and fighting on the right track!
If your body is in need of a little pick-me-up, be sure to try this awesome combination.
It seriously packs a flavor punch and tastes like a little bit of sunshine on a cold day.
Plus, it is really comforting for a sore throat!
Need More Healthy Smoothies?
It's always nice to have a collection of different smoothie recipes up your sleeve.
Once you have tried this refreshing smoothie you might want to check one of these out: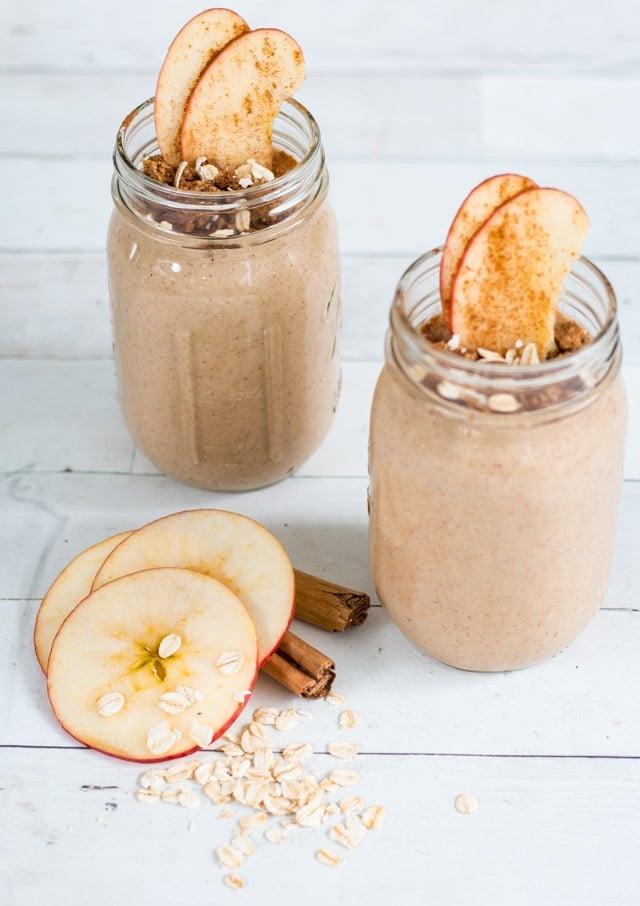 Happy drinking.
xx
Recipe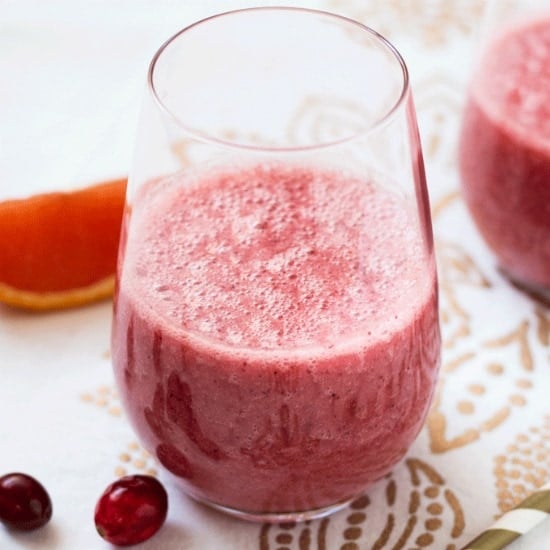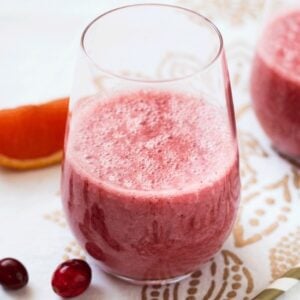 Rejuvenating Orange and Fresh Cranberry Smoothie
If your body is in need of a little pick me up after the Holiday season, look no further than this super nourishing powerhouse of a smoothie.
Ingredients
1

cup

fresh cranberries

(preferably frozen)

2

oranges, peeled

1

frozen banana

½

cup

coconut water
Instructions
Pop all ingredients into a high-powered blender and blend until smooth and creamy.
Notes
If you are using a standard blender you may need to work in batches or let the machine run for a bit longer to get a smooth consistency.
If the smoothie tastes a little but too tart (this will depend on the tartness of your cranberries), then simply add a drizzle of maple syrup or honey to the blended mixture.
Nutrition
Calories:
90
kcal
Carbohydrates:
21.2
g
Protein:
1.4
g
Fat:
0.3
g
Saturated Fat:
0.1
g
Fiber:
4.3
g
Sugar:
14
g
Tried this recipe?
Leave a comment HERE and let us know how it was!
The information shown is an estimate provided by an online nutrition calculator. It should not be considered a substitute for a professional nutritionist's advice.