This creamy soup is packed with broccoli, leek, and sweet potatoes, and is made extra luxurious by the addition of cream and lots of cheese. It is so simple to bring together, making it a great quick and easy weeknight meal. The perfect way to end a busy day. Can easily be made ahead of time and simply reheated when needed.
We love our easy soups around here, and this one is a heartier version of the super popular Instant Pot Broccoli Cheese Soup in Under 20 Minutes that has been a favorite on my site for a few years now.
Cheesy Broccoli Sweet Potato Soup
This soup manages to feel light and hearty all at the same time.
Loaded with broccoli, sweet potato, leek, and LOTS of cheese, it is a great quick and easy midweek meal that comes together in no time.
You are going to need:
olive oil: or other cooking oil of your choice;
leek;
garlic: fresh garlic cloves are best, but feel free to use the pre-prepared version if that is what you have;
fresh broccoli: try and make sure you chop small florets that are somewhat evenly sized to allow for even cooking time;
sweet potatoes: I used a white sweet potato for this recipe, but have also used an orange sweet potato which turned out delicious. The type of sweet potato you use will determine the color of your soup though, so keep that in mind. You can also sub out the sweet potato for a regular potato if that is what you prefer. Make sure the sweet potato pieces are evenly sized;
vegetable stock: feel free to change this up for chicken stock if that is what you have. You could always use some Homemade Vegetable Broth.
milk: I used whole milk here, but you do you;
heavy cream: you can always sub in light cream, but the soup will be a bit thinner;
grated cheddar: try to grate the cheese yourself if possible, as the pre-grated version can have a grainy texture when melted, which is not nice. We used a cheddar here, but feel free to use your preferred cheese (make sure it's one that melts well).
salt and black pepper to taste.
And that's it.
How To Make This Simple Soup
There is nothing complicated to this recipe.
It is the perfect basic recipe for those looking for something stress-free and easy.
Have all of your ingredients chopped and ready to go to make for seamless cooking experience.
To make this broccoli and sweet potato soup you are going to simply:
Heat the olive oil over medium heat and sauté the garlic and leeks in a large pot;
Add in the br

occoli, sweet potato, vegetable broth, milk, salt, and pepper and cook at a steady simmer until the vegetables are tender

;
Use a hand immersion blender to blend the soup to your liking. This is where personal preference is king. You may like a slightly chunky soup, in which case you should blend half and leave half chunky. Or, if you prefer a smooth soup, then blend the whole thing;
Stir in the cream and cheese;
Add the salt and pepper;
Serve and enjoy.
TIP: blend according to your preference. If you like a chunkier soup then you may want to only blend half of the soup. If you prefer a smooth soup, then you should blend the whole thing.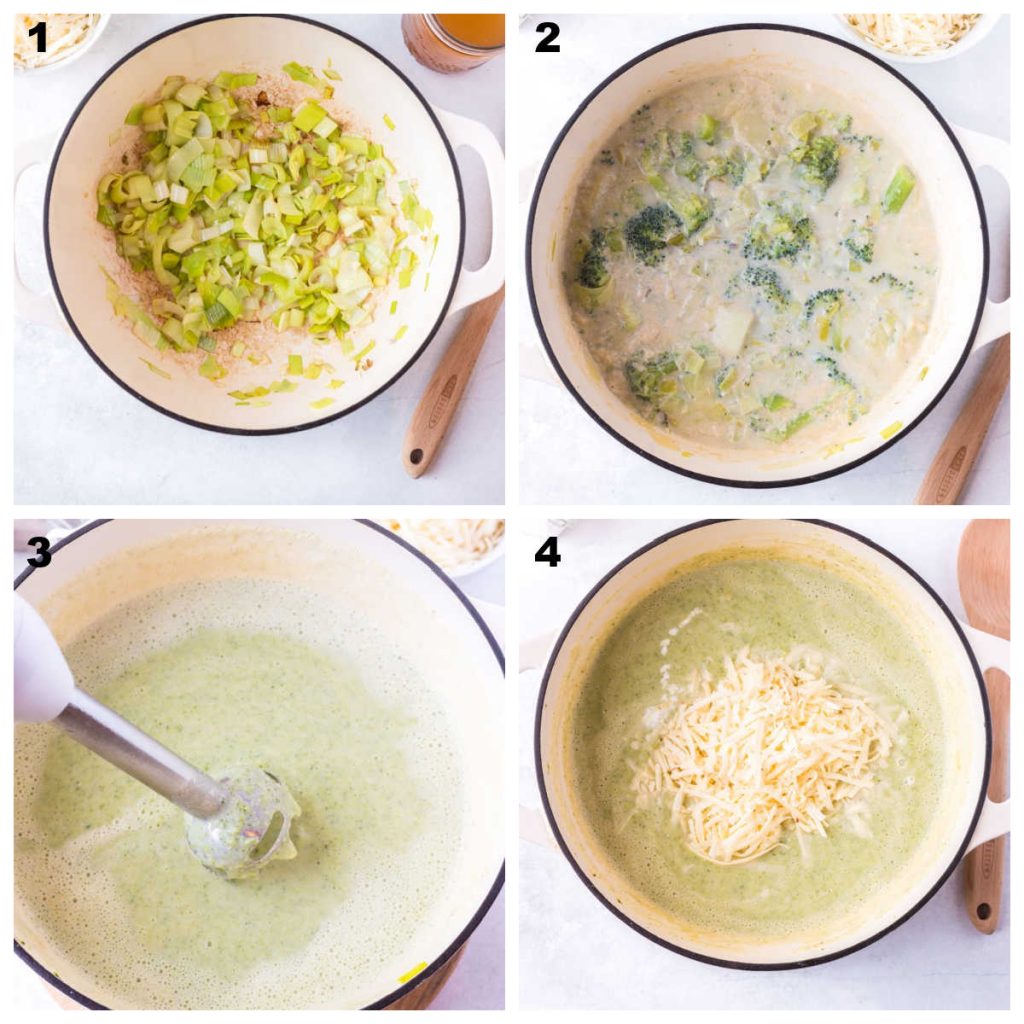 Tips, Tricks, And Substitutions
Be sure to use the whole broccoli.
Chop the broccoli crown into evenly sized florets, and the broccoli stalk into evenly sized sticks or half moons.
If the stalk is a bit gnarly on the outside then be sure to peel it before chopping.
No Immersion Blender?
If you do not have an immersion blender you can always use a blender or a food processor to reach your desired consistency.
Need This Broccoli Potato Soup To Be Dairy Free?
You can always sub the milk, cream, and cheese for a dairy-free alternative such as cashew milk, coconut milk, coconut cream, and vegan cheese.
However please keep in mind that this will completely change the flavor of the soup, so only use products that you have used before and you think will work with the flavor profile of this soup.
Leeks Not In Season
Although not the perfect substitution, if leeks are not in season you could always sub in a large onion that has been finely chopped instead.
Simply saute onion in place of the leeks.
Storing Leftover Broccoli and Sweet Potato Soup
The leftover soup should be stored in an airtight container in the fridge for up to 4 days.
Due to the dairy included in the soup, it does not thaw well and should not be frozen.
The starch in the potato can lead to it thickening on cooling, so you may want to add some water or extra broth to loosen it up when it comes time to reheat.
This can be reheated on the stovetop or in the microwave until it reaches the preferred temperature.
How To Serve Up
Who doesn't love a large bowl of steaming hot delicious soup on a cold day?
You already know the best way to serve up hot soup is with some fresh crusty bread, but here are a couple of extra ideas to serve up:
Croutons: you can make your own using a recipe like this Basic Homemade Air Fryer Croutons;
Or why not change it up with some Leftover Pesto Idea: Quick Pesto Croutons!
A sprinkle of fresh parsley or other chopped fresh herb of choice;
Extra cheese is always a good idea;
A sprinkle of chili flakes;
A drizzle of truffle oil;
A sprinkle of finely sliced green onion;
A sprinkle of toasted pine nuts;
A dollop of sour cream;
A sprinkle of nutritional yeast for a cheesy flavor without adding extra cheese;
A handful of crispy cooked bacon or vegan pepperoni tofu crumbles.
Any other ideas for serving up?
Let me know in the comments and I can update the list and share your idea with everyone else.
Need More Easy Soup Recipes
Once you have tried this broccoli and sweet potato soup you should check out some of our other favorites:
Happy Eating
xx
Recipe
The information shown is an estimate provided by an online nutrition calculator. It should not be considered a substitute for a professional nutritionist's advice.