I had the most AH-MAZING cauliflower mac and cheese at a local cafe a couple of weeks back, and I just had to come up with my own cauliflower mac and cheese recipe asap. It's one of those dishes I could seriously go back every week to indulge in, that is, if it wasn't $15 a pop, and my kids didn't shovel it down as though they had never been fed. Sadly $15 a pop, when I get like two bites, isn't gunna happen very often. So, I re-created it at home.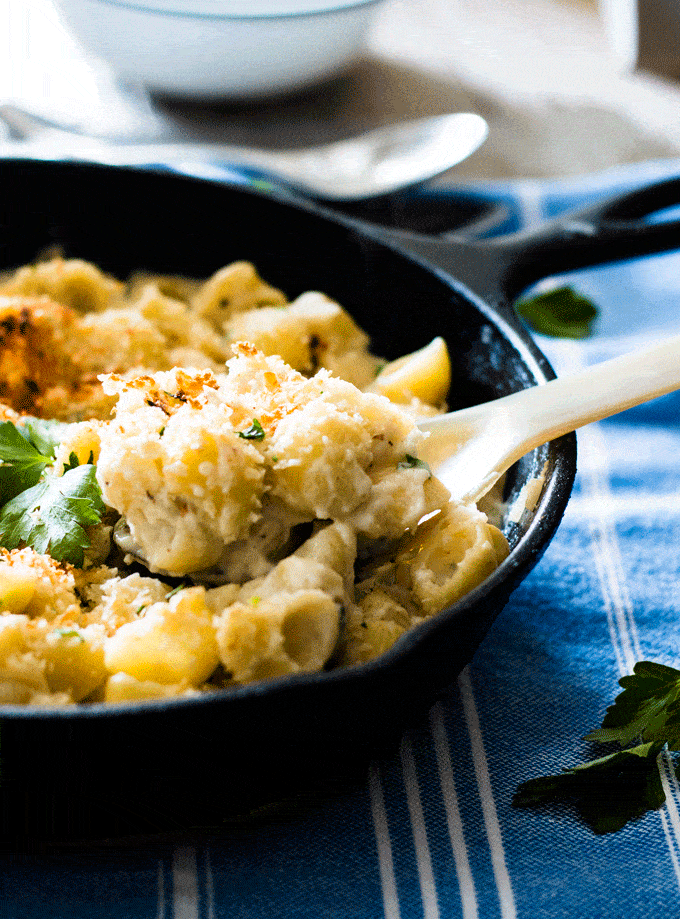 Let me preface this by saying I don't normally even like mac n cheese. Scandalous I know...but it's just not done in Australia (or if it is, then I just didn't notice). I have tried it so many times since moving to the states, but only on the rare occasion is it something that I enjoy.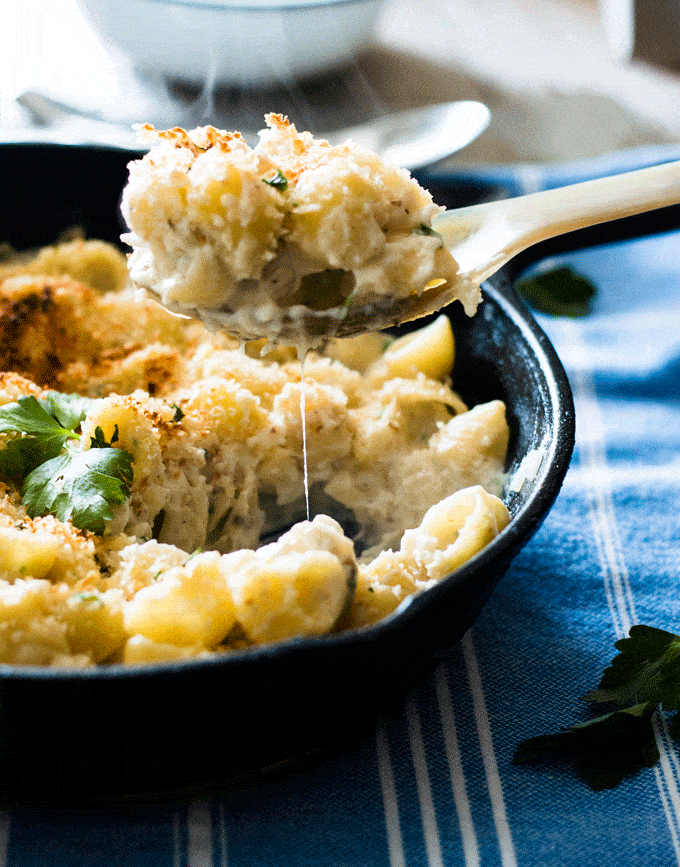 Not to mention my kids, they are such little food snobs it can actually get embarrassing! When we first moved here, we were invited to a BBQ at a new friends place. There was some tri-tip for the adults and mac and cheese for the kids. All set, we showed up and my daughter got her little bowl of yellow pasta, and we got our plates of meat and salad. She took one bite, seriously one bite of her mac and cheese  (she was 17 months old btw), put it unceremoniously on the ground, and climbed into my lap for some steak. She ate all my tri-tip. She has refused to try it again, except for some fancy blue cheese version at another friends (which was delicious), and the cauliflower mac and cheese recipe we came up with at home.
Gruyere and Cauliflower Mac and Cheese Recipe
So, why use cauliflower? Well, it gives the dish some serious creaminess, without having to use much cream. It ensures the littles, and yourself, are getting some veggies into your systems (without even knowing it), and IMO it tastes so much better. It is rich and decadent, but loaded with veggies - win! Plus, I find it freezes a lot better than the cream version, and you know how I like to keep my freezer full.
Of course, it isn't totally without guilt, there's a nice amount of Gruyere in this version, because as much as I try, I just can't go without the cheese. But it's ok, the whole head of cauliflower makes up for that, right? 🙂
Print Recipe
Gruyere and Cauliflower Mac and Cheese Recipe
Lightened up and boasting a whole head of hidden cauliflower instead of cups of cream, this Gruyere and Cauliflower Mac and Cheese recipe is rich and decadent, with only half the guilt.
Ingredients
1

large head cauliflower

1/2

cup

milk

1

tbsp

avocado oil

or cooking oil of choice

2

eschallots

finely chopped

1/2

cup

cream

1 1/2

cups

shredded gruyere

1

tbsp

finely chopped parsley

16

oz

macaroni

1/4

cup

panko breadcrumbs

or homemade

2

tbsp

finely grated parmesan

salt and pepper to taste
Instructions
Chop the cauliflower into florets and steam until tender, about 5-7 minutes. Pop the steamed cauliflower into a blender with the milk, and blend until smooth and creamy

Meanwhile, heat avocado oil in a skillet on medium heat. Once hot, add in the chopped shallots, and sauce for 1-2 minutes

Add in the cauliflower sauce, cream and shredded gruyere and parsley and stir to combine. Heat through

While the sauce is heating, cook the macaroni in a separate pot, according to package instructions. Once cooked, drain and empty the pasta into the cauliflower sauce, and stir to combine. Salt and pepper to taste

Turn the broiler to high, mix the parmesan and breadcrumbs together and sprinkle the breadcrumb mixture on top of the pasta mixture. Pop under the broiler until browned and crunchy, about 5 mins

Serve and enjoy
Nutrition
Calories:
493
kcal
|
Carbohydrates:
67.2
g
|
Protein:
22.8
g
|
Fat:
15.1
g
|
Saturated Fat:
8.4
g
|
Cholesterol:
46
mg
|
Sodium:
182
mg
|
Fiber:
6.2
g
|
Sugar:
6.7
g
* This post contains affiliate links, which means that if you click through, and make a purchase, I will receive a small commission from Amazon. It helps me keep wholefoodbellies running, so if you do purchase after reading my post, thanks so much! Most importantly, I never endorse products that I don't use, or don't believe in. When I do find something that I love, I like to share it with my readers 🙂