Lightened up and boasting a whole head of cauliflower, instead of cups of cream, this Cheesy Cauliflower Mac and Cheese recipe is so rich and creamy just like traditional macaroni and cheese. You won't even be able to tell it contains lots of hidden cauliflower. Easy to make, and easy to meal prep, this dish is the ultimate comfort food and makes the perfect side dish when hosting or asked to bring something along to a potluck.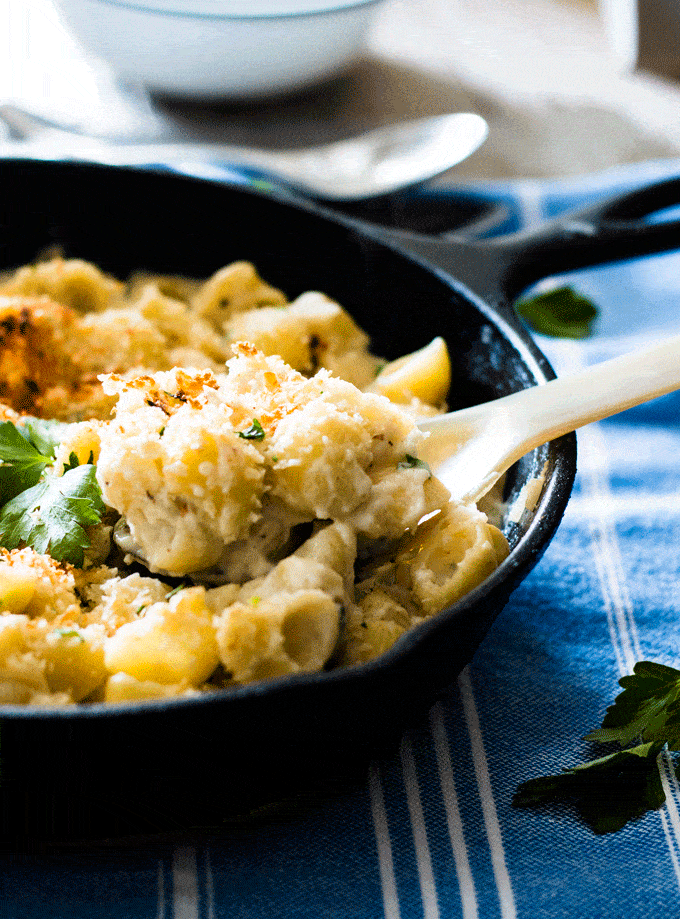 If you are a big fan of epic side dishes then you need to check out this Vegetarian Four Cheese Roasted and Stuffed Butternut Squash next!
Cauliflower Mac and Cheese
Jump to:
If you have never tried cauliflower mac and cheese before then you are in for a big treat!
This sauce is so smooth, creamy, and cheesy without the need for lots of cream. Instead, it boasts a whole head of cauliflower that is steamed and then blended with the rest of the sauce ingredients to give an amazingly decadent sauce that is surprisingly light.
For this homemade version you are going to need:
cauliflower: you can use fresh or frozen cauliflower, it is going to be blended up with the rest of the sauce ingredients so it really doesn't matter if it gets a little bit mushy in the process;
milk: you can use regular whole milk or plant-based milk such as almond milk here;
avocado oil: or any other cooking oil of choice such as olive oil;
eschallots (shallots): these are the pink onion-looking things found in the same section of the store as the garlic, ginger, and onions;
cream: use a heavy cream here for richness;
shredded gruyere: you will want to shred this yourself to make sure you end up with a super silky and smooth sauce. Pres-shredded cheese tends to have preservatives added that can give the sauce a grainy texture. You can sub in another cheese of choice if preferred;
parsley: fresh is best, however, dried parsley can be used in a pinch;
macaroni pasta shapes: use whatever other pasta you prefer, I prefer macaroni as this is a mac and cheese, and it collects little pools of cheese sauce inside which is just delicious, but flavor-wise, any other variety will work just as well;
panko breadcrumbs or homemade breadcrumbs: panko is better as they get extra crispy. They can be found in the Asian section of most well-stocked grocery stores, however, plain toasted breadcrumbs can be used if needed;
parmesan cheese: again, please shred your own to avoid the grainy texture that comes with pre-shredded cheese;
salt and freshly ground pepper to taste.
Don't worry, you aren't going to taste the cauliflower in there, when mixed with the gruyere and the other ingredients it becomes a luxurious cheesy sauce and no one will be the wiser.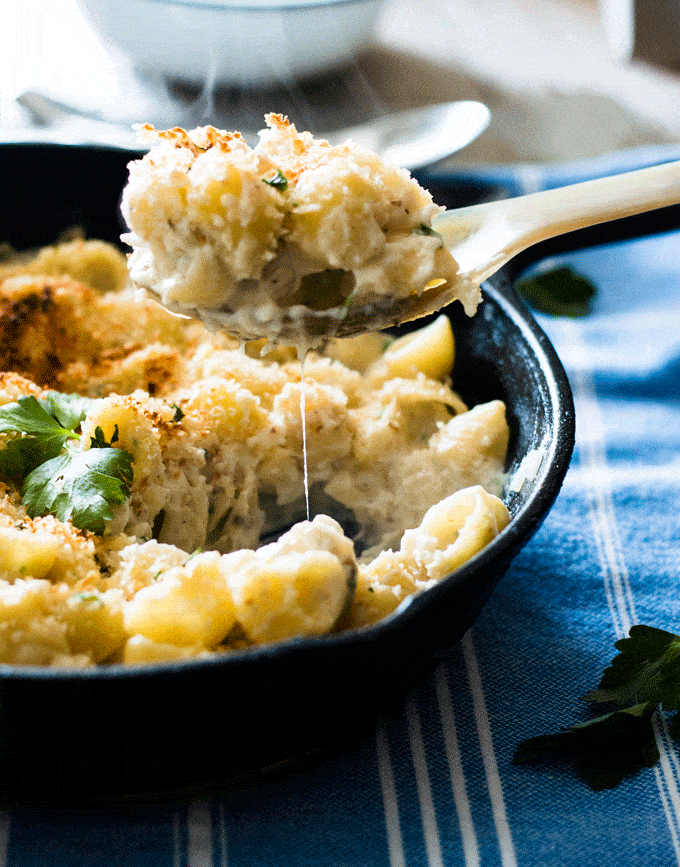 Why Use Cauliflower?
So, why use cauliflower?
Well, it gives the dish some serious creaminess, without having to use much cream, making it slightly lighter, but still luxurious and rich.
It is a great way to get some extra veggies into your system (without even knowing it) whilst indulging in carb heaven, and IMHO it tastes so much better.
Cauliflower mac and cheese is rich and decadent, but loaded with veggies - win!
Assembly Tips and Tricks
This is super easy to make, but there are some tips you might need to make sure you end up with a silky smooth cauliflower and gruyere sauce.
I love using a cast-iron skillet to whip up mac and cheese as it gets it nice and bubbly around the edges, and looks gorgeous when served. However, use any saucepan you like, as long as it will fit into the oven and under the broiler.
Be sure to use a cooking spray or brush the pan with some cooking oil prior to adding the mac and cheese for easier clean up.
Cauliflower
Cut the cauliflower into relatively evenly sized cauliflower florets prior to steaming over some boiling water to ensure all pieces cook evenly.
Once you have added the cooked cauliflower and milk to the blender, blend until smooth. If the mixture isn't becoming smooth, add more milk a little at a time until you get a really smooth consistency.
Frozen cauliflower can also be used, just cook and blend as you would with fresh cauliflower.
Gruyere Cheese
Try to avoid pre-shredded cheese.
Pre-shredded cheese comes with a lot of extra additives and preservatives which can give it a grainy texture when melted into the sauce.
If you do not have access to gruyere, another cheese can be used instead, why not try:
cream cheese
sharp cheddar cheese
Monterey jack
mozzarella cheese
Or a mixture of cheeses depending on what you have available.
Meal Prepping Tips
This dish can be partially meal-prepped ahead of time by making the sauce ahead of time and storing it in the fridge until needed. When it comes time to serve up, simply heat the sauce in the Microwave or stovetop, mix with freshly cooked al dente pasta, and pop it under the grill/broiler until golden brown on top.
The sauce can be stored in the fridge for up to 3 days.
The cauliflower cheese sauce can also be frozen until needed.
If it becomes a bit thick simply add some extra water or milk until the sauce loosens enough to be stirred through the cooked pasta.
If you plan on taking this is a potluck etc, the entire dish can be assembled in an oven-friendly and broiler-friendly baking dish, stored in the fridge and popped into the oven to warm, and then under the broiler to crisp up the top and make sure the cheese is nice and melted.
Serving Suggestions and Substitutions
This delicious cauliflower mac and cheese can be served as a side dish, or even as a main dish with a side of salad.
It goes really well with chicken, like these Crusted Sage and Macadamia Nut Chicken Breasts, or this homemade rotisserie chicken.
Want It Spicy: If you like a little bit of a kick why not add some cayenne pepper or chili flakes to the cheese sauce when it is in the blender?
Change things up by adding:
crushed pork rinds on top instead of, or as well as, the breadcrumbs;
crumbled bacon stirred through the pasta and cheese;
chunky cauliflower rice instead of the pasta for a low carb cauliflower mac;
a sprinkly of nutritional yeast mixed in with the breadcrumbs for some extra cheesiness without extra cheese
Frequently Asked Questions
How can I make my creamy cauliflower sauce thicker?
If your sauce isn't thickening up you may want to add some all purpose flour to some water and mix until combined. Stir this into the cauliflower sauce and it should thicken up more.
Can this be made vegan?
Yes. Simply sub in some shredded vegan cheese and some nutritional yeast with a teaspoon of dijon mustard, and add it to the sauce where you would normally add the cheese.
How should this be stored?
Store leftovers in an airtight container in the fridge for up to 5 days. It can also be frozen for up to 3 months, however I find it is better if eaten fresh.
Happy Eating
xx
Recipe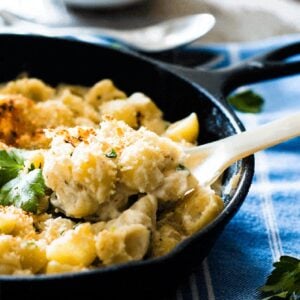 Gruyere and Cauliflower Mac and Cheese Recipe
Lightened up and boasting a whole head of hidden cauliflower instead of cups of cream, this Gruyere and Cauliflower Mac and Cheese recipe is rich and decadent, with only half the guilt.
Ingredients
1

large head cauliflower

½

cup

milk

1

tablespoon

avocado oil

or cooking oil of choice

2

eschallots

finely chopped

½

cup

cream

1 ½

cups

shredded gruyere

1

tablespoon

finely chopped parsley

16

oz

macaroni

¼

cup

panko breadcrumbs

or homemade

2

tablespoon

finely grated parmesan

salt and pepper to taste
Instructions
Chop the cauliflower into florets and steam until tender, about 5-7 minutes. Pop the steamed cauliflower into a blender with the milk, and blend until smooth and creamy

Meanwhile, heat avocado oil in a skillet on medium heat. Once hot, add in the chopped shallots, and sauce for 1-2 minutes

Add in the cauliflower sauce, cream and shredded gruyere and parsley and stir to combine. Heat through

While the sauce is heating, cook the macaroni in a separate pot, according to package instructions. Once cooked, drain and empty the pasta into the cauliflower sauce, and stir to combine. Salt and pepper to taste

Turn the broiler to high, mix the parmesan and breadcrumbs together and sprinkle the breadcrumb mixture on top of the pasta mixture. Pop under the broiler until browned and crunchy, about 5 mins

Serve and enjoy
Notes
Meal prepping/freezing
This can be partially meal-prepped ahead of time by making the sauce ahead of time and simply adding to freshly cooked pasta and popping under the grill/broiler when ready to serve.
The sauce can be stored in the fridge for up to 3 days.
If it becomes a bit thick simply add some extra water or milk until the sauce loosens enough to be stirred through the cooked pasta.
The sauce can also be frozen before being added to the pasta.
I would not freeze this once the pasta has been added as the pasta will become soggy when reheated.
Nutrition
Calories:
493
kcal
Carbohydrates:
67.2
g
Protein:
22.8
g
Fat:
15.1
g
Saturated Fat:
8.4
g
Cholesterol:
46
mg
Sodium:
182
mg
Fiber:
6.2
g
Sugar:
6.7
g
Tried this recipe?
Leave a comment HERE and let us know how it was!
The information shown is an estimate provided by an online nutrition calculator. It should not be considered a substitute for a professional nutritionist's advice.
Need Some More Comfort Food Recipes?
Check these out: