I came up with this slow cooker garlicky herbed cauliflower mash whilst meal planning for our Thanksgiving feast. This will be my second year hosting Thanksgiving, and I am super excited. I really, really love this holiday, seeing as theres no presents, less fuss than other holidays, and is really all about enjoying the time with family and friends.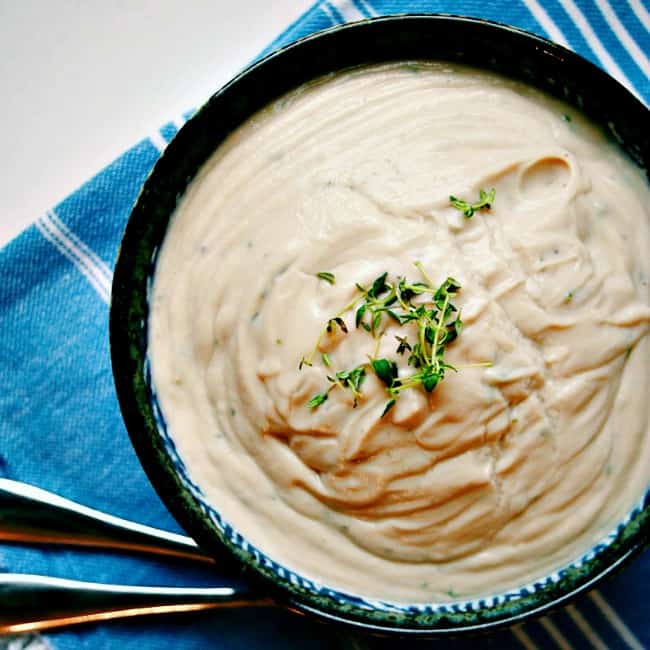 I do however tend to go a bit overboard with the food, because I can never commit to making just a few dishes (we had three different potato dishes last year….) We also had so many leftovers, that we ended up filling up little containers and handing them out to the local homeless men and ladies.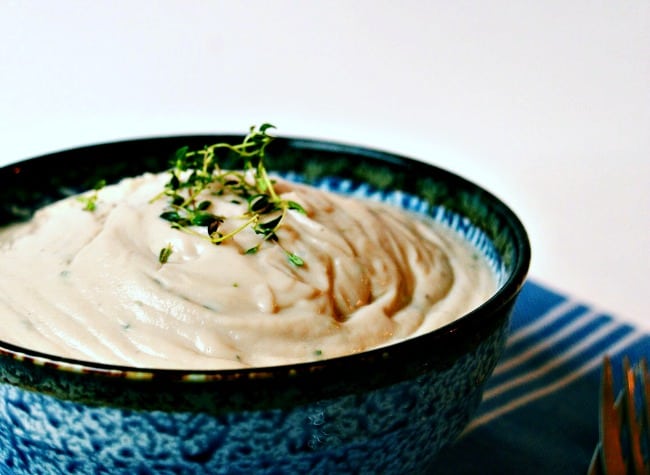 With all the dishes I have going on at once, I tend to run out of room on the stove top pretty quickly. So this year I have been experimenting with the slow cooker, and have decided to forego my potato mash, and replace it with a lower-carb (but still as delicious) Slow Cooker Garlicky Herbed Cauliflower Mash. Not only does this free up some space but it makes the whole prep thing a lot easier too - pop everything into the pot and let it do it's thing for a couple of hours, without having to give it any attention.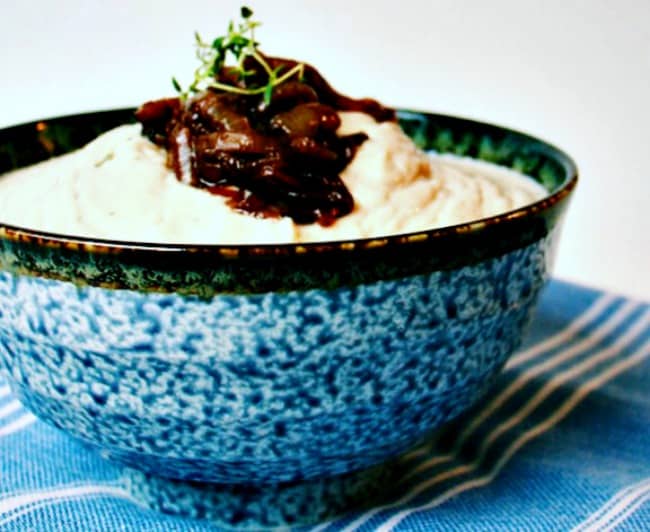 One of our friends has volunteered to cook the turkey. Apparently deep-fried turkey is a thing? I am learning so much living in the U.S. 🙂 he wants to deep-fry it in some contraption in the backyard….I have never heard of this, but I am intrigued, and more than happy for someone to take on turkey duty. Oh and in case you are interested, these are also on the menu for Thanksgiving: Pumpkin Spiced Waffles with Cranberry Vanilla Bean Butter (for breakfast), and Cranberry Apple Crisp (for dessert).
Do you have any time-saving/space-saving tips for Thanksgiving? I would love to hear from you, be sure to leave a comment! Happy eating.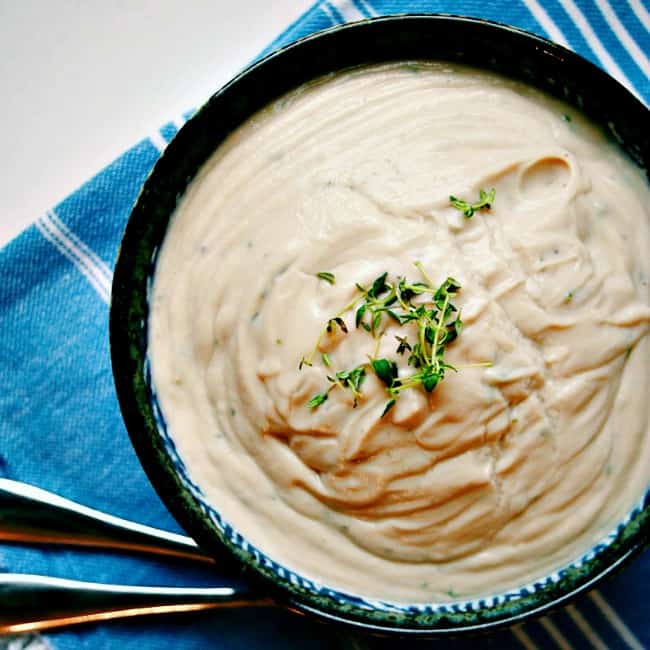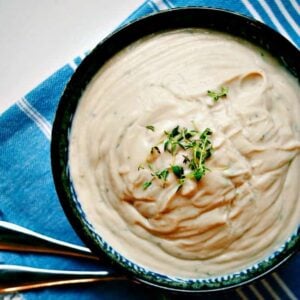 Slow Cooker Garlicky Herbed Cauliflower Mash
Opt in for this low-carb but full flavour mash, made with cauliflower, herbs and lots of garlic right in the slow cooker
Ingredients
1

large head cauliflower

6

cloves

garlic

peeled

2

tablespoons

chopped herbs ( I used oregano

thyme, and parsley)

2

cups

vegetable broth

4

cups

water

¼

cup

grated parmesan

3

tablespoons

butter or ghee

Salt

to taste
Instructions
Peel the leaves from the cauliflower and cut into medium florets. Pop into the slow cooker with the whole garlic cloves, vegetable broth, and enough water to cover the cauliflower

Cook on high for 3 hours, or low for 6 hours. Once finished, drain really well (you need to drain really well). If you have a handheld blender or you plan to hand mash then pop the cauliflower back into the slow cooker. If you want a super smooth and creamy mash then pop it into a high speed blender

Add in the parmesan and butter and mash/blend to desired consistency. Season to taste and add in the fresh herbs

Pop back into the slow cooker, and set to 'keep warm' until ready to serve
Nutrition
Calories:
98
kcal
Carbohydrates:
7.2
g
Protein:
3.6
g
Fat:
6.9
g
Saturated Fat:
4.3
g
Cholesterol:
18
mg
Sodium:
142
mg
Fiber:
2.8
g
Sugar:
3
g