A great way to use up leftover turkey or chicken, this easy enchilada soup is bursting with flavor, and just waiting to be loaded up with all of your favorite toppings. So thick it is almost like a stew, this is a family-friendly easy soup recipe that is going to be a huge hit at your dinner table all whilst using up leftovers!
We love making soup versions of easy weeknight meals, like in this instant pot taco soup, and this instant pot lasagna soup.
Easy Enchilada Soup
Don't let the long ingredient list fool you, this soup is made up of pantry staples, and comes together so easily in one pot.
You are going to need:
chicken broth or turkey broth: homemade is best, especially if you have used the carcass of the turkey or chicken you plan on using in this recipe, but you can always use storebought broth if that is what you have;
cooked and chopped turkey or chicken: this can be leftover turkey or leftover chicken;
enchilada sauce: you can use the store-bought variety, but be sure to check ingredients to make sure they align with your way of eating, or you could always make homemade enchilada sauce with a recipe like this one from 24 bites;
diced tomatoes with green chiles: in the US I would use rotel for this. Although there is no perfect substitute outside of the U.S. you can sub in a can of diced tomatoes with chili, or you can make your own by combining diced tomatoes and some chopped jalapeños. We will be adding more seasoning to the soup anyway, so do not worry about the garlic powder and additional ingredients that would be in the can of rotel;
cooked pinto beans: use the canned variety, or make your own from scratch;
cooked black beans: use the canned variety, or make your own from scratch with a recipe like this one Slow Cooker Savory Black Beans ;
shredded cheddar cheese: if you can, shred the cheese yourself. Pre-packaged shredded cheese can have added ingredients that can lead to a grainy texture which can be unpleasant;
sour cream: use light or regular depending on your preferences;
chopped onion;
green bell pepper (green capsicum);
red bell pepper (red capsicum);
fresh celery;
chopped fresh cilantro (coriander);
dried bay leaves;
fresh minced garlic;
corn kernels: you can use fresh, canned or frozen;
olive oil.
Tip: if you prefer a thicker soup you can add some cornstarch to the mixture to thicken things up a bit. This can make it more stew-like. Simply combine a tablespoon of cornstarch with ¼ cup of cold water and add to the soup when all of the other ingredients are added.
How To Make Enchilada Soup
The ingredient list may be long, but don't worry, this soup comes together in no time at all.
It all comes together in one pot too, and any time a meal uses fewer dishes the better!
Am I right?
Tip: Have all of your veggies chopped and ready to go before starting to make the soup. This makes the cooking process a lot smoother.
We are simply going to:
Add the onions, celery and peppers to a large soup pot or dutch oven and sauté (or the pot of an instant pot if that is what you are using).
Add in the garlic and seasonings, cooked turkey or chicken, broth, enchilada sauce, tomatoes, beans, bay leaves, cilantro (coriander) and the corn.
Season with salt and pepper, mix well and heat through.
Bring the soup to a boil, before reducing to a simmer and allowing to simmer away on the stove top for 20-30 minutes (instant pot instructions below).
Just before serving, add in the sour cream and cheese and mix well to combine.
TIP: to make the soup extra luxurious why not add a dollop of cream cheese in place of the sour cream!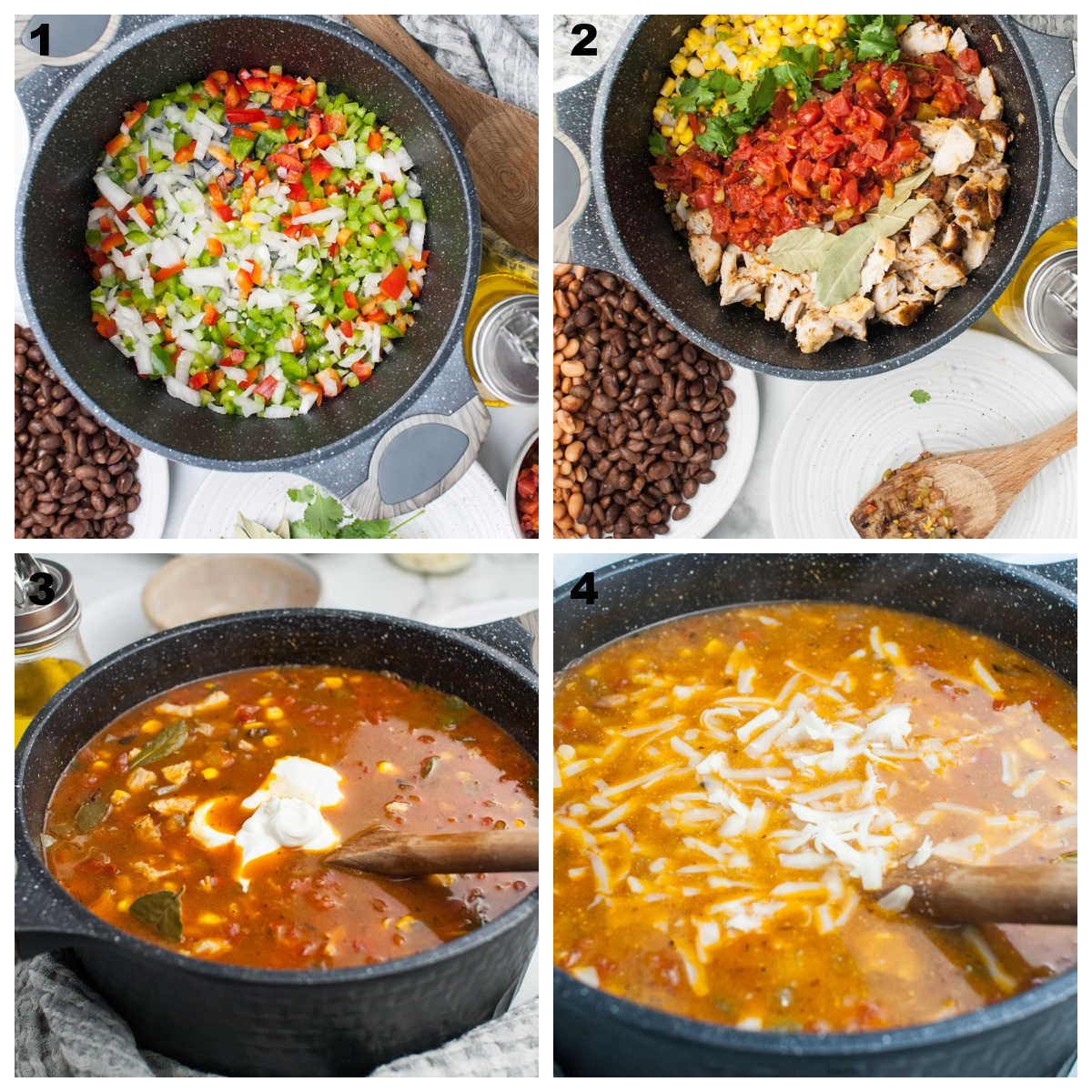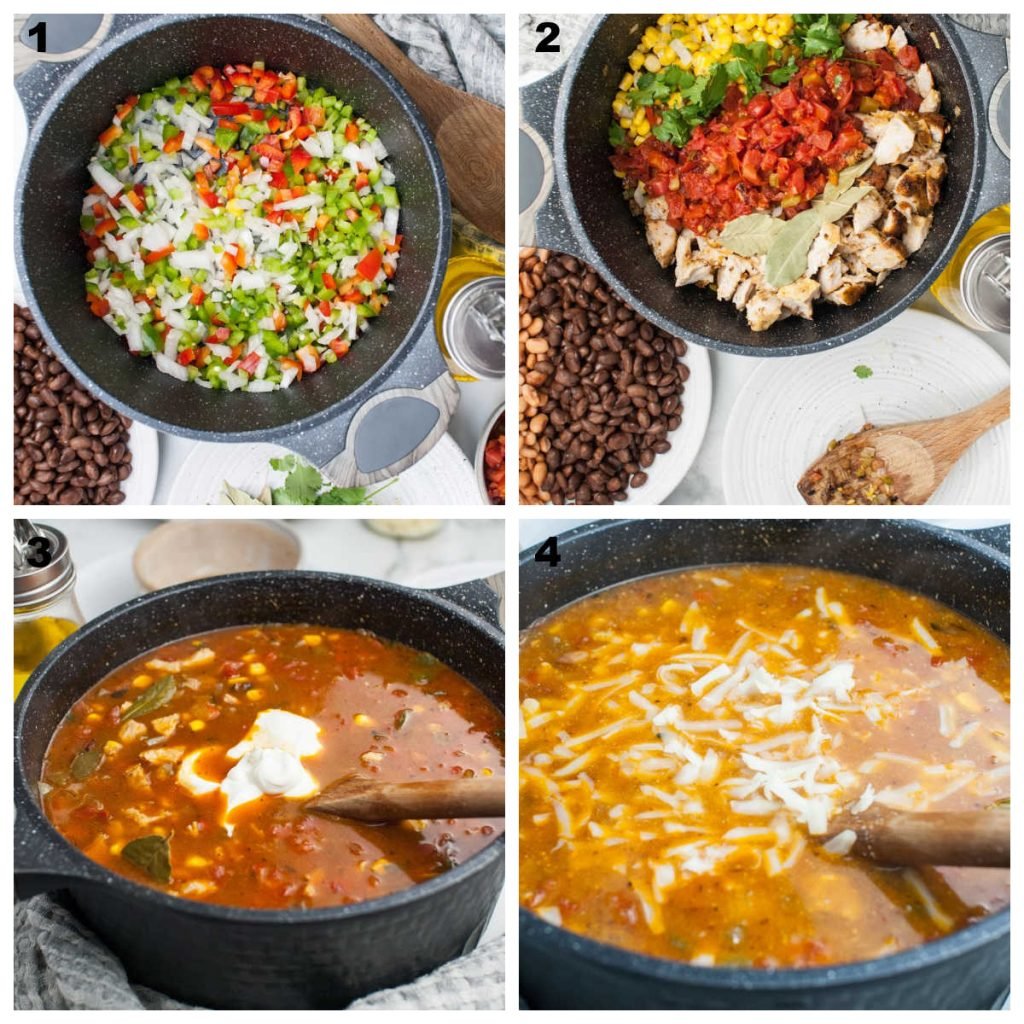 How To Serve Leftover Turkey Soup
The best part of this soup is all the optional toppings.
We load them on heavy and hard so that the soup has tons of flavor.
Load up with your personal favorite toppings and garnishes to really take this soup over the edge and make it yours.
Why not try adding:
Lime wedges: squeeze some lime juice over the soup just before serving to really pop the flavor;
Grated Monterey Jack, cheddar cheese, or other cheese of choice;
Fresh cilantro (coriander);
Tortilla chips or tortilla strips: I like to use blue corn chips like you can see in these photos as it adds great color to the soup;
Avocado slices;
Jalapenos, or other hot chili peppers or hot sauce of your choice if you prefer a spicy soup;
A drizzle of your favorite hot sauce;
A dollop of sour cream;
Finely chopped red bell peppers for a bit of extra crunch;
A sprinkle of Tajin seasoning, chili powder or cayenne pepper.
Why not put all of the toppings in little bowls on the table and let the whole family load up their delicious enchilada soup in their favorite way?
You can also serve some fresh corn tortillas or flour tortillas on the side for moping up the bowl when you are finished.
Extra Tips, Tricks and Substitutions
This easy enchilada soup recipe is super versatile, so feel free to change things up depending on the ingredients you have on hand, and individual preferences.
What Type of Protein Can I Use?
Use whatever leftover turkey or chicken you have on hand.
You can use:
poached chicken breasts or chicken thighs that have been shredded or chopped up;
grilled chicken breasts that have been chopped up;
leftover rotisserie chicken (why not make your own using this recipe: How To Make A Rotisserie Chicken in the Oven);
leftover turkey from a whole turkey or turkey breasts.
What Can Be Used In Place Of The Sour Cream?
If you don't have sour cream you can try these alternatives:
replace the sour cream with cream cheese, or
replace the sour cream with heavy cream.
You can always leave it out if you prefer, however, the end result obviously won't be creamy and you won't get the same depth of flavor.
Can This Be Made In The Instant Pot?
Yes, of course.
Simply follow the instructions in the recipe card, but instead of cooking on the stovetop for 20-30 minutes, cook on manual for 10 minutes, and allow the soup to release naturally for 10 minutes before venting.
Can This Be Made In The Slow Cooker or Crock Pot?
Yes of course.
Simply follow the instructions in the recipe card, but instead of cooking on the stovetop for 20-30 minutes, cook on low for 6-8 hours, or on high for 3-4 hours.
Storing and Freezing Tips
The leftover soup should be stored in an airtight container in the fridge for up to 3 days.
NOTE: How long the leftover enchilada soup can be stored will depend on how old your leftover turkey or chicken is.
This soup can also be frozen in an airtight freezer-friendly container for 2-3 months.
The soup will thicken up once allowed to cool.
This means that when you come to reheat it you may want to add some additional water or broth unless you are happy for it to have a more stew-like consistency.
Need More Delicious Soup Recipes?
There is nothing like a delicious bowl of soup on chilly days!
I have a huge collection of soup recipes here, or you can check out these favorite soups:
Happy Eating.
xx
The information shown is an estimate provided by an online nutrition calculator. It should not be considered a substitute for a professional nutritionist's advice.