Surprise someone special with delicious homemade clean eating chocolates made by hand. Only 3 ingredients and no refined sugar. A great little Holiday activity to get the kids involved too!
Easy Homemade Chocolate
If you haven't tried your hand at homemade chocolate this year, now is the time!
You may have realised by now that I am a huge chocolate fan.
Like, really huge.
If you haven't (where have you been?), then, check out my other favourite chocolate based recipes like:
They sound delicious, right?
Now, get to making your own Easy Homemade Chocolate for a start, and then get to making ALL the rest.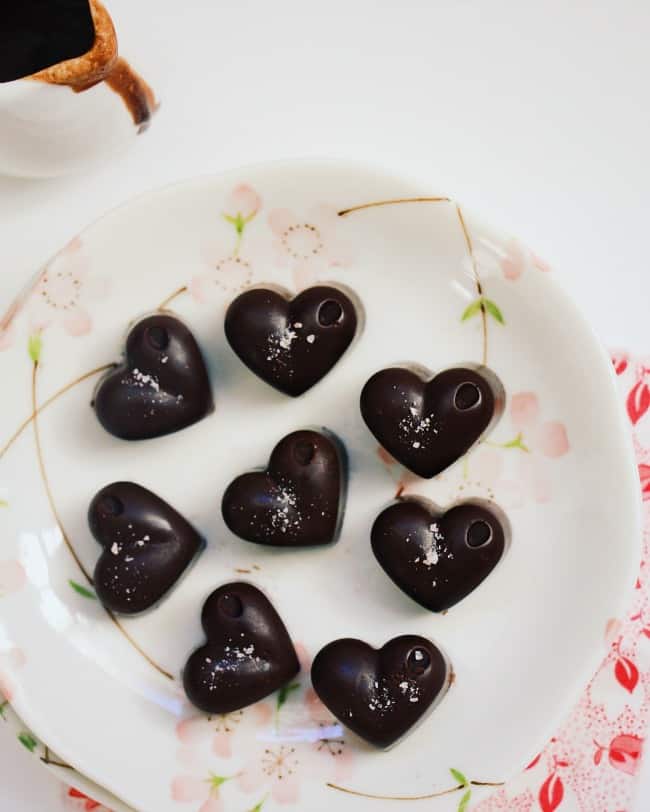 What Ingredients Are Needed?
Now, if you were going to make the type of chocolate you would find in a gorgeous little chocolate shop, you would be needing all kinds of ingredients.
These are not those chocolates.
These are super easy, make at home with the kids, completely impossible to stuff-up homemade chocolates made using only clean ingredients.
You will need:
coconut oil
raw cacao powder
pure maple syrup
sea salt
Himalayan pink salt for topping (purely for aesthetics)
Add-Ins and Substitutions For Great Homemade Chocolates To Suit You and Yours!
They are a super easy, basic homemade chocolate recipe just begging to be dressed up with whatever you have on hand.
I use this recipe as my base, and go from there.
I usually like to add some fruits, nuts or more chocolate to make it more exciting.
However, if you happen to come across some super cute heart-shaped chocolate molds, like the ones I found (as seen in the pictures), then plain chocolate is fancy enough.
I love adding:
Goji berried
Blueberries
Almonds
Hazelnuts
Dried Cranberries
Any other nut, seed, or dried fruit that tickles your fancy.
Use your imagination!
Tips and Tricks For The Best Homemade Chocolates
With the holiday season very much upon us, it is the perfect time to set up shop in your own kitchen, and start pumping out some delicious homemade chocolate treats.
You don't even have to give them away, it's a lovely gesture just to have some on the table to have with a wee cup of tea if someone pops around.
It's also very handy to have some on hand in case someone pops around with a gift, and you haven't bought them anything....
Speaking from personal experience here!
Now, because these homemade chocolates are not tempered, and don't have all the extra ingredients to stop them from melting, there are a few things to keep in mind:
These will need to be stored in the fridge until ready to use, simply take them out when you plan on them being eaten
They aren't the best chocolates for traveling long distances unless you keep them in a cool bag to stop them from melting
These homemade chocolates melt easily (sensing the theme here?), which makes them perfect for adding to some warm milk for a hot chocolate!
I have been whipping up lots of choccie treats over the past couple of weeks, using this Easy Homemade Chocolate as a base.
Do you tend to eat a lot of chocolate over the holidays (or in general...I won't judge)?
I would love to hear from you. Be sure to leave a comment, like on Facebook, or pin to Pinterest for when you have some time to spend in the kitchen.
Happy eating!
Recipe
The information shown is an estimate provided by an online nutrition calculator. It should not be considered a substitute for a professional nutritionist's advice.