This homemade honey-sweetened peach butter is so sweet and packed full of peachy goodness. Simple ingredients make the most delicious peach butter just perfect for dolloping on fresh bread with some yogurt, stirring through your morning oats, or topping off some breakfast pancakes or ice cream. You can also eat it straight from the jar, no judgment here. Easily made ahead of time and stored in the freezer so you can enjoy homemade peach butter all year long.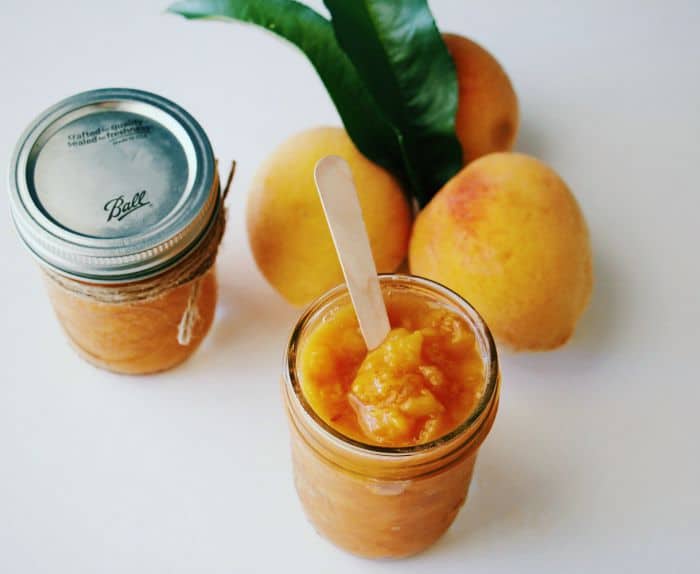 If you love using fresh fruits to make preserves then you have to try this apple butter next. The perfect way to use up extra apples in Fall.
Peach Honey Butter
Jump to:
Let me introduce you to the amazing flavor that is 3 ingredient honey-sweetened peach butter.
So easy to make, yet bursting with flavor, this homemade preserve is a perfect way of making the peach season last longer, without the need for any water or pressure canning.
We sweeten this fruit preserve with honey so there is no need for the cups and cups of sugar called for in the traditional peach butter recipes. This really allows the taste of fresh peaches to shine through.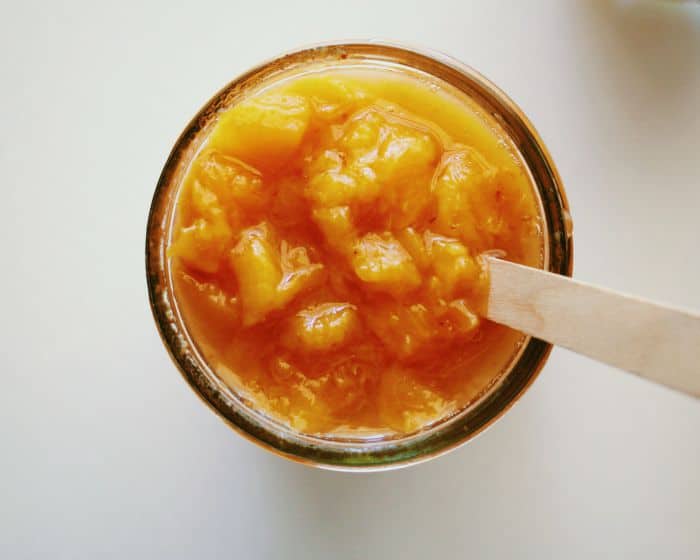 A Note On Ingredients
We are going to use 3 simple ingredients easily found in grocery storesfor this easy recipe:
Fresh ripe peaches
Pure honey
Fresh lemon juice
To get the best out of the recipe I have a few tips and tricks in relation to the ingredients we are using.
Peaches
Use fresh, ripe peaches when they are in season. You can use white peaches or yellow peaches, or a mix if that is what you have.
It does not matter if the peaches are starting to turn, or have gone a little bit soft.
In fact, this recipe is a great way to use up peaches that otherwise wouldn't get eaten, as they are going to be blended up anyway, so do not need to look perfect.
To get the perfect consistency in your peach butter you should peel them first (don't worry, this is a simple step that will only add about 10 minutes to the process).
Quick and easy tutorial on how to perfectly peel a peach.
Pure Honey
Look for local honey if at all possible.
Runny honey is easy to work with but use what you have on hand.
Fresh Lemon Juice
Fresh lemon juice is best for this recipe as you can really control the flavor when you know what you are working with.
In a pinch, you can sub in some pre-prepared lemon juice in a squeezy container, but be mindful that this can be concentrated, and adjust accordingly.
TIP: try adding a vanilla bean or some vanilla extract to the mixture as it is cooking to add a twist of flavor.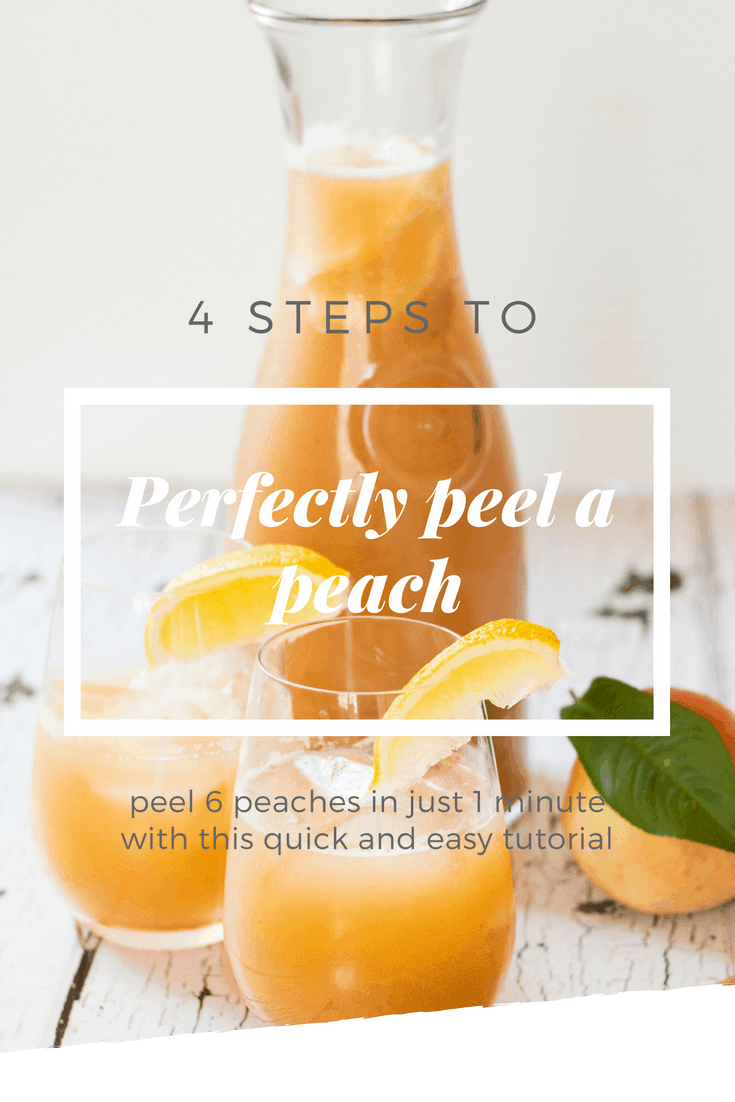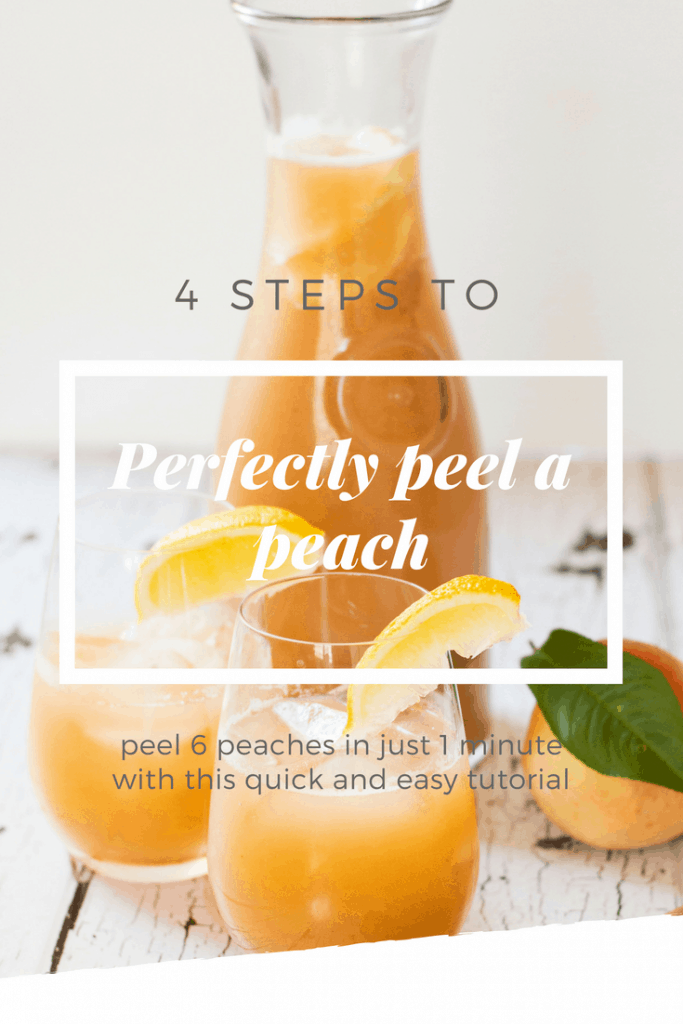 How To Make No Sugar Added Peach Butter
This sugar-free peach butter recipe is so easy to make!
The hardest part is peeling the peaches, but if you use the handy guide above which gives you in-depth step-by-step instructions on the best ways to peel a peach you will be all set.
TIP: using the guide above please be sure to have a bowl of ice water on hand so that you can peel the peaches correctly.
So peel those peaches, cut in half, remove the seed and then chop them into chunks.
Throw them into a large pot with the honey and lemon juice and bring everything to a simmer on the stovetop.
Once simmering, reduce to a very low heat and allow the peach mixture to simmer for about 70 minutes, or until it has become thick, like fruit butter.
At this point, it should resemble a peach puree and can be removed from the heat.
I like to give the hot peach butter a gentle mash with a fork so that it is a chunky peach butter, but if you prefer a more smooth mixture then you can pop the whole thing into a food processor and process until smooth, or you can use a handheld immersion blender or food mill until you get your desired consistency.
The end result will differ depending on what method you use.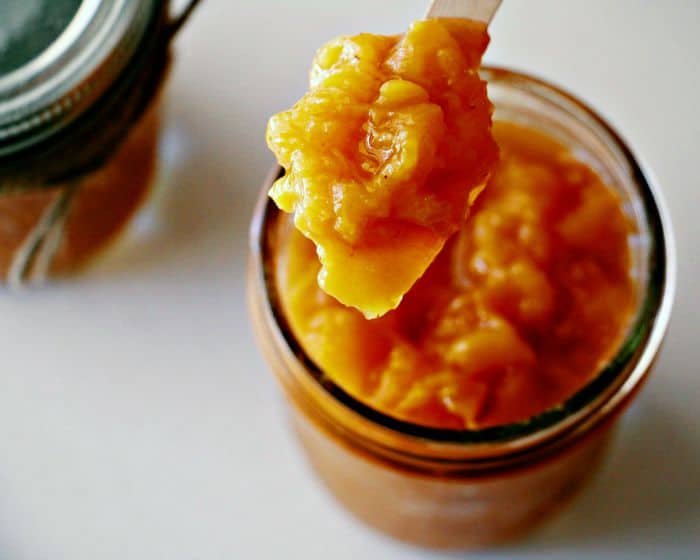 How To Store
Homemade peach butter is a fantastic way to use up some peaches that are about to go off or those that aren't pretty enough to be canned, or presented in some fancy cake.
It is also a great way to use up lots of peaches if you manage to get your hand on some at the local farmers market for cheap.
Allow the peach butter to come to room temperature before storing in the fridge.
This will last 2-3 weeks in the fridge if you store it in an airtight container.
It can also be stored in the freezer for up to 6 months, but be sure to leave a little room in your jar for expansion on freezing.
If you are freezing I would freeze in small batches so that you can just pull out what you need.
Peach Butter Uses
Homemade peach butter is pretty versatile and can be used in a number of ways, including:
my favorite way to enjoy peach butter is dolloped on top of my morning toast with some yogurt;
added to morning oats;
as a topping on pancakes or vanilla ice cream;
as a stir-through or layer in a Chia Pudding;
with a dollop of cottage cheese;
as a nice twist of flavor in a banana bread like this Banana and Peach Butter Bread with a Chia Crunch;
anywhere you would normally use a delicious fruit butter or jam.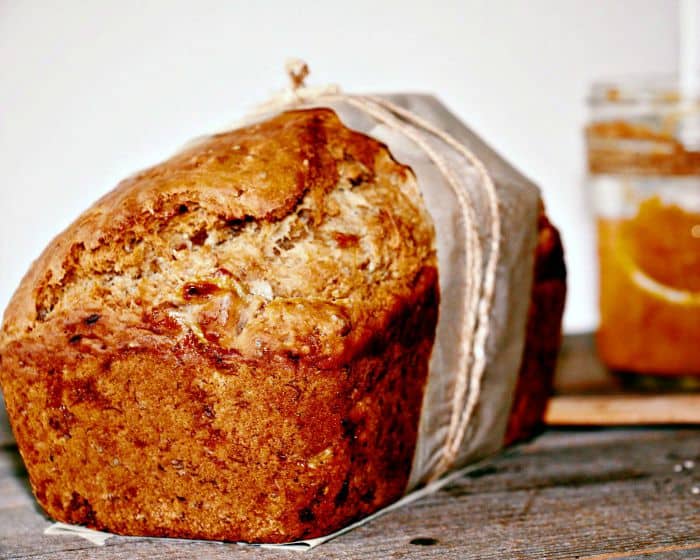 Need More Recipes Using Fresh Peaches?
If you are looking for more peach recipes be sure to check out these lovelies:
I just love hearing from you, so be sure to pop back and leave a comment once you try out my homemade peach butter recipe!
Frequently Asked Questions
Can you freeze peach butter?
Yes. This easy peach butter recipe is perfect for freezing if stored correctly in an airtight freezer-friendly container.
Can peach butter be made in the crock pot?
Yes. This is a great recipe for making in the crockpot. Simply cook on low for 6-8 hours or high for 3-4 hours. If the butter is too liquid you may have to remove the lid and allow the butter to cook for the last hour or so with no lid on to allow it to thicken up.
Can peach preserves be canned?
I have not canned this recipe and do not offer suggestions on how to do so. If you would like to prolong the life of the peach butter it is best to store it in an airtight container in the fridge.
Happy eating
xx
Recipe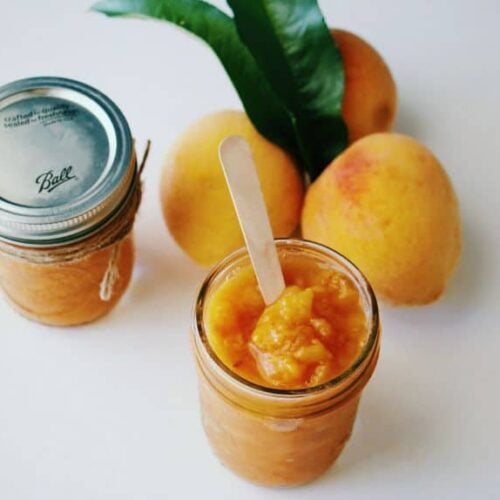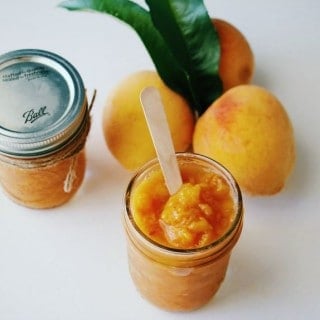 3 Ingredient Peach Butter
This peach butter is super delicious! So sweet and packed full of peachy goodness. Perfect on fresh bread with a big dollop of yoghurt, stirred through your morning oats, or as a topping for pancakes or ice cream. I also eat it straight from the jar
Ingredients
6

peaches

peeled (see notes for easy peeling tips)

3

tablespoon

raw honey

switch for maple syrup for vegan

2

tablespoon

lemon juice
Instructions
Throw the chopped peaches into a saucepan with the honey and lemon juice. Bring to a simmer over medium heat

Once simmering, reduce the heat to low and allow to cook for about 70 mins until thick (see note)

Remove from the heat and store in a sealed glass jar in the fridge for 2-3 weeks
Notes
I prefer mine to be a little bit chunky. However if you prefer a smoother butter, just give the mixture a bit of a mash before popping into the storage jars - the peaches are super soft at this stage and will just collapse.
Lasts in an airtight container in the fridge for up to 2 weeks
Lasts in an airtight container in the freezer for up to 6 months. Be sure to leave enough headspace in the freezer-friendly container for expansion on freezing.
For tips on how to perfectly peel a peach go here.
Nutrition
Calories:
27
kcal
Carbohydrates:
6.8
g
Protein:
0.4
g
Fat:
0.1
g
Fiber:
0.7
g
Sugar:
6.6
g
Tried this recipe?
Leave a comment HERE and let us know how it was!
The information shown is an estimate provided by an online nutrition calculator. It should not be considered a substitute for a professional nutritionist's advice.