With rising grocery prices it can seem a little overwhelming and impossible to try and eat healthy while also sticking to the family budget. With a few handy tips that can be easily implemented in your everyday life, I can show you how to eat clean on a budget and feed your family nutritious meals all year long.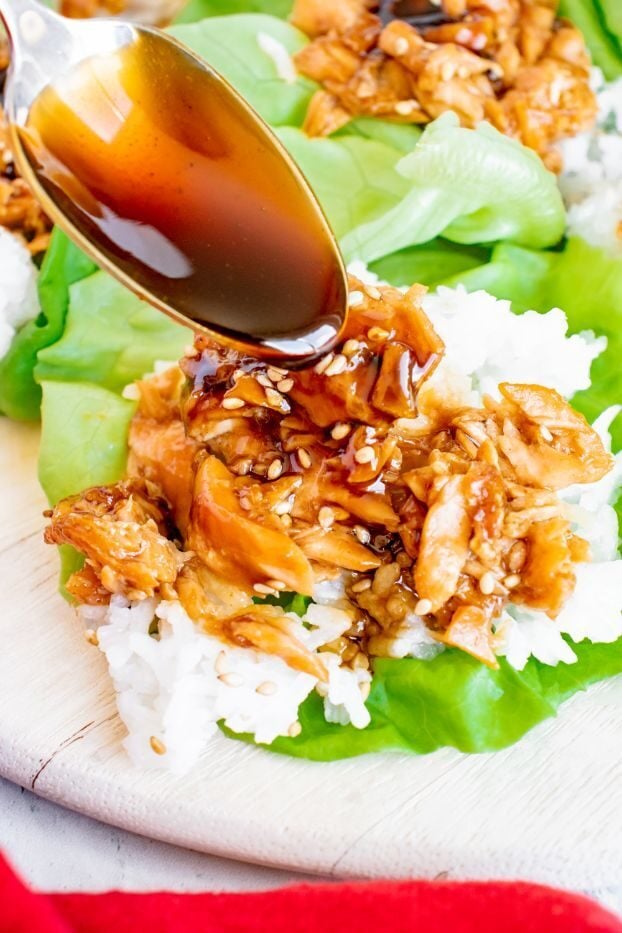 Jump to:
How To Eat Clean On A Budget
As a family of five, we eat a lot of food!
We try to keep our diet relatively simple with lots and lots of fresh fruit and veggies, some chicken, beef, pork, and seafood, and the occasional treat.
We also splurge and make ridiculous meals on free weekends.
And that's ok.
Everything in moderation right?
So what have I learned over the past 6 years of following a relatively clean eating lifestyle?
A lot!
I want to share with you a couple of tips I have picked up along the way, which I think are imperative to having a good year, in terms of clean eating (on a budget) at least.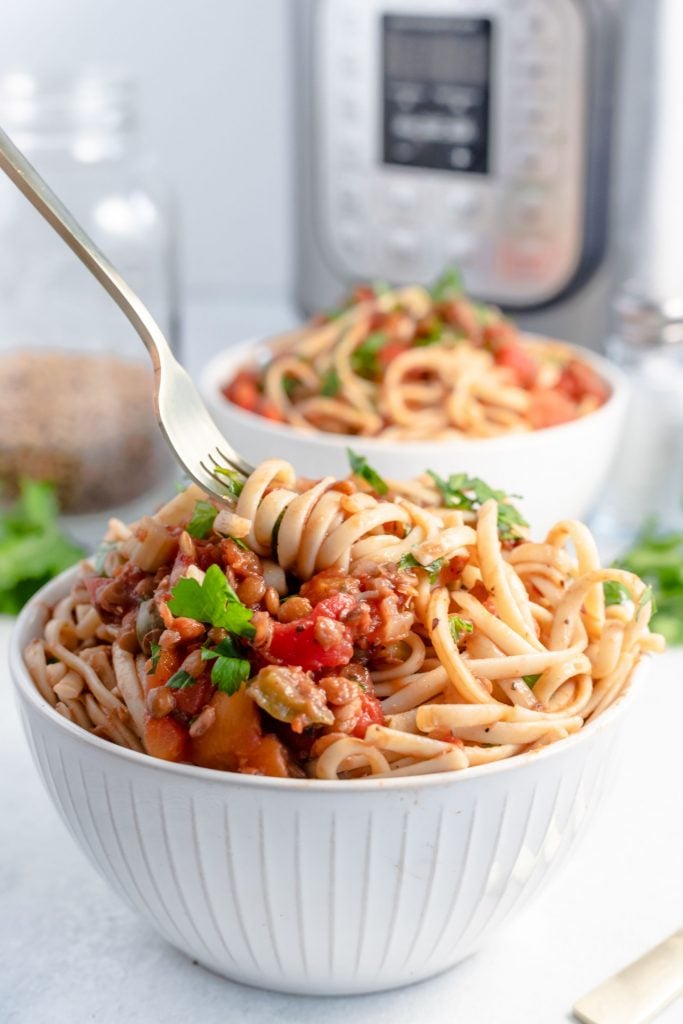 Make a Meal Plan
Spending a half-hour over the weekend planning what you are going to eat throughout the week really is the key to staying on the right path.
If you have clear goals as to what you will be eating on what night, and you have shopped accordingly, you are more likely to avoid that 'hmmm, what are we going to eat…let's order pizza/sushi/chicken korma and lots of garlic naan' predicament.
Don't get me wrong, there will no doubt be nights when the pizza will win, there definitely have been around these parts, but hopefully less and less.
Why not try some of these recipes that can be easily prepped ahead of time:
Meal plans do not have to be fancy or complicated.
It can be as simple as having the same recipe every Monday until you get sick of it.
For us, we tend to have a meat-free meal on a Monday, tacos on a Tuesday, fajita casserole or wraps on a Wednesday, salad, and chicken on a Thursday, homemade pizza on a Friday, leftovers on a Saturday, and soup on a Sunday.
The recipes will change depending on what we have on hand and what is in season, but you get a general idea.
Cook and Freeze
There are invariably going to be nights where you work late, the kids have sports, you have no energy, or something comes up.
Be prepared for these nights by having a couple of backup meals in the freezer.
There is nothing sexy about freezer meals, but if you are making a batch of something you know freezes and defrosts well, then just make extra and have it on hand.
TIP: if you forget to label your freezer meal, just call it freezer surprise and see if anyone can guess what the dish is and when you had it last.
There are a few recipes I always make a double batch of to have stored in the freezer:
savory black beans: yes these can easily be bought at the store, but for a fraction of the cost you can make your own and store them in the freezer until needed;
muffins: these are perfect for grabbing out in the morning and throwing into lunchboxes. They will be defrosted by the time lunch rolls around;
waffles and pancakes;
homemade granola;
soups like this carrot ginger turmeric soup are always to be found in our freezer.
Other things that freeze well are marinated chicken breasts, meatballs, and casseroles.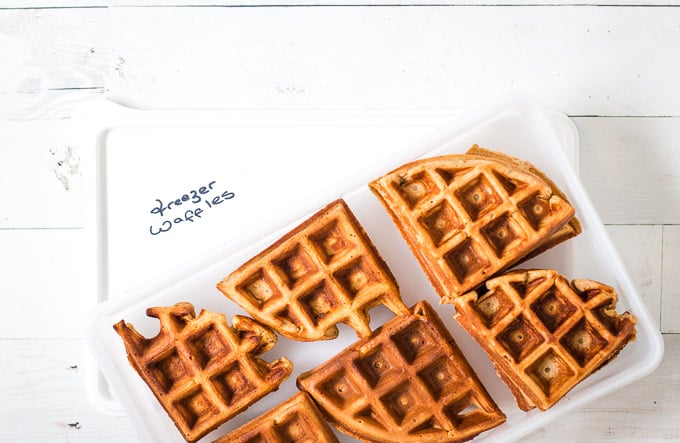 Slow Cookers and Pressure Cookers For Easy Meals
We have a cheapie $30 slow cooker/rice cooker/steamer combo contraption, and it has been overworked over the years.
I have a few staples I make in there about once a month - including refried beans, black beans, and vegetable stock, and I always make one or two main dishes like this Instant Pot Taco Soup in there throughout the week too.
In summer, I stick it out on the back porch and let it cook away, to keep the heat out of the house (of course, beware if you have a dog, or over-curious children).
Slow cookers and pressure cookers certainly make light work on busy weeknights, and you can even have them working overnight or first thing in the morning on a timer if you want to wake up to some oats or chocolate-covered strawberry quinoa to have ready to serve in the morning.
Check out my Pinterest boards dedicated to clean eating slow cooking recipes and instant pot recipes for some inspiration on how to eat clean on a budget.
Shop In Season
I cannot emphasize this one enough, especially if you are clean eating on a budget, and want to save a few pennies this year.
Before I started thinking about what I was eating, I just bought what I wanted, when I wanted it.
It could get so expensive!
For example, if I buy strawberries at the height of summer, I can get a whole tray of locally grown delights for about $10 - that's about 6 punnets.
Right now (in winter), if I pop into the local supermarket, a single punnet is nearing $10 and comes from God knows where sprayed with god knows what.
Why do that, when there is so much awesome stuff you can be eating fresh every season?
If I go to the Farmer's markets at the moment, apples are 5lbs for $5, persimmons are 3lbs for $3 - makes sense to buy those things now right?
When the season is ending, and they are selling off the last of the produce for cheap - preserve it by canning, dehydrating (like I do every year with this dried oregano), or even just chopping and freezing.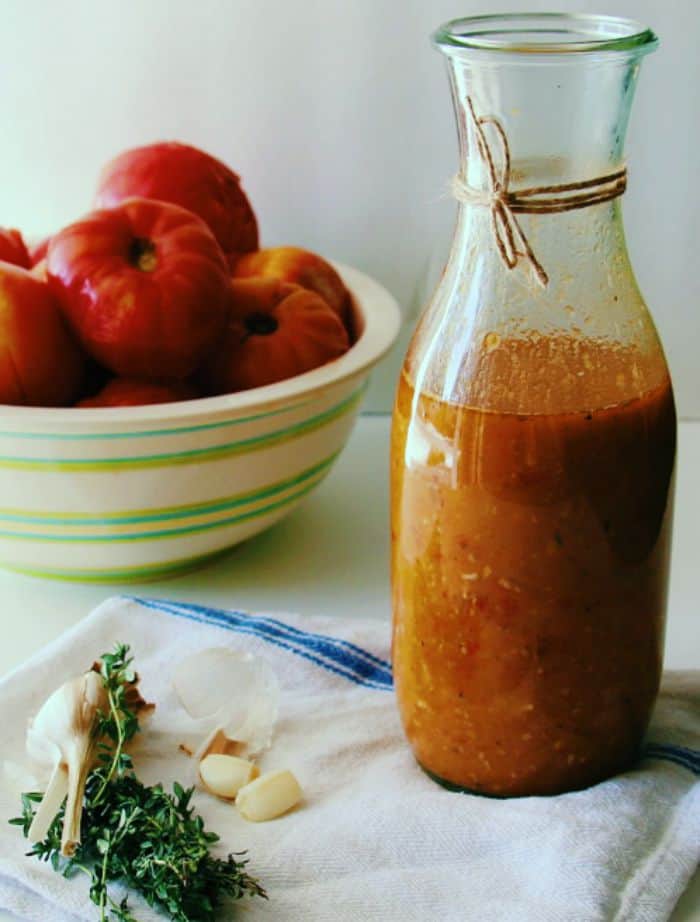 Join A CSA or Other Community-Driven Farmers Collective
Joining a CSA or other farmer's collective will no doubt give you access to lots and lots of in-season fruits and vegetables for a fraction of the price of what you will find at the supermarket.
They are usually able to offer a lower price as they cut out the middle man.
Alternatively, hit up your local farmer's market where the prices are usually a lot better than those at the store.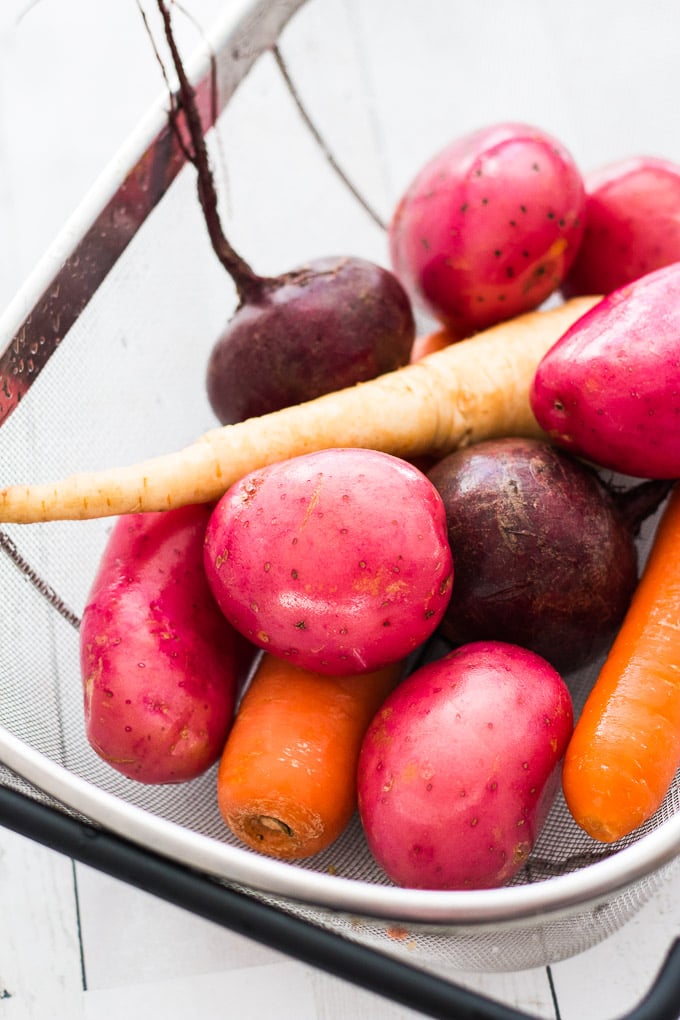 Learn How To Preserve
If you preserve the abundance of the season when it is at its cheapest, you can enjoy the best bits for months to come, at a fraction of the cost of buying produce out of season.
For example, this summer our peach trees produced so much fruit I had to learn how to can because no one wanted to take any more peaches off my hands (can you imagine!), and I didn't want them to go to waste. I now have peaches for the rest of the year - some canned, and some in the freezer made into the most delicious Clean Eating 3 Ingredient Peach Butter.
Again, when it got to the end of summer and heirloom tomatoes were being sold in HUGE trays for $6, we bought several trays and got to work making tomato sauce. I didn't can it, but we now have a freezer full of Fresh Heirloom Tomato Sauce, perfect for pizza and pasta on a whim, for a fraction of the cost of the stuff available at the supermarket (and so much better).
It really pays to get the good stuff when it is at it's cheapest and preserve it for the rest of the year.
Plus, it doubles as great accidental meal prepping.
Check out some of these recipes that help preserve in-season food:
Grow Your Own Herbs
This is the biggest money saver around!
In the store today, they were selling tiny little punnets of dodgy-looking herbs for $2.99 - that's more expensive than a whole pot of living herbs, that will last for months!
Buy some little pots of mint, parsley, coriander/cilantro, thyme, and rosemary. Pick some when needed, and then just let it do its thing on the kitchen counter.
You don't even need a garden, or much space at all really, a windowsill works wonderfully.
If the homegrown herbs go into overdrive just make some pesto and freeze it (see the full circle we are getting here!):
Throw your homemade pesto on some pasta, mix it into a pizza sauce, or use it in a wrap.
I also love this Warm Pesto Chicken and Cheese Dip Recipe for using up excess pesto.
Why not try drying herbs in the air fryer?
Use Up Your Leftovers
My biggest tip for how to eat clean on a budget has to be to use up your leftovers.
I live and die by the mantra 'Waste Not Want Not'.
Do Not Waste Food.
Yesterday's leftovers can be turned into a perfectly respectable meal the next day, or sent along to work in a lunchbox.
Try these recipes for using up leftovers:
Get creative, this will save you so much money in the long run.
Plus, if you are forking out the big bucks to buy local, organic produce, you don't want to waste that stuff.
Make Your Own Dressings, Sauces, and Broths
When you buy dressings, sauces, and broths premade at the store you are going to empty your wallet in no time.
They cost next to nothing to make at home but can cost between $4 and $5 a bottle at the store, especially if it has the words organic attached.
Here are some ideas to get you started:
TIP: use the oil in jars of artichokes or sundried tomatoes for the base of a delicious salad dressing. It is always full of so much flavor and an inexpensive way you can eat clean on a budget.
Use Big Box Stores To Your Advantage
When I say big box stores I am talking about places like Costco and Sam's Club.
Don't get me wrong, don't buy all of your groceries from these places.
Personally, if I can I prefer to shop local and support small businesses, but there comes a point when you are feeding a family of 5 that you have to be strategic. Spend your savings on the in-season fruit from the farmers market and it will all be ok.
Seek out those discounts in the big box stores for things you use a lot which can become quite expensive.
I use these stores for things like:
baby spinach;
coconut water;
açaí berry smoothie packets and other frozen fruit;
rice;
flour;
dried spices
pure maple syrup;
nuts and seeds;
rolled oats.
Everything else I try to buy local. Do what works for you!
Do you guys have any more tips on how to eat clean on a budget that I might have missed?
I would love to hear them so be sure to leave a comment and share with everyone else!
Recipe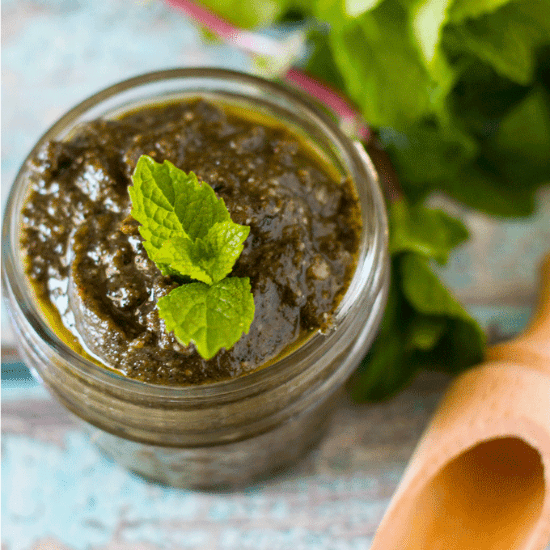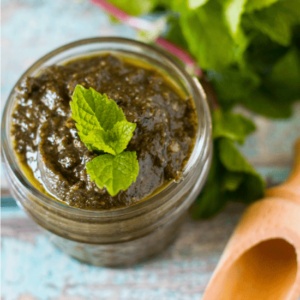 Leafy Green Pesto Recipe (How To Eat Clean On A Budget)
A quick and easy pesto that is just bursting with flavor. Super versatile and a great way to use up those carrot greens or other leafy greens rather than throwing them in the bin or compost. Mix and match the herbs and nuts that you use depending on the meal you are making and what you have hanging out in the fridge. A great budget-friendly recipe that can be used in soups and casseroles for an extra hit of veggie goodness.
Ingredients
3

tablespoon

almonds

(see notes)

2

cups

carrot tops or other leafy greens

washed and dried and chopped roughly

small handful coriander/cilantro leaves

2

cloves

garlic

minced

1

lemon

juiced

3

tablespoon

parmesan cheese

grated (see notes if vegetarian)

olive oil

salt and pepper to taste
Instructions
Add almonds to the blender and blend until only slightly chunky.

Put the carrot tops or other leafy greens and herbs into a food processor and blend until smooth (see notes).

Add the garlic and lemon juice (you can also add the zest if you want), and blend again for a few seconds until combined.

Add in the parmesan and then slowly drizzle in the olive oil while the mixture is still blending. Contiue adding the oil until you reach the desired consistency (I like my pesto to be relativey smooth with no bits, others like it quite chunky).

Add salt and pepper to taste and give the mixture a quick pulse to make sure it is all mixed together

Store in an airtight container in the fridge for up to a week. Can also be frozen (see notes).
Notes
Greens: any leafy greens can be used such as carrot tops, leaves from beets or radishes, rocket, kale, or spinach.
Corriander/Cilantro goes really well with the carrot greens in my opinion, and seeing as I tend to pair it with dishes such as pumpkin soup, it works really well.
If you prefer something a little more subtle, then use up some parsley instead.
Parmesan is something I regularly have on hand. However, if you are vegetarian or vegan you can always sub this cheese out for some nutritional yeast or vegetarian parmesan-like products that can be found in the cheese section instead.
Don't overcrowd the food processor. You may have to add some carrot tops, blitz until reduced in size, and then add some more.
If you do overcrowd they will likely get stuck around the blade and the whole mixture will stop moving.
If this happens, just remove some of the mixture and pop it into a bowl on the side. Blitz and then slowly add some more carrot leaves back in through the food pushing shoot as you continue processing.
Sometimes just giving it a quick pulse can be enough of a jolt to get it moving again.
Nutrition
Calories:
36
kcal
Carbohydrates:
3
g
Protein:
2
g
Fat:
2
g
Saturated Fat:
1
g
Cholesterol:
1
mg
Sodium:
24
mg
Potassium:
36
mg
Fiber:
1
g
Sugar:
1
g
Vitamin A:
12
IU
Vitamin C:
15
mg
Calcium:
70
mg
Iron:
1
mg
Tried this recipe?
Leave a comment HERE and let us know how it was!
Happy Eating
Donna
xx